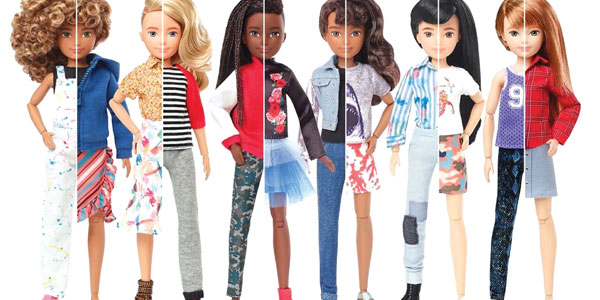 By Roberta Pardo
Mattel is releasing dolls that let kids form the gender expression of the toy themselves.
The doll is fully gender-neutral, allowing kids to accessorize it to be a boy, a girl, neither or both. Mattel has released six versions of the doll with different skin tones, hairstyles and clothes through its new Creatable World line.
"This line allows all kids to express themselves freely, which is why it resonates strongly with them," Kim Culmone, senior vice president of Mattel fashion doll design, told National Public Radio (NPR). "We're hopeful Creatable World will encourage people to think more broadly about how all kids can benefit from doll play."
NPR reports that Mattel spoke to more than 250 families with children who identify across the gender spectrum while researching the line of dolls.
This is not the first time Mattel has tried to be more inclusive. After being criticized for its lack of diversity and unrealistic portrayal of women in its Barbie dolls, the company has taken steps to address this by releasing a hijab-wearing Barbie and introducing different body types.
____________________________________________________________________________________
Mattel lanza nueva línea de juguetes que no se rigen por normas de género
Mattel está lanzando muñecas que permiten que los niños formen la expresión de género del juguete.
La muñeca es completamente neutral en cuanto al género, lo que permite que los niños la complementen como un niño, una niña, ninguno o ambos. Mattel ha lanzado seis versiones de la muñeca con diferentes tonos de piel, peinados y ropa a través de su nueva línea Creatable World.
"Esta línea permite que todos los niños se expresen libremente, por eso resuena fuertemente con ellos", dijo Kim Culmone, vicepresidenta sénior de diseño de muñecas de moda de Mattel, a National Public Radio (NPR). "Esperamos que Creatable World aliente a las personas a pensar de manera más amplia acerca de cómo todos los niños pueden beneficiarse del juego de muñecas".
NPR reporta que Mattel habló con más de 250 familias con niños que se identifican a lo largo del espectro de género mientras investigaban la línea de muñecas.
Esta no es la primera vez que Mattel ha tratado de ser más inclusiva. Después de ser criticada por su falta de diversidad y la representación poco realista de las mujeres en sus muñecas Barbie, la compañía ha tomado medidas para abordar esto al lanzar una Barbie con hijab e introducir diferentes tipos de cuerpo.