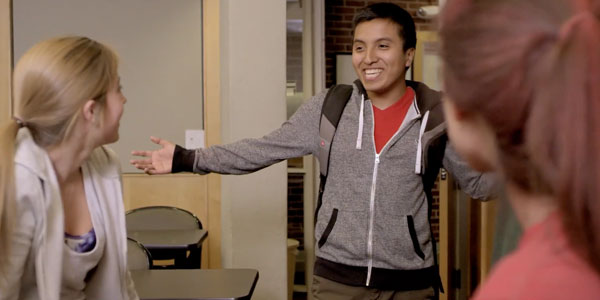 By Tere Siqueira
Kansas City area Hispanic high school students who want to attend college but are unsure of how they will pay for their education might want to consider the Haz La U program.
A partnership between Colgate-Palmolive and the Hispanic Heritage Foundation, Haz La U awards scholarship grants that can total up to $100,000, according to Colgate-Palmolive's website. Grant recipients are Hispanic students with inspiring stories.
Emanuel Cruz was one Hispanic teen who shared his story and received assistance.
Growing up in a low-income Hispanic community in Sanford, North Carolina, Cruz felt the need to hide a big part of his identity for a long time. Accepting himself as gay in a poor Hispanic family was difficult for him.
Finally, Cruz found an LGBTQ online community that gave him the courage to be himself. Being comfortable with his identity helped give him the courage to contact an engineer from his town's nuclear plant, who gave him advice about his education.
Cruz went on to receive Haz La U funding, which helped him pay for his education. Recently, he graduated from North Carolina State University, becoming the first college graduate in his family. As he was getting his education, he became a voice and an inspiration for other young people.
Each year, Haz La U awards 31 scholarship grants to honor Latino high school seniors who excel in their classrooms and communities. To be eligible, a Hispanic high school senior must have a minimum, unweighted GPA of 3.0 on a 4.0 scale and be a U.S. permanent resident or a U.S. citizen, or qualify under the Deferred Action for Childhood Arrivals program. Other criteria include a demonstration of dedication to community service and a demonstration of leadership in one's community.
Recipients are selected for a one-time grant to fund their education or a community service effort that tackles a social issue.
This year's application deadline is Oct. 15. To learn more about the application process, visit http://www.hhfyouthawards.com.
---
Beca HHF/ Colgate-Palmolive ayuda a los latinos a perseguir sus sueños educativos
Los estudiantes hispanos de preparatoria del área de Kansas City que quieran asistir a la universidad pero no estén seguros de cómo pagarán su educación podrían considerar el programa Haz La U.
De acuerdo con el sitio web de Colgate-Palmolive, Haz La U, una asociación entre Colgate-Palmolive y la Fundación de la Herencia Hispana, otorga becas que llegan a sumar un total de hasta $100,000. Los beneficiarios de la beca son estudiantes hispanos con historias inspiradoras.
Emanuel Cruz fue un adolescente hispano que compartió su historia y recibió esta asistencia.
Al crecer en una comunidad hispana de bajos ingresos en Sanford, Carolina del Norte, Cruz sintió la necesidad de ocultar una gran parte de su identidad durante mucho tiempo. Aceptarse a sí mismo como gay en una familia hispana pobre fue difícil para él.
Finalmente, Cruz encontró una comunidad en línea LGBTQ que le dio el valor de ser él mismo. Estar cómodo con su identidad le ayudó a tener el valor de contactar a un ingeniero de la planta nuclear de su ciudad, quien le dio consejos sobre su educación.
Cruz recibió fondos de Haz La U, que lo ayudaron a pagar su educación. Recientemente, se graduó de la Universidad Estatal de Carolina del Norte, convirtiéndose en el primer graduado universitario de su familia. Mientras recibía su educación, se convirtió en una voz y una inspiración para otros jóvenes.
Cada año, Haz La U otorga 31 becas para honrar a los estudiantes latinos de secundaria que se destacan en sus aulas y comunidades. Para ser elegible, un estudiante hispano de secundaria debe tener un GPA mínimo no ponderado de 3.0 en una escala de 4.0 y ser un residente permanente de los EE. UU. o un ciudadano de los EE. UU., o calificar bajo el programa de Acción Diferida para los Llegados en la Infancia. Otros criterios incluyen una demostración de dedicación al servicio comunitario y una demostración de liderazgo en la comunidad.
Los ganadores son seleccionados por una beca única para financiar su educación o un esfuerzo de servicio comunitario que aborda un problema social.
La fecha límite de solicitud de este año es el 15 de octubre. Para obtener más información sobre el proceso de solicitud, visite http://www.hhfyouthawards.com.