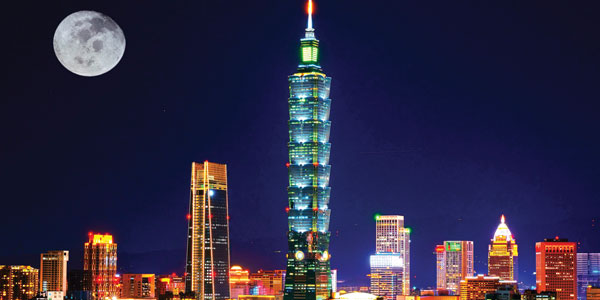 Welcome tourists! In this edition, we have to talk about the capital of an Asian country famously known as Taiwan, but its official name is the Republic of China. We are talking about Taipei, Republic of China. It was founded in early eighteenth century and it has a population of more than 2.7 million inhabitants while its metropolitan area reaches almost 7 million inhabitants.
The city is practically connected to the whole island by rail, high-speed trains, highways, airports and bus lines. For about 50 years, this city was invaded by the Japanese so you can find a Chinese city marked by certain aspects of the Japanese ideology such as order, cleanliness and manners of the inhabitants.
Round-trip flights from Kansas to Taipei have an average cost of $850 and they all have at least one layover, but most have two layovers. The easiest way to get around all Taipei is using the MRT metro since it has trains that come by every 5 minutes and which will help you get around the whole city with no issues. The cost will be determined by the length of the journey to be taken, being able to buy a "Taipei Pass" card for a full day up to 5 days with unlimited trips from $5 to $23. Lodging in Taipei is more economic than in most global cities in other parts of the world, having rooms in 3-star hotels from $20 per night and in 5-star hotels from $80 per night. Regarding food, there is a great influence from Japanese cuisine and a little from Spanish and Portuguese cuisines. Be sure to try the famous dumplings, which are stuffed dough pieces that are cooked in water, soup or some sweet cream, and you can find them salty, sweet or even spicy. There are a lot of markets that work both day and night so eating at any time will not be a problem. The average cost of a full meal is $10.
The places you should not miss during your next visit for the city of Taipei are the following:
*Elephant Mountain: it is without a doubt the best natural viewpoint of the city. It is relatively close to the Taipei 101 Tower, so you can closely admire the height of the tower colony, and the sunset will be much better appreciated from here. You can climb to the top in about 20 minutes; I recommend you visit it near 5 p.m. In addition, it has no cost.
*Chiang-Kai-Shek Memorial Hall in Liberty Square: here you can find the story of the "founder" of the Chinese Republic and president of it from 1949 to 1975 year in which he died. Although few know, the "Chinese Republic" or the aforementioned Taiwan is only recognized by 29 countries as an independent country, for other countries it is a state of the People's Republic of China since at the time of the country being controlled by the communists, he decided to flee to the island with more than 2 million inhabitants and form the new Chinese country. Here you can find a great monument in his honor and a museum that tells much of his life, a large park and the National Concert Hall.
*Taipei 101 Tower: it was the tallest branch in the world for some years. Opened in 2003, it remained the tallest building in the world until 2010, but still has the fastest elevator in the world, taking you from the ground floor to the 89th floor in just 37 seconds. On this floor, there is a viewpoint of the city; once up to that floor you can even go up 3 more floors up the stairs and you can go outside and get to know the mass damper designed to absorb the vibrations in case of an earthquake so that the building does not collapse. The entrance fee to the elevator and the viewpoint is $16.
*National Palace Museum: considered one of the best art museums in the world. It has a huge collection of Chinese works of art that were taken at the time of dividing both nations. Without a doubt, if you are a fan of Chinese art, this will be one of the best places to enjoy it. The entrance fee is $8.
*Mengjia Longshan Temple and Huaxi Street Night Market: they are located side by side. The Longshan Temple has been destroyed and rebuilt on multiple occasions due to wars and earthquakes, in which pieces of great historical value were lost. It has a classic Taiwanese culture style with some influence from the temples of southern China. The interesting thing about this site is still open at night and you can enter without problems to see it in detail. The Huaxi Market is one of the many night markets that exist throughout Taipei and where you can try a huge variety of desserts and sandwiches of the typical food of the country and also more exotic food such as snake meat snacks. Near here you can also find a variety of karaoke bars to enjoy your vacation.
The national currency of Taiwan is the New Taiwan Dollar (TWD) and, although a large number of places accept cards, there is a huge number of small stores where it is best to carry cash in its local currency.
Without more for the moment, I say goodbye not before wishing you have an excellent adventure. Greetings and have a safe trip!
---
Bienvenidos turistas, en esta edición nos toca hablar de hablar de la capital de un país asíático que es famosamente conocido como Taiwán pero que realmente su nombre oficial es República de China, nos referimos a Taipei, República de China. Fue fundada a inicios del siglo XVIII y cuenta con una población superior a los 2.7 millones de habitantes mientras que su área metropolitana llega casi a los 7 millones de habitantes.
La ciudad está prácticamente con toda la isla ya sea por ferrocarril, trenes de alta velocidad, autopistas, aeropuertos y por líneas de autobuses. Por cerca de 50 años esta ciudad fue invadida por los japoneses por lo que podrás encontrar una ciudad china muy marcada por ciertos aspectos de la ideología de los japoneses como el órden, la limpieza y los modales de los habitantes.
Los vuelos redondos de Kansas a Taipéi tienen un costo promedio de $850 y todos cuentan con al menos una escala pero en su mayoría con 2 escalas. La manera más sencilla de moverse por todo Taipéi es en el metro MRT ya que cuenta con trenes cada 5 minutos y que te ayudarán a desplazarte prácticamente por toda la ciudad sin problemas, el costo se determinará por el largo del trayecto a tomar, pudiendo comprar una tarjeta "Taipei Pass" para 1 día completo hasta 5 días con viajes ilimitados desde los $5 hasta los $23. El hospedaje en Taipéi es más económico que en la mayoría de las ciudades globales de otras partes del mundo, teniendo habitaciones en hoteles 3 estrellas desde los $20 por noche y en hoteles 5 estrellas desde $80 por noche. En cuanto a la comida hay un gran influencia de la gastronomía de los japoneses y poco de los españoles y portugueses; no dejes de probar los famosos dumplings que son trozos de masa rellenos que se cuecen en agua, sopa o en alguna crema dulce y los puedes encontrar salados, dulces o incluso picosos, existe una gran cantidad de mercados que funcionan tanto de día como de noche por lo que poder comer a cualquier hora no será ningún problema, el costo promedio de una comida completa es de $10.
Los lugares que no deberás dejar de visitar en tu próxima visita por la ciudad de Taipéi son los siguientes:
Elephant Mountain, es sin lugar a dudas el mejor mirado natural de la ciudad. Se encuentra relativamente cerca de la Torre Taipéi 101, así que podrás admirar de cerca la altura de la colozal torre, además que el atardecer será mucho mejor apreciado desde aquí, podrás subir hasta lo más alto en unos 20 minutos, te recomiendo que la visites cercanas las 5pm, además no tiene costo.
Plaza Chiang-Kai-Shek, aquí podrás encontrar la historia del que fuera "fundador" de la República China y presidente de la misma desde 1949 hasta 1975 año en el que falleció, aunque pocos lo saben la "República China" o el ya antes mencionado Taiwán sólo es reconocido por 29 países como un país independiente, para los demás países es un estado más de la "República Popular China" ya que al momente de ser controlado el país por los comunistas este decidió huir a la isla con más de 2 millones de habitantes y formar el nuevo país chino. Aquí podrás encontrar un gran monumento en su honor y un museo que cuenta gran parte de su vida, un gran parque y por el Salón de Conciertos Nacional.
Torre Taipéi 101, que fuera el dificio más alto del mundo por algunos años. Inaugurada en 2003 permaneció como el edificio más alto del mundo hasta el 2010, pero sigue contando con el elevador más rápido del mundo, llevándote desde la planta baja hasta el piso 89 en tan solo 37 segundos, en este piso se encuentra un mirador de la ciudad, una vez subiendo hasta ese piso incluso podrás subir 3 pisos más por las escaleras y podrás salir al aire libre y conocer el amortiguador de masa diseñado para absorver las vibraciones en caso de un terremoto para que el edificio no colapse. El costo de entrada al elevador y al mirador es de $16.
Museo Nacional de Taiwán, considerado uno de los mejores museos de arte en el mundo. Tiene una enorme colección de obras de arte chinas que fueron llevadas al momento de dividir ambas naciones. Sin duda si eres un fanático del arte chino este será uno de los mejores sitios para disfrutar del mismo. El costo de entrada es de $8
Templo Longshan y Mercado Nocturno Huaxi, se encuentran uno a lado del otro. El Templo Longshan ha sido destruido y reconstruido en múltiples ocasiones debido a guerras y terremotos, en los que se perdieron piezas de gran valor histórico, tiene un estilo de la cultura clásica taiwanasa con algo de influencia de los templos del sur de China, lo interesante de este sitio es que aún cercana la noche sigue abierto y puedes entrar sin problemas para conocerlo a detalle. El Mercado Huaxi es uno de los muchos mercados nocturnos que existen en todo Taipéi y en donde podrás probar una enorme variedad de postres y bocadillos de la comida típica del país y también comida más exótica como los bocadillos de carne de serpiente. Cerca de aquí también podrás encontrar una gran variedad de karaokes bar para disfrutar de tus vacaciones.
La moneda nacional de Taiwán es el Nuevo Dólar Taiwanés (TWD) y aunque en una gran cantidad de lugares se acepta tarjeta hay una inmensa cantidad de pequeños locales en donde lo mejor es llevar efectivo en su moneda local. Sin más por el momento me despido no sin antes desearles tengan una excelente aventura, saludos y buen viaje.