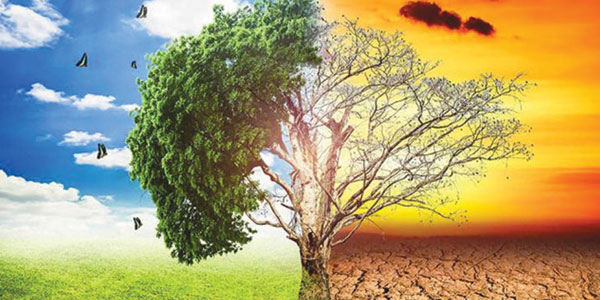 The irony of this old New Yorker cartoon by Eric Lewis is so precise I haven't been able to get it out of my head for two years. The speaker is the planet Saturn, clad in doctor's garb — a stethoscope circling his forehead — giving the bad news to a sick and miserable-looking Earth:
"I'm afraid you have humans."
What more can you say? But of course the dystopian irony is intensified by the fact that the artist is human, the reader (me) is human, and the drawing itself portrays Planet Earth with a human face, all of which summons forth a half-century-old quote an oceanographer, a member of President Lyndon Johnson's science advisory committee, told Bill Moyers when he was a special assistant to LBJ. Moyers recounted his words at a climate conference earlier this year:
Now, he said, humans have begun a 'vast geophysical experiment.' We were about to burn, within a few generations, the fossil fuels that had slowly accumulated in the earth over the past 500 million years. Burning so much oil, gas and coal would release massive amounts of carbon dioxide into the atmosphere, where it would trap heat that otherwise would escape into space. Earth's temperature could rise, causing polar ice to melt and sea levels to rise, flooding the earth's coastal regions.
Johnson, according to Moyers, took this all seriously until — yeah, the irony gets too hot to handle here — the Vietnam War fully consumed his attention. Now it's 2019, not 1965, and the "vast geophysical experiment" has continued unabated. So have America's wars, militarism and global weapons sales. And nationalistic paranoia is spreading across the whole planet.
I'm afraid you have humans, oh Planet Earth. Even the national paranoiacs, with Donald Trump seemingly in the lead, know it. That is to say, they know the planet is in trouble and global chaos is inevitable, but they see only one way to respond: tighten the borders, build walls, protect themselves from refugee invasion, prepare for war.
But something else is also emerging: an alternative to this insanity. Perhaps you could call it awareness.
What is emerging, as exemplified by the climate strike that started on Sept. 20, led by young people in some 150 countries — the generation coming of age on this injured planet — who will stage numerous rallies and demonstrations demanding real change (at long last, for God's sake), is something that can only be called transnational. Climate change is global in nature and the only way to address it is beyond the national borders that cage our thinking and protect the financial beneficiaries of this "vast geophysical experiment" that remains ongoing.
---
'Me temo que tiene humanos' – Parte 1
La ironía de esta vieja caricatura del New Yorker por Eric Lewis es tan precisa que no he podido sacarla de mi cabeza durante dos años. El que habla es el planeta Saturno, vestido con el atuendo de un médico, un estetoscopio que rodea su frente, dándole las malas noticias a una Tierra enferma y de aspecto miserable:
"Me temo que tiene humanos".
¿Qué más se puede decir? Pero por supuesto la ironía distópica se intensifica por el hecho de que el artista es humano, el lector (en este caso, yo) es humano, y el dibujo en sí retrata al planeta Tierra con un rostro humano, todo lo cual cita una cita de medio siglo de antigüedad que un oceanógrafo, miembro del comité asesor científico del presidente Lyndon Johnson, le dijo a Bill Moyers cuando era asistente especial de LBJ. Moyers contó sus palabras en una conferencia climática a principios de este año:
Ahora, dijo, los humanos ha comenzado un "vasto experimento geofísico". Estábamos a punto de quemar, en unas pocas generaciones, los combustibles fósiles que se habían acumulado lentamente en la tierra durante los últimos 500 millones de años. Quemar tanto petróleo, gas y carbón liberaría cantidades masivas de dióxido de carbono a la atmósfera, donde atraparía el calor que de otro modo se escaparía al espacio. La temperatura de la Tierra podría aumentar, haciendo que el hielo polar se derrita y los niveles del mar suban, inundando las regiones costeras de la Tierra.
Johnson, según Moyers, se tomó todo esto en serio hasta que—sí, la ironía se calienta demasiado aquí—la Guerra de Vietnam consumió toda su atención. Ahora es 2019, no 1965, y el "vasto experimento geofísico" ha continuado sin cesar. También lo han hecho las guerras de Estados Unidos, el militarismo y la venta global de armas. Y la paranoia nacionalista se está extendiendo por todo el planeta.
Me temo que tienes humanos, oh planeta Tierra. Incluso los paranoicos nacionales, con Donald Trump aparentemente a la cabeza, lo saben. Es decir, saben que el planeta está en problemas y que el caos global es inevitable, pero sólo ven una forma de responder: apretar las fronteras, construir muros, protegerse de la invasión de refugiados, prepararse para la guerra.
Pero también está surgiendo algo más: una alternativa a esta locura. Quizás podría llamarlo conciencia.
Lo que está surgiendo, como lo demuestra el ataque climático que comenzó el 20 de septiembre, liderado por jóvenes en unos 150 países—la generación que está madurando en este planeta herido—que organizará numerosas manifestaciones que exigen un cambio real (por fin, por el amor de Dios), es algo que sólo se puede llamar transnacional. El cambio climático es de naturaleza global y la única forma de enfrentarlo es más allá de las fronteras nacionales que enjaulan nuestro pensamiento y protegen a los beneficiarios financieros de este "vasto experimento geofísico" que continúa en curso.