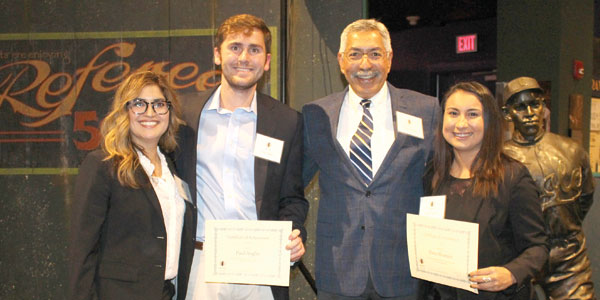 The Hispanic Bar Association of Greater Kansas City (HBAGKC) is hosting its annual youth symposium this Saturday (Nov. 2).
Held at the University of Missouri-Kansas City Law School, the symposium is geared to Hispanic high school, undergraduate or graduate students interested in attending law school and becoming a lawyer. From 9 a.m. to 2 p.m., participants will hear from law students, attorneys and judges, experience a mock law school class, participate in speed mentoring, and hear from admission representatives and LSAT preparation specialists.
The event is free, with breakfast and lunch included. Those interested should email hbagkc@gmail.com, with their full name, school name and school year.
Earlier this month, the HBAGKC hosted its Scholarship and Awards Reception at the Negro Leagues Baseball Museum, where the UMKC Law School received an award.
For more information on the HBAGKC or the youth symposium, contact hbagkc@gmail.com.
---
Asociación de Abogados Hispanos organizará un simposio para jóvenes
La Asociación de Abogados Hispanos del Gran Kansas City (HBAGKC, por sus siglas en inglés) está organizando su simposio juvenil anual este sábado (2 de noviembre).
Celebrado en la Facultad de Derecho de la Universidad de Missouri-Kansas City, el simposio está dirigido a estudiantes hispanos de bachillerato, licenciatura o postgrado interesados en asistir a la facultad de derecho y convertirse en abogado. De 9 a.m. a 2 p.m., los participantes escucharán a estudiantes de derecho, abogados y jueces, experimentarán una clase de escuela de leyes simulada, participarán en tutorías rápidas y escucharán a representantes de admisión y especialistas en preparación de LSAT.
El evento es gratuito, con desayuno y almuerzo incluido. Los interesados deben mandar un correo electrónico al hbagkc@gmail.com, con su nombre completo, nombre de su escuela o universidad y año de estudio.
A principios de este mes, el HBAGKC organizó su recepción de becas y premios en el Museo de Béisbol Negro Ligas, donde la Facultad de Derecho de la UMKC recibió un premio.
Para obtener más información sobre el HBAGKC o el simposio juvenil, comuníquese con hbagkc@gmail.com.