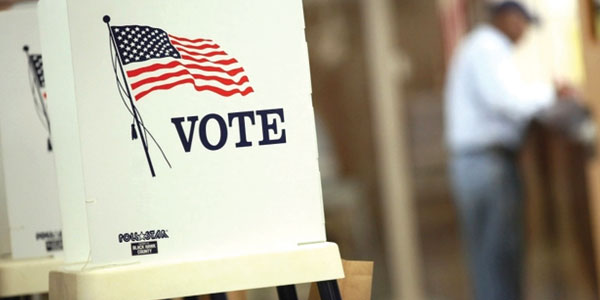 Hispanic candidates were among those who scored victories Tuesday (Nov. 5) in Kansas City area elections.
In Johnson County, Kansas, two city council races featured Hispanic candidates. In the Overland Park City Council race, newcomer Tom Carignan, a third-generation Hispanic, won the 3rd Ward seat with 61.6 percent of the vote, beating also first-timer Stephan Glentzer. In the Shawnee City Council race, however, Andy Rondon failed to defeat incumbent Eric Jenkins for the Ward 2 seat.
In Wyandotte County, political newcomer Christian Ramirez defeated longtime Unified Government Commissioner Ann Brandau-Murguia to represent Kansas City, Kansas' 3rd District. Ramirez won with 54 percent of the vote to 45 percent for Brandau-Murguia, according to unofficial results.
Two other Hispanic candidates did not have the same luck in the County Commission race. In the 4th District, Jorge Flores lost 68 percent to 32 percent to incumbent Harold Johnson. In the 6th District, newcomer Diana Aguirre lost to incumbent Angela Markley.
In other election news, Kansas City, Missouri, voters chose to reverse the city council's decision to rename The Paseo Boulevard after Martin Luther King Jr.
---
Carignan, Ramírez entre los ganadores en las elecciones del área de KC
Los candidatos hispanos estuvieron entre los ganadores el martes (5 de noviembre) en las elecciones del área de Kansas City.
En el condado de Johnson, Kansas, dos contiendas municipales tuvieron candidatos hispanos. En la carrera por el Concejo Municipal de Overland Park, el novato Tom Carignan, un hispano de tercera generación, ganó el asiento del 3er Distrito con el 61.6 por ciento de los votos, venciendo también al primerizo Stephan Glentzer. Sin embargo, en la carrera por el Concejo Municipal de Shawnee, Andy Rondón no pudo derrotar al titular Eric Jenkins por el asiento Ward 2.
En el condado de Wyandotte, el novato político Christian Ramírez derrotó a Ann Brandau-Murguia, Comisionada del Gobierno Unificado durante mucho tiempo, para representar al 3er Distrito de Kansas City, Kansas. Ramírez ganó con el 54 por ciento de los votos y el 45 por ciento para Brandau-Murguia, según resultados no oficiales.
Otros dos candidatos hispanos no tuvieron la misma suerte en la contienda por la Comisión del condado. En el 4to Distrito, Jorge Flores perdió 68 por ciento a 32 por ciento ante el titular Harold Johnson. En el sexto distrito, la recién llegada Diana Aguirre perdió ante la titular Angela Markley.
En otras noticias electorales, los votantes de Kansas City, Missouri, decidieron revertir la decisión del concejo de la ciudad de cambiar el nombre de The Paseo Boulevard por Martin Luther King Jr.