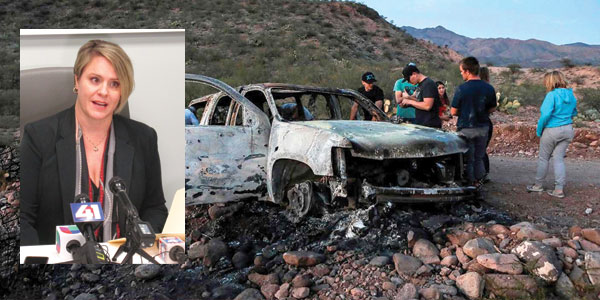 By Roberta Pardo
At least nine U.S. citizens, including six children, were killed Monday (Nov. 4) in an apparent ambush attack on a highway in the Mexican state of Sonora, which borders the United States.
Seven other children survived, including a months-old baby; five of the children were wounded, according to Denise LeBaron-Ramos, a Kansas City immigration attorney whose family members were among those killed.
During a press conference Monday, LeBaron-Ramos said her family was traveling from a small community to visit family members in the Mexican state of Chihuahua when their vehicles were ambushed. One of the cars was "completely torched."
"The Mexican National Secretary of Public Security has contacted the families and ensured these families will continue to have safe passage through these small towns … for the next few days for funeral services or other necessary travel," she said.
Another family member told multiple media outlets that one of the children who was uninjured walked for about 14 miles to La Mora, where the family lived, to get help. The seven children who survived are being treated at hospitals in the United States.
U.S. Homeland Security Undersecretary David Glawe referred to the attack during a Senate panel, as NBC News reported.
"The violence and disregard for human life displayed by these criminal organizations is as barbaric and gruesome as any terrorist organization we see around the globe," said Glawe.
Mexican authorities are still investigating who was behind the attack, though some blame organized crime. The territory is being disputed by the Sonora and Chihuahua cartels.
LeBaron-Ramos said family members have created a GoFundMe account for those who wish to donate to help in medical and funeral expenses for the victims. For those interested in donating, visit www.gofundme.com/f/lebaron-and-langford-families.
---
Nueve muertos en ataque de emboscada cerca de la frontera entre EE.UU. y México
Al menos nueve ciudadanos estadounidenses, incluidos seis niños, fueron asesinados el lunes (4 de noviembre) en un aparente ataque de emboscada en una carretera en el estado mexicano de Sonora, que limita con Estados Unidos.
Otros siete niños sobrevivieron, incluido un bebé de meses; cinco de los niños resultaron heridos, según Denise LeBaron-Ramos, una abogada de inmigración de Kansas City cuyos familiares estaban entre los asesinados.
Durante una conferencia de prensa el lunes, LeBaron-Ramos dijo que su familia viajaba desde una pequeña comunidad para visitar a familiares en el estado mexicano de Chihuahua cuando sus vehículos fueron emboscados. Uno de los autos terminó "completamente incinerado".
"El Secretario Nacional de Seguridad Pública de México se contactó con las familias y se aseguró de que estas familias continúen teniendo un paso seguro a través de estas pequeñas ciudades … durante los próximos días para los servicios funerarios u otros viajes necesarios", dijo.
Otro miembro de la familia le dijo a múltiples medios de comunicación que uno de los niños que no resultó herido caminó por 14 millas a La Mora, donde vivía la familia, para buscar ayuda. Los siete niños que sobrevivieron están siendo atendidos en hospitales de Estados Unidos.
El subsecretario de Seguridad Nacional de Estados Unidos, David Glawe, se refirió al ataque durante un panel del Senado, como informó NBC News.
"La violencia y el desprecio por la vida humana que muestran estas organizaciones criminales es tan bárbaro y espantoso como cualquier organización terrorista que vemos en todo el mundo", dijo Glawe.
Las autoridades mexicanas aún están investigando quién estuvo detrás del ataque, aunque algunos culpan al crimen organizado. El territorio está siendo disputado por los cárteles de Sonora y Chihuahua.
LeBaron-Ramos dijo que los miembros de la familia han creado una cuenta de GoFundMe para aquellos que desean donar para ayudar en los gastos médicos y funerarios de las víctimas. Para aquellos interesados en donar, visite www.gofundme.com/f/lebaron-and-langford-families.