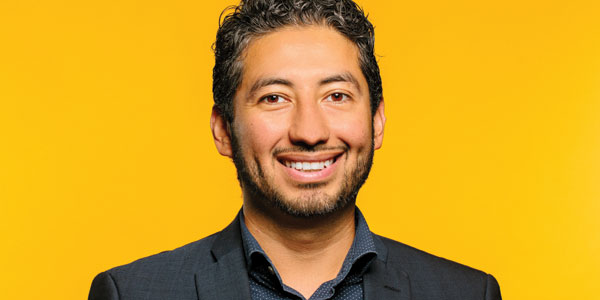 By Roberta Pardo
Kansas City, Kansas, native Randy Lopez got elected to the Kansas City, Kansas, Board of Education in the Nov. 6 elections.
As he waits for January 2020, when he starts his position, Lopez is working toward catching up on business and meeting with people.
"Being on a school board is a very unique elected position – and there's a lot to learn about it, especially coming in mid-year," he said.
Lopez has lived his whole life here, leaving only to get his master's degree in public administration in New York City.
"(Kansas City) has always been home, (so) this is where I want to make a difference," he said.
For the past three years, Lopez has attended school board meetings, seeing what is happening in Kansas City, Kansas, Public Schools and seeing the impact a school district can make on a community. That led him to run for a board seat.
Although there have been appointed Latino board members, Lopez is the first elected Latino board member. He will serve a school district in which more than 50 percent of the students are Latino.
"It's important to make sure that we have as many folks representing our community to run," he said.
With a growing diverse student population, Lopez wants to help the board make sure students' needs are met and continue building on what has been working.
Lopez hopes all families, including immigrant families, feel welcome in the district. He said he had an open-door policy during his campaign. He plans to continue that policy come January.
"I want to make sure that we're providing a safe space for all of our families to come and participate in what's happening at the board level and our schools," Lopez said.
_________________________________________________________________________________________
Nativo de KCK es elegido para la Junta de Educación de KCK
El nativo de Kansas City, Kansas, Randy López fue elegido miembro de la Junta de Educación de Kansas City, Kansas, en las elecciones del 6 de noviembre.
Mientras espera hasta enero del 2020, cuando asuma el cargo, López está trabajando para ponerse al día en los negocios y reunirse con la gente.
"Estar en un consejo escolar es una posición elegida muy singular, y hay mucho que aprender al respecto, especialmente entrando a mediados de año", dijo.
López ha vivido toda su vida aquí, dejando sólo para obtener su maestría en administración pública en la ciudad de Nueva York.
"(Kansas City) siempre ha sido mi hogar, (así que) aquí es donde quiero marcar la diferencia", dijo.
Durante los últimos tres años, López ha asistido a las reuniones de la junta escolar, viendo lo que está sucediendo en las Escuelas Públicas de Kansas City, Kansas y viendo el impacto que un distrito escolar puede tener en una comunidad. Eso lo llevó a correr por un asiento de la junta.
Aunque se han designado miembros latinos de la junta, López es el primer miembro latino elegido de la junta. Servirá a un distrito escolar en el que más del 50 por ciento de los estudiantes son latinos.
"Es importante asegurarse que tengamos tantas personas que representen a nuestra comunidad en campaña", dijo.
Con una población estudiantil cada vez más diversa, López quiere ayudar a la junta a asegurarse de que se satisfagan las necesidades de los estudiantes y continuar construyendo sobre lo que ha estado funcionando.
López espera que todas las familias, incluidas las familias inmigrantes, se sientan bienvenidas en el distrito. Dijo que tenía una política de puertas abiertas durante su campaña. Él planea continuar esa política en enero.
"Quiero asegurarme de que estamos proporcionando un espacio seguro para que todas nuestras familias vengan y participen en lo que está sucediendo a nivel de la junta y nuestras escuelas", dijo López.