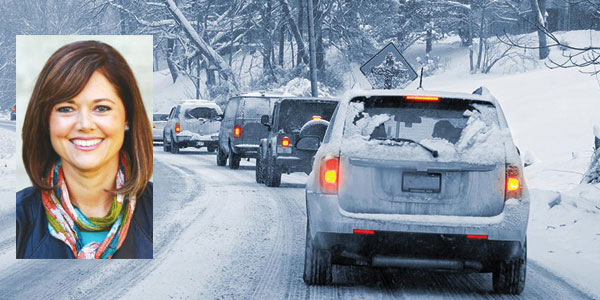 Now that winter has arrived in the Kansas City area, Laura Adams, a safety and education analyst at DriversEd.com, has some advice on how to best take care of your car this winter, and how to be safe when you are driving.
The first tip she provides is to expect varying road conditions. Because of snow, roads get icy, snowy or slushy, which creates serious hazards. To reduce the risk of accidents, Adams recommends keeping windows and windshields clear at all times, and increasing the following distance to 10 seconds.
"The key to driving in the winter is really to slow down," Adams said.
On that note, Adams also advises driving below the speed limit, slowing down before stopping, and taking curves and inclines. If you slide or skid on ice, do not slam on your brakes.
"Instead, ease up off the accelerator and try to retain control of the vehicle by turning your front wheels in the direction of the skid," she said.
Adams recommends taking your vehicle to a mechanic to make sure it is ready for wintertime. Things to check include the oil, battery, tires and whether or not you have winter wiper fluid.
It also is advisable to have an emergency kit in the car. The kit should include items such as an ice scraper, blankets, a flashlight, a first-aid kit, and extra food and water.
The last piece of advice Adams provides, especially for first-time and inexperienced drivers, is to take a defensive driving course.
"That way, you can even get discounts on auto insurance," she said.
For more information, visit https://driversed.com/trending/are-youand-your-carwinter-road-ready.
---
Ahora que el invierno ha llegado al área de Kansas City, Laura Adams, analista de seguridad y educación en DriversEd.com, tiene algunos consejos sobre cómo cuidar mejor su automóvil este invierno y cómo mantenerse seguro mientras conduce.
El primer consejo que proporciona es esperar diferentes condiciones de carretera. Debido a la nieve, las carreteras se vuelven heladas, nevadas o fangosas, lo que crea serios peligros. Para reducir el riesgo de accidentes, Adams recomienda mantener las ventanas y los parabrisas limpios en todo momento, y aumentar la distancia de seguimiento a 10 segundos.
"La clave para conducir en el invierno es realmente disminuir la velocidad", dijo Adams.
En esa nota, Adams también aconseja manejar por debajo del límite de velocidad, disminuyendo la velocidad antes de detenerse y tomar curvas y subidas. Si se desliza o patina sobre hielo, no frene bruscamente.
"En su lugar, aléjese del acelerador e intente mantener el control del vehículo girando las ruedas delanteras en la dirección del hielo", dijo.
Adams recomienda llevar su vehículo a un mecánico para asegurarse de que esté en condiciones para el invierno. Las cosas que debe revisar incluyen el aceite, la batería, los neumáticos y si tiene o no líquido limpiador de invierno.
También es recomendable tener un kit de emergencia en el auto. El kit debe incluir elementos tales como un raspador de hielo, mantas, una linterna, un botiquín de primeros auxilios y comida y agua adicionales.
El último consejo que Adams brinda, especialmente para conductores novatos o sin mucha experiencia, es tomar un curso de manejo defensivo.
"De esa manera, incluso puede obtener descuentos en seguros de automóviles", dijo.
Para obtener más información, visite https://driversed.com/trending/are-youand-your-carwinter-road-ready.