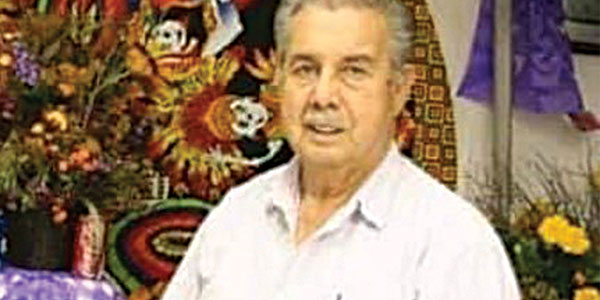 By Roberta Pardo
Paulo Ramirez Sr., 81, died Nov. 30 at home, surrounded by his family.
Founder of Radio Canonazo (Cañonazo in Spanish), the Kansas City area's first Spanish-only station, Ramirez became a pioneer of area Hispanic radio. It was his dream to have a solidified Spanish station, so he started by playing Spanish music on Saturdays on WHB 810 AM. After Canonazo, he expanded his business to La Super X 1250 AM.
He was born June 29, 1938, in Donna, Texas, and moved to the Kansas City area in 1961. After working various jobs, he started his life as an entrepreneur and business owner as the operator of the Rainbow Center Dance Hall, where he promoted dances and introduced many Latino artists and performers to the area.
Ramirez also owned and operated La Unica Music Store and El Taconazo restaurant, which he opened with his son Frank.
Debra Sandoval, a daughter of Ramirez, said her father was an outstanding man who always wanted the best for the community.
"I'm proud of my dad," Sandoval said. "I'm a business owner and that was something that he taught me. It makes me proud what he wanted to do and what he did do for the community."
Sandoval said the family is appreciative of the condolences and the community reaching out to them and being supportive during this time.
Ramirez is survived by his wife Linda; six children: Maria, Paulo Jr., Frank, Gilbert, Debra and Juan; four stepchildren: Eduardo, Irma, Leticia and Mario; three siblings; 40 grandchildren; and 53 great-grandchildren.
A visitation will be held from 5 to 9 p.m. this Friday (Dec. 6) at Maple Hill Funeral Home. The funeral Mass will take place at 10 a.m. Saturday (Dec. 7) at All Saints Parish.
_______________________________________________________________________________________
Paulo Ramírez, pionero de la radio en español en KC, muere a los 81
Paulo Ramírez, padre, de 81 años, murió el 30 de noviembre en su casa, rodeado de su familia.
Fundador de la Radio Cañonazo, la primera estación de radio exclusivamente en español del área de Kansas City, Ramírez se convirtió en pionero de la radio hispana en el área. Era su sueño tener una estación en español consolidada, así que comenzó tocando música en español los sábados en WHB 810 AM. Después de Cañonazo, expandió su negocio a La Súper X 1250 AM.
Nació el 19 de junio de 1938 en Donna, Texas, y se mudó al área de Kansas City en 1961. Después de trabajar en varios empleos, comenzó su vida como empresario y dueño de negocios como operador del Rainbow Center Dance Hall, donde promovió bailes e introdujo muchos artistas y artistas latinos en el área.
Ramírez también era dueño y operaba La Única Music Store y el restaurante El Taconazo, que abrió con su hijo Frank.
Debra Sandoval, hija de Ramírez, dijo que su padre era un hombre extraordinario que siempre quiso lo mejor para la comunidad.
"Estoy orgullosa de mi papá", dijo Sandoval. "Soy dueña de un negocio y eso fue algo que él me enseñó. Me enorgullece lo que él quería hacer y lo que hizo por la comunidad".
Sandoval dijo la familia aprecia las condolencias y la comunidad que se acerca a ellas y las apoya durante este momento.
A Ramírez le sobreviven su esposa Linda; seis hijos: María, Paulo Jr., Frank, Gilbert, Debra y Juan; cuatro hijastros: Eduardo, Irma, Leticia y Mario; tres hermanos 40 nietos; y 53 bisnietos.
Se realizará una visita de 5 a 9 p.m. este viernes (6 de diciembre) en la funeraria Maple Hill. La misa fúnebre tendrá lugar a las 10 a.m. del sábado (7 de diciembre) en la parroquia de Todos los Santos.