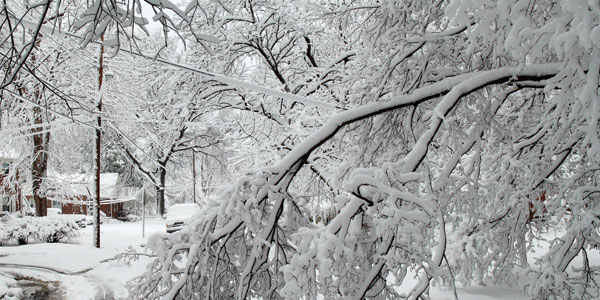 By Family Features
While the impact of winter weather varies across the country, nearly all Americans are affected in some capacity each year as temperatures drop, from freezing rain to severe blizzards. One of the key dangers when severe weather strikes is the potential loss of heat, power and communication services. Making a portable generator part of your family's emergency plan can help keep your loved ones safe and warm in the event of an unexpected power outage.
While they can provide reliable back-up energy for portable heaters, help prevent food spoilage and allow for access to radio or television for news and weather updates, portable generators must be used properly to avoid carbon monoxide risks. Newer generator models that comply with the American National Standards Institute/Portable Generator Manufacturers' Association (PGMA) G300 Standard include carbon monoxide sensors and shutdown features to help protect your family from dangerous carbon monoxide buildup and poisoning, which can cause extreme illness and even death.
Before severe weather hits, PGMA recommends educating yourself on safe use and keeping these portable generator safety precautions in mind to help ensure your family is ready for whatever winter may bring:
*Read the operator's manual first and follow the manufacturer's recommended precautions and procedures, as well as instructions on safe operation and potential hazards.
*Remember you cannot smell, see or taste carbon monoxide, so proper use of portable generators is crucial.
*To avoid dangerous carbon monoxide accumulation, always "Take It Outside." This means you should never run a portable generator indoors in areas such as garages, basements, crawl spaces, breezeways, sheds or other partially enclosed spaces.
*Always place portable generators downwind and point engine exhaust away from occupied spaces.
*Only use portable generators outside and never place a portable generator near windows, doors or vents, as carbon monoxide gas can accumulate and potentially be drawn indoors.
*Learn to recognize the symptoms of carbon monoxide poisoning: headache, nausea, dizziness, shortness of breath, weakness and fainting.
*If you feel sick, dizzy or weak while using a portable generator, get to fresh air immediately and call 911 for emergency medical attention.
*Install carbon monoxide alarms inside your home.
Learn more about safely operating a portable generator during winter weather at pgmaonline.com and takeyourgeneratoroutside.com.
---
Prepare a su familia para el clima de invierno
Si bien el impacto del clima invernal varía en todo el país, casi todos los estadounidenses se ven afectados en cierta capacidad cada año a medida que bajan las temperaturas, desde lluvia helada hasta ventiscas severas. Uno de los peligros clave cuando azota el clima severo es la pérdida potencial de servicios de calor, energía y comunicación. Hacer que un generador portátil sea parte del plan de emergencia de su familia puede ayudar a mantener a sus seres queridos seguros y calientes en caso de un apagón inesperado.
Si bien pueden brindar energía de respaldo confiable para los calentadores portátiles, ayudar a prevenir el deterioro de los alimentos y permitir el acceso a la radio o la televisión para recibir noticias y actualizaciones del clima, los generadores portátiles deben usarse adecuadamente para evitar riesgos de monóxido de carbono. Los modelos de generadores más nuevos que cumplen con el Estándar G300 del American National Standards Institute/Portable Generator Association (PGMA) incluyen sensores de monóxido de carbono y funciones de apagado para ayudar a proteger a su familia de la acumulación peligrosa de monóxido de carbono y el envenenamiento, que pueden causar enfermedades extremas e incluso la muerte.
Antes de que llegue el mal tiempo, el PGMA recomienda educarse sobre el uso seguro y tener en cuenta estas precauciones de seguridad del generador portátil para ayudar a garantizar que su familia esté lista para lo que pueda traer el invierno:
*Lea primero el manual del operador y siga las precauciones y procedimientos recomendados por el fabricante, así como las instrucciones sobre operación segura y riesgos potenciales.
*Recuerde que no puede oler, ver o saborear el monóxido de carbón por lo que es crucial el uso apropiado de los generadores portátiles.
*Para evitar la acumulación peligrosa de monóxido de carbono, siempre "llévelo afuera." Esto significa que nunca debe hacer funcionar un generador portátil en el interior en áreas como garajes, sótanos, espacios de acceso, corredores, cobertizos u otros espacios parcialmente cerrados.
*Siempre coloque generadores portátiles a favor del viento y apunte el escape del motor lejos de los espacios ocupados.
*Sólo use los generadores portátiles en el exterior y nunca coloque un generador portátil cerca de ventanas, puertas o respiraderos, ya que el gas de monóxido de carbono puede acumularse y potencialmente ser arrastrado al interior.
*Aprenda a reconocer los síntomas de la intoxicación por monóxido de carbón: dolor de cabeza, náuseas, mareos, dificultad al respirar, debilidad y desmayos.
*Si se siente enfermo, mareado o débil mientras usa un generador portátil, tome aire fresco de inmediato y llame al 911 para recibir atención médica de emergencia.
*Instale alarmas de monóxido de carbón dentro de su hogar.
Obtenga más información sobre cómo operar de manera segura un generador portátil durante el clima invernal en pgmaonline.com y takeyourgeneratoroutside.com.