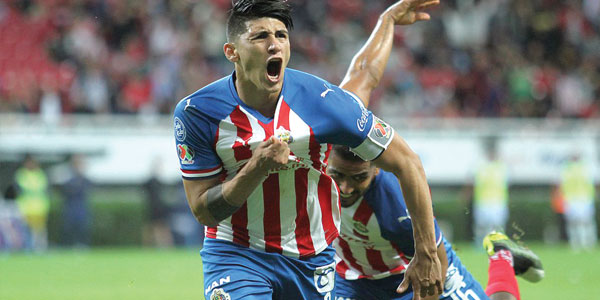 By Chara
In the past decade we have witnessed the arrival of different super stars to different teams in the MLS. David Beckham, Steven Gerrard, Zlatan Ibrahimovic and Gio Dos Santos to Galaxy, Kaká to Orlando City and Carlos Vela to LAFC just to name a few.
Kansas City, who failed to qualify to the 2019 MLS playoffs for the first time in almost 10 years, didn't want to sit back and let the other teams get all the good players and went looking for its own star.
Sporting KC announced the signing of former Chivas player, Alan Pulido. Pulido signed for four years and a record fee of $9.5 million as a designated player.
'Puligol', as some people calls him, scored 12 goals in 18 games for Guadalajara Chivas, one of the biggest teams in Mexico. He earned the Golden Boot of the Apertura 2019.
His arrival to Sporting KC means new goals for the Mexican top scorer. "My dream would be to fight for MLS Cup and to win the title. There's no bigger dream or motivation than that, and of course I want to bring joy to the fans with my goals. I'd like to grow personally, and I would like to be the top scorer in MLS—that would be a big dream of mine," Pulido said.
Pulido started his career with the Tigres from Nuevo Leon. He won the Apertura 2011 and the Copa MX in 2014. After Tigres, Pulido played for Levadiakos FC and then for Olympiacos, one of the top teams in Greece. Them, he went back to Mexico to play for Chivas where he won the Liga MX and Copa MX in the Clausura 2017 and the CONCACAF Champions League in 2018.
"I achieved all of my goals with Chivas Guadalajara. I am the kind of player that goes after goals and achieves them. Everything that I could accomplish with the team in Mexico, I did. And now Sporting KC represents another challenge—one that I can grow professionally and personally in," Pulido said in a press conference.
The arrival of the 28 year-old striker has created a sensation of hope for the team. Sporting KC Manager, Peter Vermes said the Mexican has certain qualities that makes them unique. "He can score goals, and the position he'll play is the No. 9. More importantly, he has an incredible presence. He's good with both his left and right foot, he's good in the air with his head, but he's also a strong and competitive player," Vermes said.
Pulido is not the first star that land in Kansas City. Argentinian star Claudio Lopez and also Omar Bravo was playing in Kansas City in 2011. In fact, Pulido said Omar Bravo talked to him about Kansas City and the team.
"Omar told me that KC is a great city, very warm and with great fans," Pulido said.
Sporting Kansas City has won the MLS Cup twice, in 2000 and in 2013; and the U.S. Open Cup four times, the last one in 2017. Pulido will play a significant role within Vermes team and may help the team to get back to playoffs and win once again the MLS Cup.
___________________________________________________________________________________________
La nueva superestrella de KC: Alan Pulido
En la última década, hemos sido testigos de la llegada de diferentes superestrellas a diferentes equipos de la MLS. David Beckham, Steven Gerrard, Zlatan Ibrahimovic y Gio Dos Santos al Galaxy, Kaká a Orlando City y Carlos Vela al LAFC sólo por nombrar algunos.
Kansas City, que no pudo clasificar a los playoffs de la MLS 2019 por primera vez en casi 10 años, no quería quedarse atrás y dejar que los otros equipos se queden con los jugadores buenos y fueron a buscar a su propia estrella.
Sporting KC anunció el fichaje del ex jugador de Chivas, Alan Pulido. Pulido firmó por cuatro años y una tarifa récord de $9.5 millones como jugador designado.
'Puligol', como lo llaman algunos, anotó 12 goles en 18 juegos para Guadalajara Chivas, uno de los equipos más grandes de México. Obtuvo la Bota de Oro del Apertura 2019.
Su llegada al Sporting KC significa nuevos objetivos para el máximo goleador mexicano.
"Mi sueño sería luchar por la Copa MLS y ganar el título. No hay un sueño o motivación más grande que eso, y por supuesto quiero alegrar a los fanáticos con mis objetivos. Me gustaría crecer personalmente, y me gustaría ser el máximo goleador de la MLS, eso sería un gran sueño para mí", dijo Pulido.
Pulido comenzó su carrera con el Tigres de Nuevo León. Ganó el Apertura 2011 y la Copa MX en 2014. Después de Tigres, Pulido jugó para el Levadiakos FC y luego para el Olympiacos, uno de los mejores equipos de Grecia. Luego, regresó a México para jugar para Chivas, donde ganó la Liga MX y la Copa MX en el Clausura 2017 y la Liga de Campeones CONCACAF en 2018.
"Logré todos mis objetivos con Chivas Guadalajara. Soy el tipo de jugador que persigue los objetivos y los alcanza. Todo lo que pude lograr con el equipo en México, lo hice. Y ahora Sporting KC representa otro desafío, uno en el que puedo crecer profesional y personalmente", dijo Pulido en una conferencia de prensa.
La llegada del delantero de 28 anhos ha creado una sensación de esperanza para el equipo. El director técnico de Sporting KC, Peter Vermes, dijo que el mexicano tiene ciertas cualidades que los hacen únicos.
"Puede marcar goles, y la posición que jugará es el No. 9. Más importante aún, tiene una presencia increíble. Es bueno tanto con el pie izquierdo como con el derecho, es bueno en el aire con la cabeza, pero también es un jugador fuerte y competitivo", dijo Vermes.
Pulido no es la primera estrella que aterriza en Kansas City. La estrella argentina Claudio López y también Omar Bravo estaban jugando en Kansas City en 2011. De hecho, Pulido dijo que Omar Bravo le habló sobre Kansas City y el equipo.
"Omar me dijo que KC es una gran ciudad, muy cálida y con grandes admiradores", dijo.
Sporting Kansas City ha ganado la MLS dos veces, en 2000 y en 2013; y la U.S. Open Cup cuatro veces, la última en 2017. Pulido desempeñará un papel importante dentro del equipo Vermes y puede ayudar al equipo a volver a los playoffs y ganar una vez más la Copa MLS.