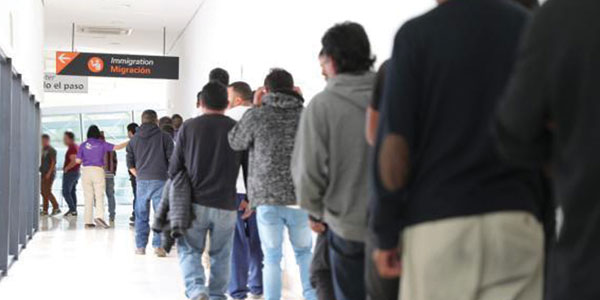 In the last weeks of December of 2019,U.S. Immigration and Customs Enforcement (ICE) agency and the Mexican Ministry of the Interior announced they would continue with the Interior Repatriation Initiative.
The initiative is designed to it make it more difficult for undocumented people who want to cross the U.S.-Mexico border, yet provide a humane, safe and orderly way of returning Mexican nationals.
"The Interior Repatriation Initiative reflects our commitment and ongoing bilateral effort with the government of Mexico to ensure strong, humane and effective enforcement of both nations' immigration laws," Matt Albence, ICE director, said in a statement.
ICE will provide transportation to Guadalajara International Airport. The Mexican government will then provide transportation to the nationals' cities of origin.
"This action disrupts the smuggling cycle by removing Mexican nationals from the border, where they would be targeted by criminal gangs and smuggling organizations," Mark Morgan, acting ICE commissioner, said in the statement. "This is one more initiative that restores integrity to our immigration system."
Albence also stated the protocols established for the flights would "ensure that those repatriated to Mexico are returned in a safe and expeditious manner, and closer to their homes to discourage future attempts to cross the border."
The first flight provided through the initiative took place Dec. 19, returning 150 Mexican citizens.
---
ICE y la Secretaría del Interior de México continuarán con IRI
En las ultimas semanas de diciembre de el 2019, la agencia de Inmigración y Control de Aduanas (ICE, por sus siglas en inglés) y la Secretaría del Interior de México anunciaron que continuarían con la Iniciativa de Repatriación Interior.
La iniciativa está diseñada para hacer que sea más difícil para las personas indocumentadas que desean cruzar la frontera entre Estados Unidos y México, y al mismo tiempo proporcionar una forma humana, segura y ordenada de regresar a los ciudadanos mexicanos.
"La Iniciativa de Repatriación Interior (IRI) refleja nuestro compromiso y nuestro continuo esfuerzo bilateral con el gobierno de México para garantizar la aplicación firme, humana y efectiva de las leyes de inmigración de ambas naciones", dijo Matt Albence, director de ICE, en un comunicado.
ICE brindará transporte al Aeropuerto Internacional de Guadalajara. Luego, el gobierno mexicano brindará transporte a las ciudades de origen de los mexicanos.
"Esta acción interrumpe el ciclo de contrabando al eliminar a los ciudadanos mexicanos de la frontera, donde serían atacados por bandas criminales y organizaciones de contrabando", dijo Mark Morgan, comisionado interino de ICE, en el comunicado. "Esta es una iniciativa más que restaura la integridad de nuestro sistema de inmigración".
Albence también indicó que los protocolos establecidos para los vuelos "garantizarían que los repatriados a México sean devueltos de manera segura y expedita, y más cerca de sus hogares para desalentar futuros intentos de cruzar la frontera".
El primer vuelo provisto a través de la iniciativa tuvo lugar el 19 de diciembre, devolviendo a 150 ciudadanos mexicanos.