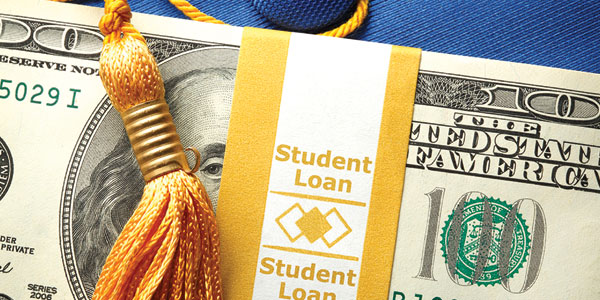 By Kent Allen, AARP,
Vast majority would make one or more different choices for scholarship, school or major
If they had it to do over again, the vast majority of millennials who have had or still have college loan debt would change one or more major choices they made when they began school, according to a new nationwide survey. Some would even have forgone the education. Boomers who took out loans, by contrast, report more satisfaction with their decisions about college.
In addition, the Bankrate.com survey of nearly 4,000 adults found that 77 percent of millennials who have had loans "have delayed at least one major life or financial milestone as a result." Half of boomers in the same position say they've never delayed such a milestone event.
For millennials who have incurred debt, 34 percent say they would have sought more scholarship money; 25 percent would have attended a less expensive college; 24 percent would have attended trade school or community college; and 23 percent would have chosen a different field for their major. Nine percent wouldn't have chosen college at all.
The survey also confirmed that student loan debt has become more common with succeeding generations. Just 10 percent of Silent Generation college students took on debt; the rate is 24 percent for boomers and nearly 4 in 10 among millennials.
Other findings among those who have had student loans:
34 percent are delaying building their emergency savings.
29 percent are delaying retirement saving.
27 percent are putting off paying off other forms of debt, including credit cards.
______________________________________________________________________________________________
Muchos millennials con deudas universitarias 
La gran mayoría cambiaría una o más decisiones en cuanto a becas, institución académica o carrera.
Si tuvieran que volver a hacerlo, la gran mayoría de los de la generación del milenio que han tenido, o aún tienen, deudas por préstamos estudiantiles cambiarían una o más decisiones importantes que hicieron cuando empezaron sus estudios universitarios, según una nueva encuesta nacional. Algunos incluso habrían renunciado a la educación. Por el contrario, los boomers que sacaron préstamos informan estar más satisfechos con sus decisiones en torno a la educación superior.
Además, la encuesta de Bankrate.com de cerca de 4,000 adultos concluyó que el 77% de los de la generación del milenio que han sacado préstamos "han aplazado, como resultado, al menos un hito importante o financiero en sus vidas". La mitad de los boomers en la misma posición señalan que nunca aplazaron un evento de importancia.
En cuanto a los de la generación del milenio que han incurrido en deudas, el 34% dicen que habrían buscado más dinero en becas; el 25% habrían asistido a una institución menos costosa; el 24% habrían asistido a una escuela técnica o centro educativo comunitario; y el 23% habrían elegido un campo diferente para su carrera. El 9% habrían elegido no asistir a una institución académica.
La encuesta también confirmó que la deuda de préstamos estudiantiles se ha vuelto más común en las generaciones posteriores. Sólo el 10% de los estudiantes universitarios de la generación silenciosa se endeudaron; la tasa es del 24% para los boomers y casi 4 de cada 10 de entre los de la generación del milenio.
Otros hallazgos entre los que han tenido préstamos estudiantiles:
El 34% están aplazando generar ahorros de emergencia.
El 29% están aplazando ahorrar para la jubilación.
El 27% están aplazando el pago de otras formas de deuda, como las tarjetas de crédito.