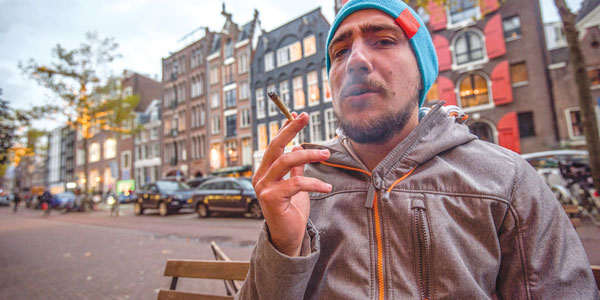 By Tere Siqueira
Attitudes toward marijuana seem to be changing.
Those attitudes might lead to more countries legalizing marijuana – a change that could affect countries like Mexico.
According to the United Nations, 158.8 million people around the world use marijuana. That is more than 3.8 percent of the planet's population. And more than 94 million people in the United States have admitted to using it at least once.
According to data from the National Institute on Drug Abuse, daily marijuana use among young Americans is at its highest rate in 30 years and only 30 percent of 19- to 22-year-olds see regular marijuana use as harmful.
Carlos Hornelas, a doctoral candidate in public administration and policy at Anahuac University in Mexico, attributes this to normalization in the media. That is, the media have made marijuana usage seem normal.
"All sitcoms, TV shows and movies make it seem like it's totally normal to smoke weed," Hornelas said. "Even more serious (TV) networks like National Geographic make superficial documentaries about cannabis only showing the alleged benefits, without offering any real medical references."
In the states in America where recreational and/or medicinal marijuana have been legalized, marijuana prices have collapsed because a legal cannabis-oriented business is dramatically cheaper to operate than an illegal one. Even in the states where cannabis is still illegal, the drug has become more accessible and affordable than other substances.
Mexico faces the consequences of those falling prices and America's growing marijuana consumption. Since 2006, more than 200,000 people have died in the country's drug war. Supporters of legalizing marijuana argue that legalizing the drug in the United States and Mexico would help end the violence, but Hornelas argues that drug dealers have a supply chain established and are unwilling to lose it.
"There are many people involved in the drug supply chain," he said. "Starting from the ones that cultivate (it), the people that protect … (them) – some claim that the Mexican army (is involved) – the people that do the money laundering, the ones that transport it and the ones that sell it."
Some legalization supporters would probably argue that the supply chain would not be affected and that drug cartels would use it for other substances instead, such as Fentanyl. They also would probably argue that legalization would lead to marijuana production becoming a part of the agricultural industry.
__________________________________________________________________________________________
Normalizando la marihuana: Las actitudes públicas están cambiando
Las actitudes hacia la marihuana parecen estar cambiando.
Esas actitudes podrían llevar a más países a legalizar la marihuana, un cambio que podría afectar a países como México.
Según las Naciones Unidas, 158.8 millones de personas en todo el mundo consumen marihuana. Eso es más del 3.8 por ciento de la población del planeta y más de 94 millones de personas en los Estados Unidos han admitido usarlo al menos una vez.
Según datos del Instituto Nacional sobre el Abuso de Drogas, el consumo diario de marihuana entre los jóvenes estadounidenses está en su tasa más alta en 30 años y sólo el 30 por ciento de los jóvenes de 19 a 22 años considera que el consumo regular de marihuana es perjudicial.
Carlos Hornelas, doctorado en Administración Pública y Política de la Universidad Anáhuac en México, atribuye esto a la normalización en los medios. Es decir, los medios han hecho que el consumo de marihuana parezca normal.
"Todas las comedias, programas de televisión y películas hacen que parezca totalmente normal fumar marihuana", dijo Hornelas. "Incluso las producciones de televisión más serias cómo National Geographic hacen documentales superficiales sobre el cannabis que sólo muestran los supuestos beneficios, sin ofrecer referencias médicas reales".
En los estados de América donde la marihuana recreativa y/o medicinal se ha legalizado, los precios de la marihuana se han derrumbado porque un negocio legal orientado al cannabis es mucho más barato de operar que uno ilegal. Incluso en los estados donde el cannabis sigue siendo ilegal, la droga se ha vuelto más accesible y asequible que otras sustancias.
México enfrenta las consecuencias de la caída de los precios y el creciente consumo de marihuana en Estados Unidos. Desde el 2006, más de 200,000 personas han muerto en la guerra contra las drogas en el país. Los partidarios de legalizar la marihuana argumentan que legalizar la droga en los Estados Unidos y México ayudaría a poner fin a la violencia, pero Hornelas argumenta que los traficantes de drogas tienen una cadena de suministro establecida y no están dispuestos a perderla.
"Hay muchas personas involucradas en la cadena de suministro de drogas", dijo. "Empezando por los que lo cultivan, las personas que los protegen, – algunos afirman que el ejército mexicano (está involucrado) – las personas que hacen el lavado de dinero, los que lo transportan y los que lo venden."
Algunos partidarios de la legalización probablemente argumentarían que la cadena de suministro no se vería afectada y que los cárteles de la droga la usarían para otras sustancias, como el fentanilo. También, la legalización probablemente llevaría a que la producción de marihuana se convierta en parte de la industria agrícola.