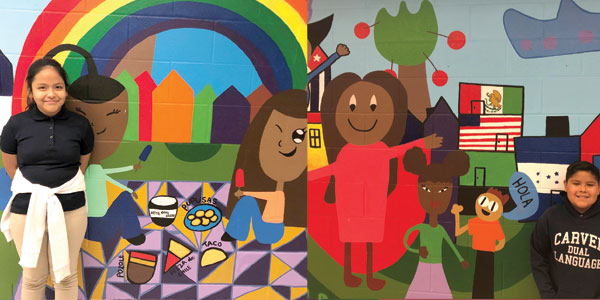 By Roberta Pardo // Photos cortesy of Elle Moxley / KCUR 89.3
Carver Dual Language School has a new mural that celebrates the Hispanic heritage in its students.
Connie Fiorella Fitzpatrick, a Latina artist who lives in Lawrence, Kansas, worked on the mural. During a recent radio interview with KCUR (89.3), Fitzpatrick said the ideas for the mural came from fourth-graders at the Kansas City, Missouri, school.
"They had drawings of a chicken-like bird eating a snake, some had an eagle eating a cactus, some had other kinds of birds," she told the radio station. "I tried to recreate that in the mural by using their original drawing."
Born in Peru, Fitzpatrick immigrated to the United States at age 11. Because of that, it was important to her that the kids could bring their culture from home to school.
"I remember my experiences through the arts as a young girl being so fundamental to holding onto … my identity," she said during the interview.
Carver is a dual-language school where the kids learn in Spanish and English. Many of the students are Hispanic or Latino.
Third-grade teacher Amanda Niedzwiecki, who wrote the grant to have the mural painted at the school, told KCUR it was important to have a mural where the students could see themselves represented.
"Now, every day, my kids (get) to walk by this and know they were a huge part of making this happen," she said.
________________________________________________________________________________________
Nuevo mural en escuela bilingüe en KC celebra la herencia hispana
Carver Dual Language School tiene un nuevo mural que celebra la herencia hispana en sus estudiantes.
Connie Fiorella Fitzpatrick, una artista latina que vive en Lawrence, Kansas, trabajó en el mural. Durante una reciente entrevista de radio con KCUR (89.3), Fitzpatrick dijo que las ideas para el mural provenían de alumnos de cuarto grado en la escuela de Kansas City, Missouri.
"Tenían dibujos de un pájaro parecido a un pollo comiendo una serpiente, algunos tenían un águila comiendo un cactus, otros tenían otros tipos de pájaros", dijo a la estación de radio. "Traté de recrear eso en el mural usando su dibujo original".
Nacida en Perú, Fitzpatrick emigró a Estados Unidos a los 11 años. Por eso, era importante para ella que los niños pudieran llevar su cultura de casa a la escuela.
"Recuerdo que mis experiencias a través de las artes como una niña eran tan fundamentales para mantener … mi identidad", dijo durante la entrevista.
Carver es una escuela de dos idiomas donde los niños aprenden en español e inglés. Muchos de los estudiantes son hispanos o latinos.
La maestra de tercer grado Amanda Niedzwiecki, quien escribió la beca para pintar el mural en la escuela, le dijo a KCUR que era importante tener un mural donde los estudiantes pudieran verse representados.
"Ahora, todos los días, mis niños (consiguen) caminar por esto y saben que fueron una gran parte de hacer que esto suceda", dijo.