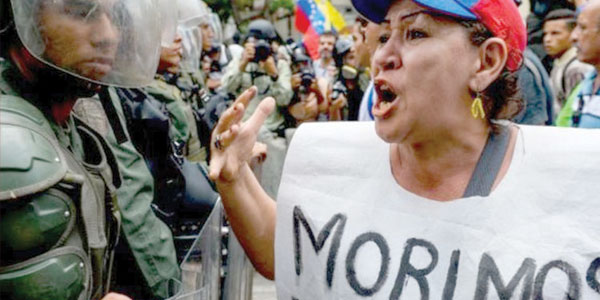 One of every three Venezuelans struggles to obtain enough food to meet minimum nutrition requirements, according to a study published Sunday (Feb. 23) by the U.N. World Food Program, as reported by the Associated Press and other media outlets.
The data comes amid the country's severe economic issues and political turmoil. The study claims that 9.3 million people — about a third of the population — are moderately or severely food insecure. Even in more prosperous regions, one in five Venezuelans are estimated to be food insecure.
Multiple sources define food insecurity as an inability to meet one's basic dietary needs.
"The reality of this report shows the gravity of the social, economic and political crisis in our country," Miguel Pizarro, a Venezuelan opposition leader, told the Associated Press.
The issue seems to be that it is more difficult to obtain food, rather than whether there is enough for everyone. Seven in 10 people reported that food could always be found, but it was difficult to purchase due to high prices.
In addition, the study found that 60 percent of households reported cutting portion sizes in meals, 33 percent said they had accepted food as payment for work and 20 percent reported selling family assets to cover basic needs.
For years, Venezuela has been in a political and humanitarian crisis that has led more than 4.5 million people to flee the South American country. President Nicolas Maduro has remained in power, despite many pushes by the Juan Guaido-led opposition to remove Maduro from office.
The survey — done from July through September 2019 — also found that four in 10 households experience daily power cuts. In addition, four in 10 Venezuelans reported recurrent interruptions in the water service.
Some Venezuelan rights advocates believe the situation has worsened since the survey was done, and that it has become more difficult to pay for food and other necessities.
---
Estudio de la ONU revela que 1 de cada 3 venezolanos pasa hambre
Uno de cada tres venezolanos tiene dificultades para obtener suficiente comida para cumplir con los requisitos mínimos de nutrición, según un estudio publicado el domingo (23 de febrero) por el Programa Mundial de Alimentos de la ONU, según lo informado por Associated Press (AP) y otros medios de comunicación.
Los datos llegan en medio de los graves problemas económicos y la agitación política del país. El estudio afirma que 9.3 millones de personas, aproximadamente un tercio de la población, padecen inseguridad alimentaria moderada o grave. Incluso en las regiones más prósperas, se estima que uno de cada cinco venezolanos sufre de inseguridad alimentaria.
Múltiples fuentes definen la inseguridad alimentaria como la incapacidad de satisfacer las necesidades dietéticas básicas.
"La realidad de este reporte muestra la gravedad de la crisis social, económica y política en nuestro país", dijo a la AP Miguel Pizarro, un líder de la oposición venezolana.
El problema parece ser que es más difícil obtener alimentos, en lugar de si hay suficiente para todos. Siete de cada 10 personas informaron que siempre se podía encontrar comida, pero era difícil de comprar debido a los altos precios.
Además, el estudio encontró que el 60 por ciento de los hogares reportaron reducir el tamaño de las porciones en las comidas, el 33 por ciento dijo que habían aceptado alimentos como pago por trabajo y el 20 por ciento reportó vender activos familiares para cubrir las necesidades básicas.
Durante años, Venezuela ha estado en una crisis política y humanitaria que ha llevado a más de 4.5 millones de personas a huir del país sudamericano. El presidente Nicolás Maduro ha permanecido en el poder, a pesar de los muchos esfuerzos de la oposición liderada por Juan Guaidó para destituir a Maduro de su cargo.
La encuesta, realizada entre julio y septiembre de 2019, también encontró que cuatro de cada 10 hogares experimentan cortes de energía diarios. Además, cuatro de cada 10 venezolanos reportaron interrupciones recurrentes en el servicio de agua.
Algunos defensores de los derechos de los venezolanos creen que la situación ha empeorado desde que se realizó la encuesta, y que se ha vuelto más difícil pagar los alimentos y otras necesidades.