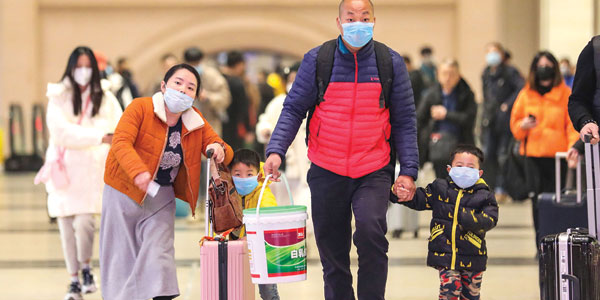 First case of Wuhan coronavirus confirmed in the U.S.
By Angie Baldelomar
A man in Washington state has been diagnosed with the mysterious virus that broke out in December 2019 in China, becoming the first confirmed case in the United States of the illness, the U.S. Centers for Disease Control and Prevention (CDC) announced Tuesday (Jan. 21).
The pneumonia-like illness, whose outbreak started in Wuhan, China, has killed at least 17 people and sickened hundreds of others in China, Thailand, Japan, Taiwan and South Korea.
The Washington state man has not been named, but the CDC confirmed he was in stable condition at Providence Regional Medical Center in Everett, just north of Seattle, but he is being monitored as a cautionary measure. He visited Wuhan and started feeling ill shortly after returning home. On Monday (Jan. 20), it was confirmed he had the coronavirus that has sickened close to 300 people in China.
The risk posed by the virus to the U.S. population is low, Nancy Messonnier, director of the CDC's National Center for Immunization and Respiratory Disease, confirmed. She warned that older adults with underlying health conditions might be at increased risk.
Messonnier said federal health officials were prepared to respond quickly.
"This is an evolving situation and, again, we do expect additional cases in the United States and globally," she told the Washington Post.
The CDC is screening travelers from Wuhan at Los Angeles, San Francisco and New York's John F. Kennedy international airports. It confirmed Tuesday that it plans to expand screenings to international airports in Chicago and Atlanta.
In addition, the CDC has raised its travel alert notice from a Level 1 to a Level 2, urging those traveling to Wuhan to avoid contact with sick people, animals (dead or alive) and animal markets.
Multiple media outlets have reported that the outbreak has grown rapidly in recent days, with authorities in China reporting confirmed cases in multiple cities.
On Tuesday, Mexican President Andres Manuel Lopez Obrador reported officials had identified two possible coronavirus cases in the country. During its daily morning conference, Lopez Obrador said one of them was negative and the other one in the Mexican state of Tamaulipas is being monitored. No more information has been given about the case.
According to the World Health Organization (WHO), coronaviruses are a large family of viruses, ranging from the common cold to more serious diseases that can affect humans and animals.
The WHO was scheduled to meet Wednesday (Jan. 22) to decide whether to declare the outbreak a public health emergency.
__________________________________________________________________________________________
Primer caso de coronavirus Wuhan confirmado en Estados Unidos
Un hombre en el estado de Washington ha sido diagnosticado con el misterioso virus que comenzó en diciembre de 2019 en China, convirtiéndose en el primer caso confirmado de la enfermedad en Estados Unidos, anunciaron los Centros para el Control y la Prevención de Enfermedades (CDC, por sus siglas en inglés) el martes (21 de enero).
La enfermedad similar a la neumonía, cuyo brote comenzó en Wuhan, China, mató al menos a 17 personas y enfermó a cientos de otras en China, Tailandia, Japón, Taiwán y Corea del Sur.
El hombre del estado de Washington no ha sido identificado, pero el CDC confirmó que estaba en condición estable en el Centro Medico Providence Regional en Everett, al norte de Seattle, pero está siendo monitoreado como medida de precaución. Visitó Wuhan y comenzó a sentirse enfermo poco después de volver a casa. El lunes (20 de enero), se confirmó que tenía el coronavirus que ha enfermado a cerca de 300 personas en China.
El riesgo que representa el virus para la población estadounidense es bajo, confirmó Nancy Messonnier, directora del Centro Nacional de Inmunización y Enfermedades Respiratorias de los CDC. Advirtió que los adultos mayores con afecciones de salud subyacentes podrían estar en mayor riesgo.
Messonnier dijo que los oficiales de salud federales están preparados para responder rápidamente.
"Esta es una situación en evolución y, nuevamente, esperamos casos adicionales en los Estados Unidos y en todo el mundo", le dijo al Washington Post.
El CDC está evaluando a los viajeros de Wuhan en los aeropuertos internacionales de Los Ángeles, San Francisco y el John F. Kennedy de Nueva York. El martes confirmó que planea expandir las evaluaciones a los aeropuertos internacionales en Chicago y Atlanta.
Además, el CDC ha elevado su aviso de alerta de viaje de un Nivel 1 a un Nivel 2, instando a los que viajan a Wuhan a evitar el contacto con personas enfermas, animales (vivos o muertos) y animales de mercado.
Varios medios de comunicación han informado que el brote ha crecido rápidamente en los últimos días, y las autoridades en China informaron casos confirmados en varias ciudades.
El martes, el presidente mexicano, Andrés Manuel López Obrador, informó que las autoridades habían identificado dos posibles casos de coronavirus en el país. Durante su conferencia mañanera diaria, López Obrador dijo que uno de ellos era negativo y el otro en el estado mexicano de Tamaulipas está siendo monitoreado. No se ha dado más información sobre el caso.
Según la Organización Mundial de la Salud (OMS), los coronavirus son una gran familia de virus, que van desde el resfriado común hasta enfermedades más graves que pueden afectar a humanos y animales.
La OMS tenía previsto reunirse el miércoles (22 de enero) para decidir si declarar el brote como una emergencia de salud pública.