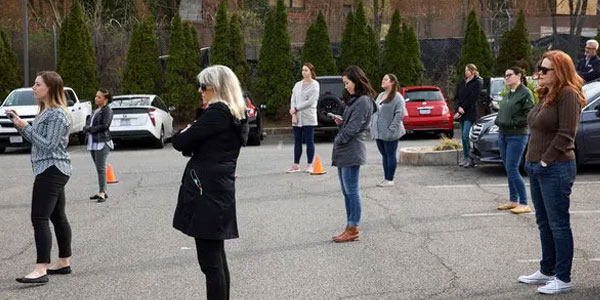 By Chara
On Sunday (March 29), President Trump announced during a White House press conference that social distancing guidelines in the United States would be extended through April 30 to prevent the coronavirus (COVID-19) from spreading, multiple media outlets reported.
"Social distancing: That's the way you win," Trump said.
The social distancing guidelines include working from home, closing schools and/or switching to online classes, using technology to communicate with loved ones, cancelling or postponing large events, avoiding gatherings of 10 people or more and visiting grocery stores just to buy food.
Trump also emphasized that he expects the United States to be on its way to recovery by June 1.
"We think, by June 1, a lot of great things will be happening," he said.
In addition, the president asked Americans "to take heart and confidence in the fact that we have the best medical minds in the world tackling this disease."
"We have the best science, the best researchers and the best talent anywhere working night and day to protect your family and loved ones and to overcome this pandemic," he said.
According to the Johns Hopkins University & Medicine Coronavirus Resource Center, as of Tuesday afternoon (March 31), there were more than 800,000 confirmed COVID-19 cases worldwide, including more than 175,000 in the United States. More than 3,000 people had died from the coronavirus in the United States as of Tuesday afternoon. The worldwide death toll was more than 40,000.
In Missouri-Kansas COVID-19 news, Kansas Gov. Laura Kelly has issued an executive order to institute a temporary statewide stay-at-home order through April 19.
"Our modeling continues to suggest that the number of confirmed positive coronavirus cases in Kansas could reach as high as 900 over the next week," Kelly said in a recent news release issued by her office. "While I left these decisions to local health departments as long as possible, the reality is that the patchwork approach that has developed is inconsistent and is a recipe for chaos and, ultimately, for failure in our statewide fight to slow the spread of COVID-19."
On Sunday, President Trump approved a major disaster declaration for Kansas and ordered federal assistance for areas of the state affected by COVID-19.
In Missouri, Gov. Mike Parson recently said Missouri could have to continue practicing social distancing guidelines for between 30 and 60 days.
"This is the only way we will stop the spread of COVID-19," Parson said. "Please, stay at home."
Trump has approved Governor Parson's request for a major disaster declaration.
______________________________________________________________________________
Estados Unidos extiende pautas de distanciamiento social
El domingo (29 de marzo), el presidente Trump anunció durante una conferencia de prensa en la Casa Blanca que las pautas de distanciamiento social en Estados Unidos se extenderían hasta el 30 de abril para evitar la propagación del coronavirus (COVID-19), informaron varios medios de comunicación.
"Distanciamiento social: así es como se gana", dijo Trump.
Las pautas de distanciamiento social incluyen trabajar desde casa, cerrar las escuelas y/o cambiar a clases en línea, usar tecnología para comunicarse con sus seres queridos, cancelar o posponer grandes eventos, evitar reuniones de 10 personas o más y visitar supermercados sólo para comprar comida.
Trump también enfatizó que espera que Estados Unidos esté en camino a la recuperación para el 1 de junio.
"Creemos que, para el 1 de junio, sucederán muchas cosas maravillosas", dijo.
Además, el Presidente pidió a los estadounidenses "que se animen y confíen en el hecho de que tenemos las mejores mentes médicas del mundo para combatir esta enfermedad".
"Tenemos la mejor ciencia, los mejores investigadores y el mejor talento en cualquier lugar trabajando día y noche para proteger a su familia y seres queridos y superar esta pandemia", dijo.
Según el Centro de Recursos de Coronavirus de la Universidad y Medicina Johns Hopkins, hasta el martes por la tarde (31 de marzo), había más de 800,000 casos confirmados de COVID-19 en todo el mundo, incluidos más de 175,000 en Estados Unidos. Más de 3,000 personas habían muerto por el coronavirus en Estados Unidos hasta el martes por la tarde. El número de muertos en todo el mundo era de más de 40,000.
En noticias de COVID-19 en Missouri-Kansas, la gobernadora de Kansas, Laura Kelly, emitió una orden ejecutiva para instituir una orden temporal de permanencia en el hogar hasta el 19 de abril.
"Nuestro modelo sigue sugiriendo que el número de casos positivos confirmados de coronavirus en Kansas podría alcanzar los 900 durante la próxima semana", dijo Kelly en un reciente comunicado de prensa emitido por su oficina. "Si bien dejé estas decisiones a los departamentos de salud locales el mayor tiempo posible, la realidad es que el enfoque de mosaico que se ha desarrollado es inconsistente y es una receta para el caos y, en última instancia, para el fracaso en nuestra lucha estatal para frenar la propagación de COVID- 19".
El domingo, el presidente Trump aprobó una declaración de desastre mayor para Kansas y ordenó asistencia federal para las áreas del estado afectadas por COVID-19.
En Missouri, el gobernador Mike Parson dijo recientemente que Missouri podría tener que seguir practicando pautas de distanciamiento social entre 30 y 60 días.
"Esta es la única forma en que detendremos la propagación de COVID-19", dijo Parson. "Por favor, quédense en casa".
Trump aprobó la solicitud del gobernador Parson de una declaración de desastre mayor.