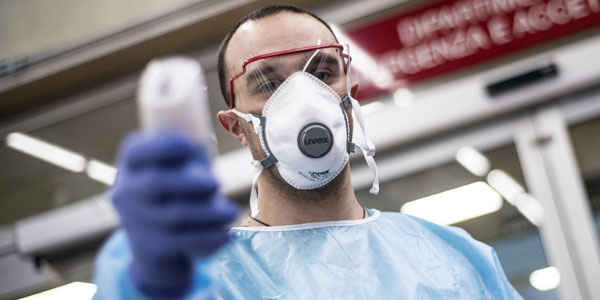 By Angie Baldelomar
The Olathe (Kansas) Fire Department hosted a webinar to discuss the COVID-19 response and share a list of resources for the community.
Hosted on March 26, the webinar gave updates on the work done by organizations like the Olathe Public Schools.
Dr. Jessica Dain, Olathe Public Schools assistant superintendent, said the schools are distributing food from 11 a.m. to 12:30 p.m. every Friday at various sites across the city. This information has been sent out to all Olathe families in English and Spanish.
The school district announced it would start implementing its Continuous Learning program on Monday (March 30). All activities will be accessible on a student's district-issued computer or the student's iPhone.
"For students without a device or Wi-Fi, hard copies of the learning packets will be passed out weekly at the food distribution sites," Dain said.
Dain also recommended calling (913) 780-7979 for more information in Spanish.
The Health Partnership Clinic also updated its work. The center sees all individuals, including the uninsured, commercially insured or patients on Medicaid. It has a bilingual staff and translator services for multiple languages.
For more information about the clinic, call its COVID-19 hotline at (913) 276-7012 or visit its website, hpcks.org.
At the county level, Johnson County has a bilingual COVID-19 hotline from 8 a.m. to 5 p.m. Monday through Friday. The number is (913) 715-2819. Information also is available at jocogov.org/coronavirus.
____________________________________________________________________________
Departamento de Bomberos de Olathe organiza webinar de COVID-19
El Departamento de Bomberos de Olathe (Kansas) organizó un webinar para hablar sobre la respuesta al COVID-19 y compartir una lista de recursos para la comunidad.
Llevado a cabo el 26 de marzo, el webinar brindó actualizaciones sobre el trabajo realizado por organizaciones como las Escuelas Públicas de Olathe.
La Dra. Jessica Dain, superintendente asistente de las Escuelas Públicas de Olathe, dijo que las escuelas están distribuyendo alimentos de 11 a.m. a 12:30 p.m. todos los viernes en varios sitios de la ciudad. Esta información ha sido enviada a todas las familias de Olathe en inglés y español.
El distrito escolar anunció que comenzaría a implementar su programa de Aprendizaje continuo el lunes (30 de marzo). Se podrá acceder a todas las actividades en la computadora emitida por el distrito del alumno o en el iPhone del alumno.
"Para los estudiantes sin dispositivo o Wi-Fi, se distribuirán copias impresas de los paquetes de aprendizaje semanalmente en los sitios de distribución de alimentos", dijo Dain.
Dain también recomendó llamar al (913) 780-7979 para obtener más información en español.
La Health Partnership Clinic también actualizó su trabajo. El centro atiende a todas las personas, incluidos los no asegurados, los asegurados comercialmente o los pacientes con Medicaid. Cuenta con personal bilingüe y servicios de traducción para múltiples idiomas.
Para obtener más información sobre la clínica, llame a su línea directa COVID-19 al (913) 276-7012 o visite su sitio web, hpcks.org.
A nivel de condado, el Condado de Johnson tiene una línea directa bilingüe COVID-19 de 8 a.m. a 5 p.m. de lunes a viernes. El número es (913) 715-2819. La información también está disponible en jocogov.org/coronavirus.