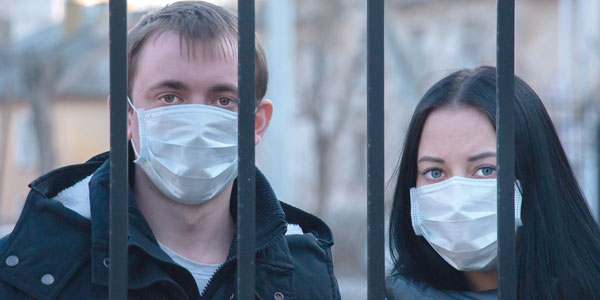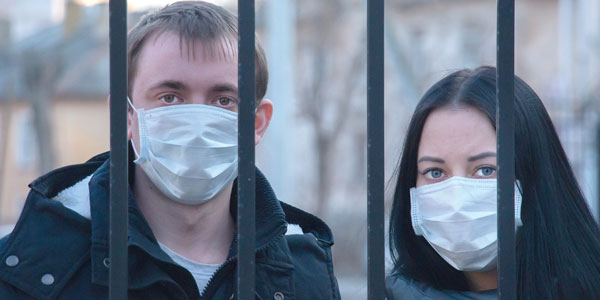 By Angie Baldelomar
On April 3, the U.S. Centers for Disease Control and Prevention (CDC) changed its COVID-19 guidelines to recommend that people wear nonsurgical masks when they are in public.
Originally, the CDC recommended that only health care workers and people who are ill or showing symptoms wear masks. But the recommendation changed as more knowledge of the virus came to light.
Up to 25% of people with COVID-19 might not show symptoms, the CDC found. In addition, a new small study found that COVID-19 might be the most infectious when the symptoms are the mildest, meaning people might be spreading the virus before realizing they have it.
"This means that the virus can spread between people interacting in close proximity — for example, speaking, coughing or sneezing — even if those people are not exhibiting symptoms," the CDC said in a news statement. "In light of this new evidence, CDC recommends wearing cloth face coverings in public settings where other social distancing measures are difficult to maintain."
Under the new recommendation, healthy individuals are advised to wear mouth and nose face coverings — including homemade masks, scarves and bandanas — while in public spaces, such as grocery stores and pharmacies.
The World Health Organization (WHO) has held off from recommending people, sick and healthy, wear face masks in public. But in updated guidance published Monday (April 6), the organization maintained that, though masks could help limit the spread of the disease, there was no evidence that wearing a mask in public prevented healthy people from picking up respiratory infections, including COVID-19.
"Masks are only for the protection of others, not for the protection of oneself," David Heymann, a professor of the London School of Hygiene and Tropical Medicine, who chaired the WHO's scientific and technical advisory group for infectious hazards, told The Guardian.
Heymann further told The Guardian that masks could create a false sense of security that could end up putting people at greater risk, especially because, even with the mouth and nose fully covered, the virus can still enter through the eyes.
"People think they are protected when they are not," he said. "Health care workers, in addition to the masks, wear visors, too, to protect the eyes."
The WHO said countries that recommended masks for the general population, like the United States, should set up studies to monitor their effectiveness.
_______________________________________________________________________________
CDC recomienda usar máscaras en público
El 3 de abril, los Centros para el Control y la Prevención (CDC, por sus siglas en inglés) cambiaron sus pautas COVID-19 para recomendar que las personas usen máscaras no quirúrgicas cuando están en público.
Originalmente, los CDC recomendaron que sólo los trabajadores de la salud y las personas que están enfermas o que muestran síntomas usen máscaras. Pero la recomendación cambió a medida que surgió un mayor conocimiento del virus.
Según los CDC, hasta el 25% de las personas con COVID-19 podrían no mostrar síntomas. Además, un nuevo estudio pequeño descubrió que COVID-19 podría ser el más infeccioso cuando los síntomas son más leves, lo que significa que las personas podrían estar propagando el virus antes de darse cuenta de que lo tienen.
"Esto significa que el virus se puede propagar entre personas que interactúan en proximidad, por ejemplo, hablando, tosiendo o estornudando, incluso si esas personas no muestran síntomas", dijo el CDC en un comunicado de prensa. "A la luz de esta nueva evidencia, el CDC recomienda usar cubiertas de tela para la cara en lugares públicos donde otras medidas de distanciamiento social son difíciles de mantener".
Según la nueva recomendación, se recomienda a las personas sanas que se cubran la cara con la boca y la nariz, incluidas máscaras caseras, bufandas y pañuelos, mientras se encuentren en espacios públicos, como supermercados y farmacias.
La Organización Mundial de la Salud (OMS) se ha abstenido de recomendar a las personas, enfermas y sanas, que usen máscaras faciales en público. Pero en una guía actualizada publicada el lunes (6 de abril), la organización sostuvo que, aunque las máscaras podrían ayudar a limitar la propagación de la enfermedad, no había evidencia de que el uso de una máscara en público impidiera que las personas sanas contagiaran infecciones respiratorias, incluido COVID-19 .
"Las máscaras son solo para la protección de los demás, no para la protección de uno mismo", dijo a The Guardian David Heymann, profesor de la Escuela de Higiene y Medicina Tropical de Londres, que presidió el grupo asesor científico y técnico de la OMS para peligros infecciosos.
Heymann le dijo a The Guardian que las máscaras podrían crear una falsa sensación de seguridad que podría terminar poniendo a las personas en mayor riesgo, especialmente porque, incluso con la boca y la nariz completamente cubiertas, el virus aún puede ingresar a través de los ojos.
"Las personas piensan que están protegidas cuando no lo están", dijo. "Los trabajadores de la salud, además de las máscaras, también usan viseras para proteger los ojos".
La OMS dijo que los países que recomendaron máscaras para la población en general, como Estados Unidos, deberían establecer estudios para monitorear su efectividad.