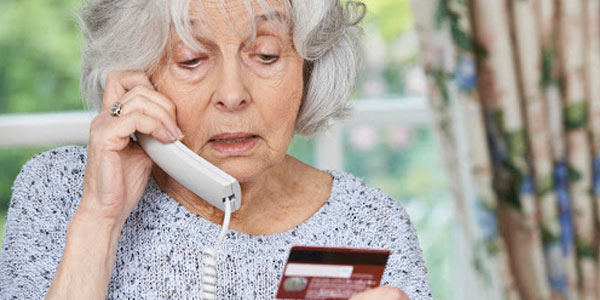 In the last 48 hours the Kansas City, Kansas Police Department have intercepted nearly $30,000 out of at least $60,000 in cash shipped to fake addresses as part of a scam that preys on the fears of caring family members – primarily the elderly.
Investigators are currently working several cases in which a family member, usually a parent or grandparent living outside the Metro area, receives a call informing them that a child or grandchild has been arrested and is in need of a large sum of cash – anywhere from $7,000 to $14,000. The caller identifies themselves as either an attorney or the actual family member in need. They are then directed to send cash to an address in Kansas City, Kansas via a service such as FedEx or UPS.
"In the majority of these cases, the cash is being shipped to a vacant residence," Capt. William Wallace, a detective with the KCKPD, said. "The scammer then follows the tracking information, waits nearby for the package to be left on the doorstep and then swoops in to grab it. In one instance, the package was actually delivered to an occupied residence. In that case the scammer approached the resident once the delivery person left and claimed it was their package, but just misdelivered. When the resident refused, and said they were calling police, the individual ran off."
KCK Police are offering this advice to protect residents.
If you receive a similar call asking for cash to help a loved one:
Ask the caller for the name of the loved one – many times the ask is general, for a 
"grandson" or "daughter" 

Never, NEVER, send cash – that is the biggest red flag that it is not legitimate. 

Attempt to contact that family member immediately to verify the scam. 

Contact the Kansas City, Kansas Police Department Reporting Desk at 913-573-8680 or 
your local police to file a report. 

If you receive a package addressed to an unknown individual at your address:
Do not open the package and call police immediately
If you do not wish to contact the police, simply refuse the delivery or if it has been 
left, contact the service and ask them to return to pick it up.
Do not hand over any package delivered to your address to a third party.
"While we have intercepted nearly $30,000 our investigation thus far has verified that nearly $60,000 in cash has been delivered to false addresses within Kansas City, Kansas as part of this scam," Wallace said. "We believe that the individuals organizing this theft by deception, as it's termed, live outside the Metro, but operate as part of a network that includes assistance by locals."
If you believe you may have been a target of one of these scams or have information regarding this or similar financial scams, please contact the Kansas City, Kansas Police Department at 913- 573-8680 or the Tips Hotline at 816-474-TIPS.
---
Policía de KCK advierte sobre estafa de dinero en efectivo que se aprovecha de las personas de la tercera edad
En las últimas 48 horas, el Departamento de Policía de Kansas City, Kansas, ha interceptado casi $30,000 de al menos $60,000 en efectivo enviado a direcciones falsas como parte de una estafa que se aprovecha de miembros de la familia, principalmente de los de la tercera edad.
Actualmente, los investigadores están trabajando en varios casos en los que un miembro de la familia, generalmente un padre o abuelo que vive fuera del área metropolitana, recibe una llamada informándoles que un hijo o nieto ha sido arrestado y necesita una gran suma de efectivo, desde $7,000 a $14,000. La persona que llama se identifica como un abogado o el miembro real de la familia que lo necesita. Luego se les indica que envíen efectivo a una dirección en Kansas City, Kansas a través de un servicio como FedEx o UPS.
"En la mayoría de estos casos, el efectivo se envía a una residencia vacante", dijo el capitán William Wallace, un detective del KCKPD. "El estafador luego sigue la información de seguimiento, espera cerca a que el paquete se deje en la puerta y luego se apura a agarrarlo. En un caso, el paquete se entregó realmente a una residencia ocupada. En ese caso, el estafador se acercó al residente una vez que el repartidor se fue y afirmó que era su paquete, pero simplemente se entregó mal. Cuando el residente se negó y dijo que estaban llamando a la policía, el individuo escapó".
La policía de KCK ofrece estos consejos para proteger a los residentes.
Si recibe una llamada similar solicitando dinero en efectivo para ayudar a un ser querido:
Pregunte a la persona que diga el nombre del ser querido: muchas veces la pregunta es general, para un "nieto" o "hija"
Nunca, NUNCA, envíe dinero en efectivo: esa es la mayor señal de alerta de que no es legítimo.
Intente contactar a ese miembro de la familia inmediatamente para verificar la estafa.
Comuníquese con el mostrador de informes del Departamento de Policía de Kansas City, Kansas al 913-573-8680 o con la policía local para presentar un informe.
Si recibe un paquete dirigido a una persona desconocida en su dirección:
No abra el paquete y llame a la policía de inmediato.
Si no desea ponerse en contacto con la policía, simplemente rechace la entrega o, si se ha dejado, comuníquese con el servicio y pídales que regresen para recogerlo.
No entregue ningún paquete entregado a su dirección a un tercero.
"Si bien hemos interceptado casi $30,000, nuestra investigación hasta el momento ha verificado que se han entregado casi $60,000 en efectivo a direcciones falsas dentro de Kansas City, Kansas como parte de esta estafa", dijo Wallace. "Creemos que las personas que organizan este robo por engaño, como se le llama, viven fuera del Metro, pero operan como parte de una red que incluye asistencia de los locales".
Si cree que puede haber sido blanco de una de estas estafas o tiene información sobre esta u otras estafas financieras similares, comuníquese con el Departamento de Policía de Kansas City, Kansas al 913-573-8680 o la Línea Directa de Consejos al 816-474-TIPS.