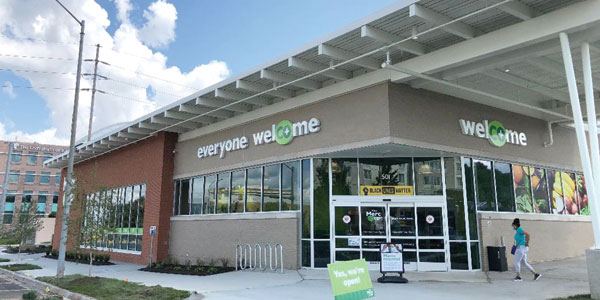 By Angie Baldelomar
A new grocery store is part of the landscape in downtown Kansas City, Kansas.
In late July, The Merc Co-Op, a local food co-op from nearby Lawrence, quietly opened at its new location at 501 Minnesota Ave. Valerie Taylor, marketing director, said the store did a "soft opening" on July 30 to test the waters.
"We wanted to make sure that we had all things working and were able to invite everyone in to shop before we made a grand opening," Taylor said.
Since then, Taylor said the Unified Government of Wyandotte County/Kansas City, Kansas, has hosted a small gathering to celebrate the opening. Now, everything is working as it should.
The Merc is a different kind of grocery store. Unlike corporate chains, it is completely independent. And being a co-op, it is owned by the community members who shop there. However, Taylor emphasizes that people do not need to be owners to shop there.
"Everyone is welcome to shop and anyone can choose to become an owner," Taylor said. "Ownership is a one-time, fully refundable investment of $75."
The store also offers a Merc Share ownership — a $10, one-time investment for those on food assistance. There are benefits to ownership, including exclusive discounts and being allowed to run for and vote in the board elections.
Because of the pandemic, the store has changed its hours. Since Monday (Sept. 14), the hours are from 8 a.m. to 9 p.m. — opening and closing an hour later than normal.
"The pandemic has cut back on the amount of folks working downtown, so we're not seeing those morning sales, … but we are seeing folks wanting to shop a little bit later into the night," Taylor said.
So far, the feedback received from this store has been positive, Taylor said. The pandemic has caused less traffic than originally anticipated because many people are still working from home or furloughed.
"We're seeing that that is affecting the forecast in sales, and so, we're working really hard to figure out how to bring people in and let them … shop with us," she said.
Ultimately, having a store like The Merc in Kansas City, Kansas, is important to expanding the ideas of cooperative ownership and community-owned stores.
"It's not just about us coming to Kansas City and this location being important; but it's (also) about the co-op being a part of the community, and the community wanting to buy in and be a part of the co-op, so that folks feel empowered," she said.
_______________________________________________________________________________
The Merc Co-Op abre en el centro de KCK
Una nueva tienda de comestibles es parte del paisaje en el centro de Kansas City, Kansas.
A fines de julio, The Merc Co-Op, una cooperativa de alimentos local de la cercana Lawrence, abrió silenciosamente en su nueva ubicación en 501 Minnesota Avenue. Valerie Taylor, directora de marketing, dijo que la tienda realizó una "apertura suave" el 30 de julio para probar las aguas.
"Queríamos asegurarnos de que todo funcionara y pudimos invitar a todos a comprar antes de la gran inauguración", dijo Taylor.
Desde entonces, Taylor dijo que el Gobierno Unificado del Condado de Wyandotte/Kansas City, Kansas, ha organizado una pequeña reunión para celebrar la inauguración. Ahora, todo está funcionando como debería.
The Merc es un tipo diferente de tienda de comestibles. A diferencia de las cadenas corporativas, es completamente independiente. Y al ser una cooperativa, es propiedad de los miembros de la comunidad que compran allí. Sin embargo, Taylor enfatiza que las personas no necesitan ser propietarios para comprar allí.
"Todos son bienvenidos a comprar y cualquiera puede elegir convertirse en propietario", dijo Taylor. "Ser propietario es una inversión única y totalmente reembolsable de $75".
La tienda también ofrece la propiedad de Merc Share, una inversión única de $10 para quienes reciben asistencia alimentaria. La propiedad tiene beneficios, incluidos descuentos exclusivos y la posibilidad de postularse y votar en las elecciones de la junta.
Debido a la pandemia, la tienda ha cambiado de horario. Desde el lunes (14 de septiembre), el horario es de 8 a.m. a 9 p.m.—abriendo y cerrando una hora más tarde de lo normal.
"La pandemia ha reducido la cantidad de personas que trabajan en el centro, por lo que no estamos viendo mucho trafico matutino, … pero estamos viendo gente que quiere comprar un poco más tarde en la noche", dijo Taylor.
Hasta ahora, los comentarios recibidos de esta tienda han sido positivos, dijo Taylor. La pandemia ha causado menos tráfico de lo que se anticipó originalmente porque muchas personas todavía están trabajando desde casa o están en ausencia.
"Estamos viendo que eso está afectando el pronóstico de ventas, por lo que estamos trabajando muy duro para descubrir cómo atraer a las personas y hacerlas … comprar con nosotros", dijo.
En última instancia, tener una tienda como The Merc en Kansas City, Kansas, es importante para expandir las ideas de propiedad cooperativa y tiendas de propiedad comunitaria.
"No se trata sólo de que vengamos a Kansas City y de que esta ubicación sea importante; pero se trata (también) de que la cooperativa sea parte de la comunidad y que la comunidad quiera comprar y ser parte de la cooperativa, para que la gente se sienta empoderada", dijo.