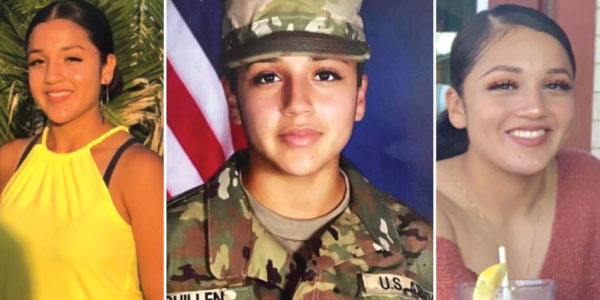 In March 2020, Juan Cruz proposed to Vanessa Guillén. Their engagement was short-lived; weeks later, Guillén, age 20, was dead. But it was months before Cruz learned her fate, despite persistent inquiries to authorities, public entreaties and relentless searching.
Guillén's family lobbied for legislation benefitting victims of sexual assault in the armed forces. Last week, they saw the bill become law. The "I Am Vanessa Guillen Act" was passed as part of the National Defense Authorization Act.
Changing how the military deals with sexual misconduct complaints is long overdue, contend Guillén's family and lawmakers who championed the bill. It's a promising start but doesn't go far enough, they say. Over the past 11 years, 135,000 active duty service members have been sexually assaulted, and 509,000 have experienced sexual harassment, the Department of Defense estimates. Vanessa Guillén was a U.S. Army specialist at Fort Hood.
She was last seen around noon on April 22, 2020 in her squadron headquarters parking lot. By that afternoon, Guillén's absence and phone silence alarmed her family and friends. Vanessa's fiancé and sister, Mayra drove to Fort Hood, arriving after midnight. They were told to return in the morning.
Guillén's family had special cause for concern. Before she disappeared, she'd confided that she was being sexually harassed by a sergeant but feared retaliation if she reported it.
The next morning, military police reported Guillén missing and began investigating her disappearance. An intensive search yielded the discovery of human remains on June 30, about 25 miles from Fort Hood. Three days later, the Army confirmed the remains were Guillén's.
Subsequent, high-pressure efforts by her family and friends, activists, state and federal lawmakers, and celebrities brought about an independent investigation into her disappearance and death and Fort Hood. As a result, 21 Army officials, including senior officers were fired or suspended. Investigators found multiple leadership failures and a climate "that was permissive of sexual harassment and sexual assault."
Part of Vanessa's legacy is that the bill criminalizes sexual harassment in the Uniform Code of Military Justice. Moreover, victims of sexual misconduct no longer must report abuse to their commanding officer but instead to an independent counsel.
Vanessa, a Houston native is one of six children born to Gloria and Rogelio, immigrants from Zacatecas, Mexico. Despite Gloria's reservations, Vanessa realized her life's ambition, enlisting in the Army at age 18. It cost her her life.
Lawmakers and advocates, while commending Guillen's family for using their grief to "move the military justice needle forward," noted that more needs to be done. The bill institutes major reform but falls short of going far enough.
Guillen's family, meanwhile, is haunted by myriad unanswered questions concerning why their beloved Vanessa was brutally murdered.
"I won't rest until I know," Gloria tells reporters. "I need to get to the truth, no matter what it is."
The monstrous truth is that the country Vanessa Guillén sought to defend betrayed her.
---
El legado de Vanessa es un punto de partida
En marzo de 2020, Juan Cruz le propuso matrimonio a Vanessa Guillén. Su compromiso duró poco; semanas después, Guillén, de 20 años, apareció muerta. Pero pasaron meses antes de que Cruz se enterara de su destino, a pesar de las persistentes indagaciones a las autoridades, los ruegos públicos y la búsqueda incesante.
La familia de Guillén presionó por una legislación que beneficiara a las víctimas de agresión sexual en las fuerzas armadas. La semana pasada vieron que el proyecto de ley se convirtió en ley. La "Ley Yo Soy Vanessa Guillén" se aprobó como parte de la Ley de Autorización de Defensa Nacional.
Ya era hora de cambiar la forma en que las fuerzas armadas tratan las denuncias de conducta sexual inapropiada, sostienen la familia de Guillén y los legisladores que defendieron el proyecto de ley. Es un comienzo prometedor, pero no llega lo suficientemente lejos, dicen. En los últimos 11 años, 135.000 miembros del servicio activo han sido agredidos sexualmente y 509.000 han sufrido acoso sexual, estima el Departamento de Defensa. Vanessa Guillén era una especialista del Ejército de Estados Unidos en Fort Hood.
Fue vista por última vez alrededor del mediodía del 22 de abril de 2020 en el estacionamiento de la sede de su escuadrón. Esa tarde, la ausencia de Guillén y el silencio del teléfono alarmaron a su familia y amigos. Su prometido y la hermana de Vanessa, Mayra, condujeron hasta Fort Hood y llegaron después de la medianoche. Se les dijo que regresaran por la mañana.
La familia de Guillén tenía un motivo especial de preocupación. Antes de desaparecer, había confiado que estaba siendo acosada sexualmente por un sargento, pero temía represalias si lo denunciaba.
A la mañana siguiente, la policía militar denunció la desaparición de Guillén y comenzó a investigar su desaparición. Una búsqueda intensiva arrojó el descubrimiento de restos humanos el 30 de junio, a unas 25 millas de Fort Hood. Tres días después, el Ejército confirmó que los restos eran de Guillén.
Los esfuerzos posteriores para meter alta presión de su familia y amigos, activistas, legisladores estatales y federales y celebridades dieron lugar a una investigación independiente sobre su desaparición y muerte y Fort Hood. Como resultado, 21 oficiales del Ejército, incluidos oficiales superiores, fueron despedidos o suspendidos. Los investigadores encontraron múltiples fallas de liderazgo y un clima "que permitía el acoso sexual y la agresión sexual".
Parte del legado de Vanessa es que el proyecto de ley tipifica como delito el acoso sexual en el Código Uniforme de Justicia Militar. Además, las víctimas de conducta sexual inapropiada ya no deben denunciar el abuso a su oficial al mando, sino a un abogado independiente.
Vanessa, oriunda de Houston, es una de los seis hijos de Gloria y Rogelio, inmigrantes de Zacatecas, México. A pesar de las reservas de Gloria, Vanessa se dio cuenta de la ambición de su vida y se enlistó en el ejército a los 18 años. Le costó la vida.
Los legisladores y defensores, al tiempo que elogiaron a la familia de Guillén por usar su dolor para "hacer avanzar la aguja de la justicia militar", señalaron que es necesario hacer más. El proyecto de ley instituye una reforma importante, pero no llega lo suficientemente lejos.
Mientras tanto, la familia está atormentada por innumerables preguntas sin respuesta sobre por qué su amada Vanessa fue brutalmente asesinada.
"No descansaré hasta saberlo", dice Gloria a los periodistas. "Necesito llegar a la verdad, no importa cuál sea".
La monstruosa verdad es que el país que Vanessa Guillén quería defender la traicionó.