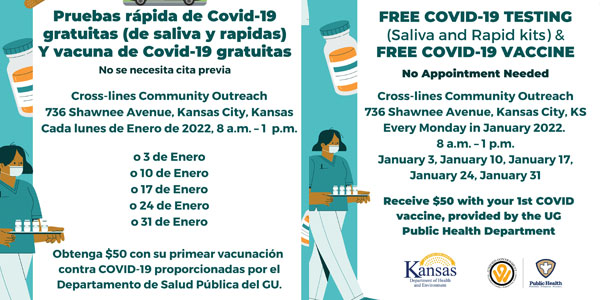 Testing is Strongly Encouraged to Stop Recent Spike in COVID-19 Cases
Throughout Wyandotte County, UGPHD epidemiologists say that COVID-19 cases continue to rise at a rapid pace previously not seen during the pandemic. Here are some of the latest statistics:
*Currently the 7-day average for number of new cases a day is 206. By comparison, on October 30, the 7-day average in Wyandotte County was 20 cases/day. That is a 930% increase in 2 months, and it is the highest daily average to-date during the pandemic.
*287 cases diagnosed in Wyandotte residents on 12/29—the most in any single day during the COVID-19 pandemic.
*Currently percent positivity is 48%–the highest it has ever been at any point during the pandemic
*409 deaths total—16 deaths just in the month of December.
*Hospitalization numbers very high— 107 patients currently hospitalized at KU for COVID.
*Demand for testing is very high and currently exceeds availability in Wyandotte County. For example, UGPHD staff tested 555 people at the Kmart facility on 12/29.
With the continuing rise in COVID-19 cases in Wyandotte County, the Unified Government Public Health Department (UGPHD) strongly encourages anyone to get tested if they have had any of the following symptoms:
*Headache
*Cough
*Muscle aches
*Loss of smell and taste
*Fever
*Chills
*Runny Nose
*Sore throat
*Shortness of breath
*Diarrhea
*Nausea and vomiting
Or get tested if you have been exposed to COVID-19 through:
*Close contact with someone who has tested positive for COVID-19 (close contact means within 6 feet for at least 10 minutes)
*Association with a known outbreak of COVID-19
EMERGENCY COVID Care
IMPORTANT: If you experience any of the symptoms below, you should call 911 or visit the nearest emergency department for immediate medical attention.
Blue lips or face
Confusion
Coughing up blood
*Extreme difficulty breathing, including the inability to speak a full sentence
*Seizure
*Severe or constant chest pain/pressure
*Slurred speech
*Temperature ≥ 103.0 F
*Too weak to stand
Where to Get Tested
The UGPHD offers free COVID PCR oral rinse tests ("swish and spit") and nasal swabs at the former Kmart site. PCR Testing is also available at the Armory, provided by KDHE. Make sure you do not eat, drink, smoke or chew gum (nothing by mouth) for at least 30 minutes prior to the test. The turnaround time for results from the spit test is approximately 48-72 hours.
UG Public Health Department's site at the former Kmart: 7836 State Ave, Kansas City, KS 66112
*Hours: Monday – Friday, 9:00 AM – 3:00 PM – No appointment necessary.
*Both PCR saliva tests and nasopharyngeal swab tests are offered at this site.
PCR saliva ("spit test): A PCR test is sent off to a lab for testing and takes a couple of days for results. PCR tests are generally more accurate and may be required for traveling.
Nasopharyngeal swab (not rapid) You will receive your test results directly.
The Armory: 100 S 20th St. Kansas City, KS 66102
*Monday – Friday, 11:30 AM – 8:00 PM
*Saturday – Sunday, 9:00 AM – 3:00 PM
*No appointment needed.
*This site offers the PCR Saliva test: Results are available in about 2 days. Your result will be sent via voicemail, text message or email using the number and email on file. If you do not receive your result in 3 days, call 785-322-9195 or email KDHE.MyTestResults@ks.gov.
Vibrant Health offers COVID-19 testing (no appointment required) at the Oak Ridge Baptist Church, located at 9301 Parallel Parkway, KCK.
Hours: Monday 8:30 a.m. to 5:00 p.m.
Tuesday 8:30 a.m. to 5:00 p.m.
Wednesday 8:30 a.m. to 5:00 p.m.
Thursday 8:30 a.m. to 4:00 p.m.
Cross-Lines Community Outreach offers free testing AND vaccines at 736 Shawnee Avenue in KCK. Testing (both saliva and rapid testing kits) and vaccinations are available without an appointment, every Monday in January, 2022 (January 3, January 10, January 17, January 24, January 31). Get $50 with your first COVID vaccination, provided by the UGPHD.
Other locations in Wyandotte County, such as pharmacies, may also offer free COVID-19 tests for those who qualify. Check with your local pharmacy for more information on eligibility and scheduling.  You can also Make an appointment: DoINeedaCOVID19test.com. For additional COVID-19 testing locations visit: KnowBeforeYouGoKS.com.
Additionally, some pharmacies and other retailers have at-home COVID-19 tests available for purchase. Check with locations such as CVS or Walgreens for availability.
---
Departamento de Salud Pública del Gobierno Unificado (UGPHD) y grupos comunitarios ofrecen pruebas de COVID en todo WyCo
Se recomienda encarecidamente que se realicen pruebas para detener el aumento reciente en los casos de COVID-19
En todo el condado de Wyandotte, los epidemiólogos del UGPHD dicen que los casos de COVID-19 continúan aumentando a un ritmo rápido que antes no se había visto durante la pandemia. Estas son algunas de las últimas estadísticas:
*Actualmente, el promedio de 7 días del número de casos nuevos por día es de 206. En comparación, el 30 de octubre, el promedio de 7 días en el condado de Wyandotte era de 20 casos por día. Eso es un aumento del 930% en 2 meses, y es el promedio diario más alto hasta la fecha durante la pandemia.
*287 casos diagnosticados en residentes de Wyandotte el 29/12, la mayor cantidad en un solo día en toda la pandemia de COVID-19.
*Actualmente, el porcentaje de positividad es del 48%, el más alto en cualquier momento durante la pandemia.
*409 muertes en total: 16 muertes sólo en el mes de diciembre.
*El número de hospitalizaciones es muy alto: 107 pacientes actualmente hospitalizados en KU por COVID.
*La demanda de pruebas es muy alta y actualmente supera la disponibilidad en el condado de Wyandotte. Por ejemplo, el personal del UGPHD realizó la prueba a 555 personas en las instalaciones de Kmart el 29/12.
Con el aumento continuo de casos de COVID-19 en el condado de Wyandotte, el Departamento de Salud Pública del Gobierno Unificado (UGPHD, por sus siglas en inglés) recomienda encarecidamente a cualquier persona que se haga la prueba si ha tenido alguno de los siguientes síntomas:
*Dolor de cabeza
*Tos
*Dolores musculares
*Pérdida del olfato y el gusto
*Fiebre
*Escalofríos
*Nariz que moquea
*Dolor de garganta
*Dificultad para respirar
*Diarrea
*Náuseas y vómitos
O hágase la prueba si ha estado expuesto al COVID-19 a través de: *Contacto cercano con alguien que haya dado positivo por COVID-19 (contacto cercano significa dentro de 6 pies durante al menos 10 minutos).
*Asociación con un brote conocido de COVID-19.
Atención de EMERGENCIA por COVID
IMPORTANTE: Si tiene alguno de los síntomas a continuación, debe llamar al 911 o visitar el departamento de emergencias más cercano para recibir atención médica inmediata.
*Labios o cara azules
*Confusión
*Tosiendo sangre
*Dificultad extrema para respirar, incluida la incapacidad de pronunciar una oración completa
*Convulsiones
*Dolor/presión en el pecho severos o constantes
*Dificultad para hablar
*Temperatura ≥ 103.0 F
*Demasiado débil para estar de pie
Dónde hacerse la prueba
El UGPHD ofrece pruebas de enjuague bucal PCR gratuitas ("buches y saliva") e hisopos nasales en el antiguo sitio de Kmart. La prueba de PCR también está disponible en Armory, proporcionada por KDHE. Asegúrese de no comer, beber, fumar ni masticar chicle (nada por vía oral) durante al menos 30 minutos antes de la prueba. El tiempo de respuesta de los resultados de la prueba de saliva es de aproximadamente 48 a 72 horas.
Sitio del Departamento de Salud Pública de UG en el antiguo Kmart: 7836 State Ave, Kansas City, KS 66112
Horario: de lunes a viernes, de 9:00 a.m. a 3:00 p.m. – No es necesario tener una cita.
En este sitio se ofrecen tanto pruebas de PCR de saliva como pruebas de hisopado nasofaríngeo.
PCR de saliva ("prueba de saliva"): una prueba de PCR se envía a un laboratorio para su análisis y los resultados demoran un par de días. Las pruebas de PCR son generalmente más precisas y pueden ser necesarias para viajar.
Hisopo nasofaríngeo (no rápido): Recibirá los resultados de su prueba directamente.
The Armory: 100 S 20th St. Kansas City, KS 66102
*Lunes a viernes de 11:30 a.m. a 8:00 p.m.
*Sábado y Domingo, 9:00 a.m. – 3:00 p.m.
*No se necesita cita.
*Este sitio ofrece la prueba PCR Saliva: Los resultados están disponibles en aproximadamente 2 días. Su resultado se enviará por correo de voz, mensaje de texto o correo electrónico utilizando el número y el correo electrónico registrados. Si no recibe su resultado en 3 días, llame al 785-322-9195 o envíe un correo electrónico a KDHE.MyTestResults@ks.gov.
Vibrant Health ofrece pruebas de COVID-19 (no se requiere cita previa) en la Iglesia Bautista Oak Ridge, ubicada en 9301 Parallel Parkway, KCK.
Horario: Lunes de 8:30 a.m. a 5:00 p.m.
Martes 8:30 a.m. a 5:00 p.m.
Miércoles 8:30 a.m. a 5:00 p.m.
Jueves de 8:30 a.m. a 4:00 p.m.
Cross-Lines Community Outreach ofrece pruebas y vacunas gratuitas en 736 Shawnee Avenue en KCK. Las pruebas (kits de prueba rápida y de saliva) y las vacunas están disponibles sin cita previa, todos los lunes de enero de 2022 (3 de enero, 10 de enero, 17 de enero, 24 de enero, 31 de enero). Reciba $50 con su primera vacuna contra el COVID, proporcionada por el UGPHD.
Otras ubicaciones en el condado de Wyandotte, como las farmacias, también pueden ofrecer pruebas de COVID-19 gratuitas para quienes califiquen. Consulte con su farmacia local para obtener más información sobre elegibilidad y cómo programar una cita. También puede concertar una cita: DoINeedaCOVID19test.com. Para ubicaciones adicionales de prueba de COVID-19, visite: KnowBeforeYouGoKS.com.
Además, algunas farmacias y otros minoristas tienen pruebas de COVID-19 caseras disponibles para su compra. Consulte con lugares como CVS o Walgreens para conocer la disponibilidad.