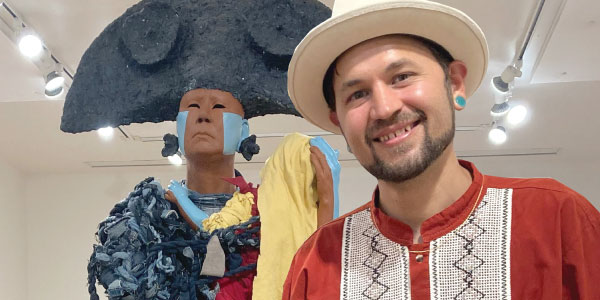 ---
El trabajo de Christensen Caballero en exhibición en el Museo Kemper
Como muchos artistas, Jonathan Christensen Caballero se basa en su identidad y herencia para inspirar su arte.
Hasta el domingo (11 de septiembre), los amantes del arte del área de Kansas City pueden ver el arte de Christensen Caballero en el Museo Kemper de Arte Contemporáneo en Kansas City, Missouri. El museo está ubicado en 4420 Warwick Blvd. La entrada y el estacionamiento son gratuitos.
El arte de Christensen Caballero se muestra con el de otros 23 artistas con sede en el Midwest, incluida Lorena Molina de El Salvador y Hellen Ascoli de Guatemala.
"Estoy agradecido de ser uno de los 23 artistas maravillosos en el regional del Kemper", dijo. "Hay una amplia variedad de obras de arte con algo interesante para todos".
Para Christensen Caballero, su obra de arte refleja una identidad que, como él dijo, "se formó tanto al ver a mis padres apoyar a la familia a través de trabajos laborales, así como por mi madre, que emigró de Panamá". También se forma por su interés en leer libros sobre el arte latinoamericano, incluido el último libro que terminó de leer, "Capture the Sun: Gold of Ancient Panamá".
"Es un libro maravilloso que enseña sobre la historia del oro en América Central", dijo. "Ha estado influyendo en algunos de los diseños de tocados de mi escultura y me inspiró a incluir Gold Lustre en mi cerámica".
La cerámica no es el único medio que Christensen Caballero utiliza.
"Mis esculturas figurativas están hechas con varios materiales, que incluyen tierra roja, fibra de segunda mano, objetos preparados, materiales de construcción, índigo, metal y madera", dijo.
Su viaje a la escultura comenzó en su Utah natal, donde creció mirando a la cerámica y tuvo curiosidad por el arte, dijo. Decidió ser un artista y educador profesional, recibiendo su A.S. en Art from Snow College, B.F.A en Cerámica y escultura de la Universidad Estatal de Utah y M.F.A. en cerámica de la Universidad de Indiana Bloomington.
Desde 2020, cuando Christensen Caballero se estableció en Lawrence, Kansas, ha sido un artista en residencia en el Centro de Investigación de Cerámica Interdisciplinaria de la Universidad de Kansas y el Centro de Artes de Lawrence.
A través de su trabajo, Christensen Caballero espera ser parte del cambio que quiere ver en el mundo.
"Es un imperativo moral que los latinoamericanos sean celebrados como parte del tejido de la sociedad estadounidense", dijo. "Nuestros cuerpos no están destinados únicamente al trabajo, sino también amor, alegría y aceptación".
Christensen Caballero se define a sí mismo como un esposo e hijo, y un artista. Sus pasatiempos incluyen ciclismo y baile con su esposa. También le gusta nadar, dijo.
Christensen Caballero alienta a las personas en el área a visitar museos, no solo el Kemper. Para las personas interesadas en hacer arte ellos mismos, recomienda probar una variedad de medios, como dibujo, pintura y fotografía.
"No requieren un gran estudio y se pueden aprender en casa o afuera", dijo. "Si está interesado en otros materiales como cerámica, textiles o vidrio, entonces hay muchas clases comunitarias maravillosas disponibles en la ciudad".