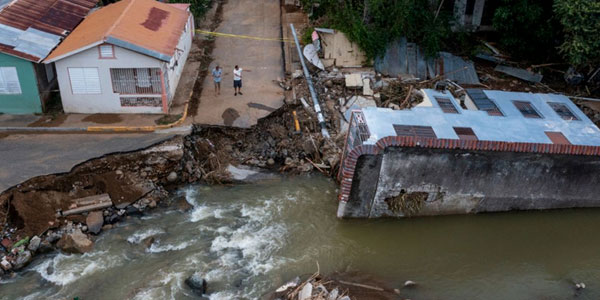 By Chara
On Sunday (Sept. 18), Hurricane Fiona hit Puerto Rico – roughly five years after the island had been hit by Hurricane Maria.
According to Power Outage, all the country lost power on Sunday. Several Puerto Rican nationals living in the United States reported their families were without power.
"My family lives in Puerto Rico and they told me that it was bad," said Amelia Lopez, a Puerto Rican living in the United States. "They don't have power and the situation doesn't look good. I'm asking everyone to pray for my island."
As of Tuesday (Sept. 20), power still needed to be restored to an estimated 1.2 million utility customers, according to AccuWeather.com, citing data from Power Outage.
On Sunday, U.S. President Joe Biden approved an emergency declaration for Puerto Rico, authorizing the Department of Homeland Security and the Federal Emergency Management Agency to assist with disaster relief and recovery.
"The president's action authorizes the Department of Homeland Security, Federal Emergency Management Agency … to coordinate all disaster relief efforts, which have the purpose of alleviating the hardship and suffering caused by the emergency on the local population and to provide appropriate assistance for required emergency measures, authorized under Title V of the Stafford Act, to save lives and to protect property and public health and safety, and to lessen or avert the threat of a catastrophe in all 78 municipalities in the Commonwealth of Puerto Rico," a press release from the White House stated.
Other political leaders who took action included Puerto Rican Gov. Pedro Pierluisi, who posted several pictures on Twitter of himself walking around parts of the country. In addition, Pierluisi thanked the American government and advised anyone in Puerto Rico to stay indoors.
According to the National Hurricane Center, Fiona's wind speeds were reaching 115 mph on Tuesday as the storm moved on to other Caribbean islands, NBC News and other media outlets reported. At press time, it was being classified as a Category 3 storm.
---
Fiona golpea Puerto Rico y la República Dominicana
Por Chara
El domingo (18 de septiembre), el huracán Fiona golpeó Puerto Rico, casi cinco años después de que la isla fuera azotada por el huracán María.
De acuerdo a Power Outage, todo el país se quedó sin electricidad el domingo. Varios ciudadanos puertorriqueños que viven en Estados Unidos informaron que sus familias no tenían electricidad.
"Mi familia vive en Puerto Rico y me dijeron que estaba mal", dijo Amelia López, una puertorriqueña residente en Estados Unidos. "No tienen energía y la situación no se ve bien. Les pido a todos que oren por mi isla".
Hasta el martes (20 de septiembre), aún era necesario restaurar la energía para aproximadamente 1,2 millones de clientes de servicios públicos, según AccuWeather.com, citando datos de Power Outage.
El domingo, el presidente de Estados Unidos, Joe Biden, aprobó una declaración de emergencia para Puerto Rico, autorizando al Departamento de Seguridad Nacional y a la Agencia Federal para el Manejo de Emergencias a ayudar con la recuperación y el alivio de desastres.
"La acción del presidente autoriza al Departamento de Seguridad Nacional, Agencia Federal para el Manejo de Emergencias… a coordinar todos los esfuerzos de socorro en casos de desastre, que tienen el propósito de aliviar las dificultades y el sufrimiento causados por la emergencia en la población local y brindar la asistencia adecuada para las medidas de emergencia requeridas, autorizado bajo el Título V de la Ley Stafford, para salvar vidas y proteger la propiedad y la salud y seguridad públicas, y para disminuir o evitar la amenaza de una catástrofe en los 78 municipios del Estado Libre Asociado de Puerto Rico", indicó un comunicado de prensa de la Casa Blanca.
Otros líderes políticos que tomaron medidas incluyeron al gobernador de Puerto Rico, Pedro Pierluisi, quien publicó varias fotos en Twitter de sí mismo caminando por partes del país. Además, Pierluisi agradeció al gobierno estadounidense y aconsejó a cualquier persona en Puerto Rico que permanezca en sus casas.
Según el Centro Nacional de Huracanes, la velocidad del viento de Fiona alcanzó las 115 mph el martes a medida que la tormenta avanzaba hacia otras islas del Caribe, reportaron NBC News y otros medios de comunicación. En el momento de la publicación, se clasificaba como una tormenta de categoría 3.