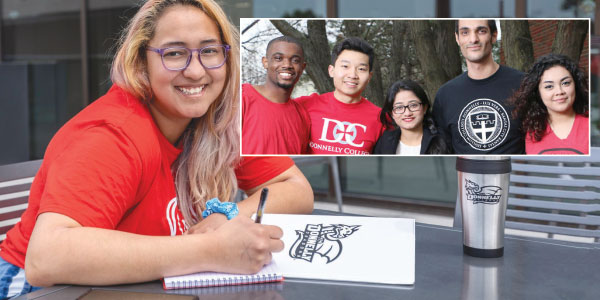 By Angie Baldelomar
A Kansas City area college strives to ease the access to higher education for first-generation students.
Donnelly College — located at 608 N. 18th St. in the urban core of Kansas City, Kansas — primarily serves minority populations, including about 71 percent first-generation students. Lisa Stoothoff, chief operating officer and college dean, said the diversity of its student population is what sets Donnelly apart from other area institutions.
"We cater to those students and we have a student-first mindset about everything we do, which sets us apart," Stoothoff said.
For Stoothoff, the key to success in serving a diverse student population is accessibility between staff and students.
"We go by first name at the college," she said. "We know everyone by name. (The president), he teaches, the students get to know him; there are no barriers. I teach in a classroom. We're accessible to the students."
That accessibility allows students to approach anyone at Donnelly for help in maintaining their education while also living their life, according to Stoothoff.
"We work with students so that life can continue and they can still go to school. It's called compassionate rigor," she said.
Donnelly strives to make its instruction personalized to make sure students can be successful in the classroom and graduate. Given its high rate of first-generation students, Stoothoff is aware that those who enroll at Donnelly do so because they truly want to attend college.
"Is college for everyone? No, it's not," she said. "But for the students who want that education, we're here for them, with no barriers."
Established in 1949, Donnelly is a Catholic college with a special focus on expanding access to higher education. Unlike other Catholic colleges, Donnelly stands out because of its affordability.
"This is a private college, but whereas the average Catholic college tuition is about $35,000 a year, Donnelly is $9,000 a year," Stoothoff said.
Stoothoff acknowledges that figure can still be expensive; thus, almost all students receive some sort of financial aid or scholarship, thanks in part to donors, she said.
"Because we are small, our dollars go further," Stoothoff said. "Because we keep our class sizes low, there's more money to go around for students."
Donnelly offers associate's and bachelor's degrees in business leadership and information systems. It also is well-known for its nursing program.
For more information, visit https://www.donnelly.edu/admissions/become-a-student or https://www.donnelly.edu/admissions/become-a-student-espanol for information in Spanish.
---
Donnelly ofrece enseñanza personalizada para estudiantes
Una universidad del área de Kansas City se esfuerza por facilitar el acceso a la educación superior para los estudiantes de primera generación.
Donnelly College, ubicado en 608 N. 18th St. en el centro urbano de Kan≠≠as City, Kansas, atiende principalmente a poblaciones minoritarias, incluido alrededor del 71 por ciento de estudiantes de primera generación. Lisa Stoothoff, directora de operaciones y decana de la universidad, dijo que la diversidad de su población estudiantil es lo que diferencia a Donnelly de otras instituciones del área.
"Atendemos a esos estudiantes y tenemos una mentalidad de estudiante primero en todo lo que hacemos, lo que nos distingue", dijo.
Para Stoothoff, la clave del éxito para atender a una población estudiantil diversa es la accesibilidad entre el personal y los estudiantes.
"Nos llamamos por el primer nombre en la universidad", dijo. "Conocemos a todos por su nombre. (El presidente), enseña, los alumnos lo conocen; no hay barreras. Doy clases en un salón de clases. Somos accesibles para los estudiantes".
Esa accesibilidad permite a los estudiantes acercarse a cualquier persona en Donnelly para obtener ayuda para mantener su educación mientras viven su vida fuera de clases, según Stoothoff.
"Trabajamos con los estudiantes para que la vida pueda continuar y puedan seguir yendo a la escuela. Se llama rigor compasivo", dijo.
Donnelly se esfuerza por hacer que su instrucción sea personalizada para asegurarse de que los estudiantes puedan tener éxito en el salón de clases y graduarse. Dada su alta tasa de estudiantes de primera generación, Stoothoff es consciente de que aquellos que se inscriben en Donnelly lo hacen porque realmente quieren asistir a la universidad.
"¿La universidad es para todos? No, no lo es", dijo. "Pero para los estudiantes que quieren esa educación, estamos aquí para ellos, sin barreras".
Establecida en 1949, Donnelly es una universidad católica con un enfoque especial en ampliar el acceso a la educación superior. A diferencia de otras universidades católicas, Donnelly se destaca por su asequibilidad.
"Esta es una universidad privada, pero mientras que la matrícula universitaria católica promedio es de aproximadamente $35,000 al año, Donnelly cuesta $9,000 al año", dijo Stoothoff.
Stoothoff reconoce que esa cifra aún puede ser costosa; por lo tanto, casi todos los estudiantes reciben algún tipo de ayuda financiera o beca, en parte gracias a los donantes, dijo.
"Debido a que somos pequeños, nuestros dólares rinden más", dijo. "Debido a que mantenemos el tamaño de nuestras clases bajo, hay más dinero para los estudiantes".
Donnelly ofrece títulos de asociado o técnicos en diversas áreas, así como títulos de licenciatura en liderazgo empresarial y sistemas de información. También es conocido por su programa de enfermería.
Para obtener más información, visite https://www.donnelly.edu/admissions/become-a-student o https://www.donnelly.edu/admissions/become-a-student-espanol para obtener información en español.