On Monday (Feb. 27), Kansas City International Airport hosted a ceremony to commemorate the grand opening of its new single-terminal facility before opening Tuesday (Feb. 28) for operations.
Kansas City, Missouri, Mayor Quinton Lucas; Pete Buttigieg, U.S. transportation secretary; and Missouri Gov. Mike Parson were among the dignitaries commemorating the $1.5-billion terminal. 
"It's so impressive," Buttigieg said, as quoted in a KSHB-TV (Channel 41) story. "We flew in to the old terminal and then crossed over to the new one. What you're seeing is world-class airport infrastructure."
The 1.1-million-square-foot facility, which has received gold certification from Leadership in Energy and Environmental Design, has been designed "to make travel more accessible, convenient and enjoyable," according to Justin Meyer, Kansas City deputy director of aviation, as stated by Fox 4 News. Featuring 39 gates and 6,200 parking spaces, the airport also will display works by 19 area artists. Latino artists whose work will be showcased include Israel Alejandro Garcia Garcia and Bernadette Esperanza Torres.
In addition, the new facility has a new website: flykc.com.
---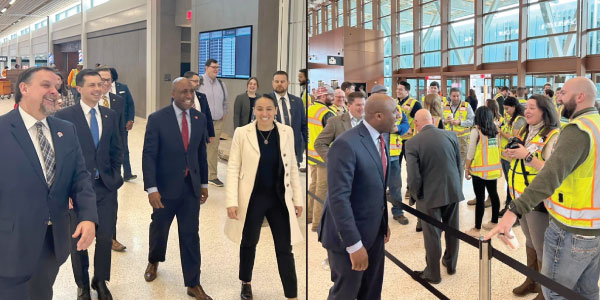 KCI tiene gran inauguración
El lunes (27 de febrero), el Aeropuerto Internacional de Kansas City organizó una ceremonia para conmemorar la gran inauguración de su nueva instalación de terminal única antes de abrir el martes (28 de febrero) para las operaciones.
El alcalde de Kansas City, Missouri, Quinton Lucas; Pete Buttigieg, secretario de transporte de Estados Unidos; y el gobernador de Missouri, Mike Parson, estuvieron entre los dignatarios que conmemoraron la terminal de $1.5 mil millones.
"Es tan impresionante", dijo Buttigieg, citado en una historia de KSHB-TV (Canal 41). "Volamos a la antigua terminal y luego cruzamos a la nueva. Lo que están viendo es una infraestructura aeroportuaria de clase mundial".
La instalación de 1,1 millones de pies cuadrados, que recibió la certificación de oro de Leadership in Energy and Environmental Design, ha sido diseñada "para hacer que viajar sea más accesible, conveniente y placentero", según Justin Meyer, subdirector de aviación de Kansas City, según lo citado por Fox 4 News. Con 39 puertas y 6200 espacios de estacionamiento, el aeropuerto también exhibirá obras de 19 artistas del área. Los artistas latinos cuyo trabajo se exhibirá incluyen a Israel Alejandro García García y Bernadette Esperanza Torres.
Además, la nueva instalación cuenta con un nuevo sitio web: flykc.com.