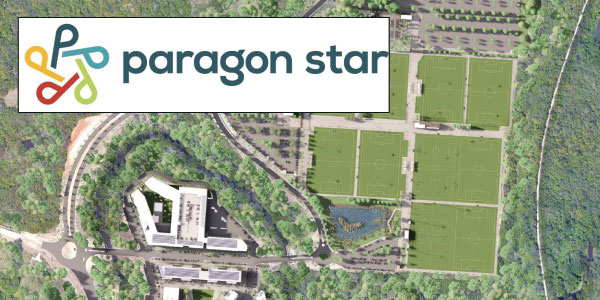 The Kansas City area will soon have a new sports complex.
Located at 10201 View High Drive in the Paragon Star development in Lee's Summit, Missouri, the complex is set to open in April, Fox 4 Kansas City and other media outlets reported in February. Its features will include 10 FIFA-sized soccer fields, courts for pickleball and sand volleyball, and a ropes course.
"It is very much a community-oriented project that creates a new regional destination for people to gather and engage in a variety of activities, including sports and recreation, entertainment, dining, lodging, as well as office and residential use," said William Brown, Paragon Star LLC chief operating officer.
The playing fields will feature the most advanced products and technology, according to Brown.
"No other complex of six or more fields in the country can boast the combination of FIFA-certified LigaTurf artificial turf, a Brock USA shock pad under the turf and a recyclable organic infill product that will provide a playing experience that is 20-30 degrees cooler than the inorganic, nonrecyclable black crumb rubber infill that is traditionally used … (in) most artificial turf systems," he said.
For Brown, those features are part of Paragon Star's commitment to creating an athletic and recreational experience like none other in the Midwest.
"This means fostering an exciting environment for everyone to enjoy and using the most advanced, professional products and technology available," he said.
In the coming weeks, Paragon Star will announce its 2023 soccer tournament schedule. For more information about upcoming tournaments or league competitions, contact Chris Duke, director of sports, at cduke@paragonstarusa.com.
For more information about Paragon Star, visit paragonstarusa.com or the company's Facebook page.
---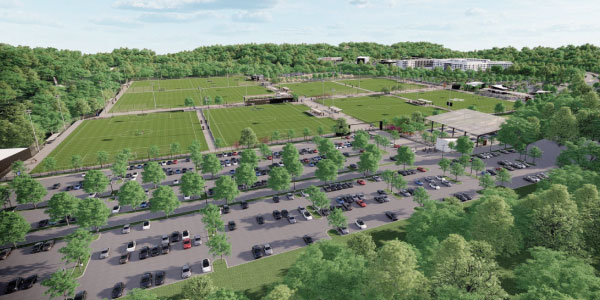 Complejo deportivo Lee's Summit listo para su apertura
El área de Kansas City pronto tendrá un nuevo complejo deportivo.
Ubicado en 10201 View High Drive en el desarrollo Paragon Star en Lee's Summit, Missouri, el complejo abrirá en abril, según reportaron Fox 4 Kansas City y otros medios de comunicación en febrero. Sus características incluirán 10 canchas de fútbol del tamaño de la FIFA, canchas para pickleball y voleibol de arena, y un circuito de cuerdas.
"Es en gran medida un proyecto orientado a la comunidad que crea un nuevo destino regional para que las personas se reúnan y participen en una variedad de actividades, que incluyen deportes y recreación, entretenimiento, comidas, alojamiento, así como oficinas y uso residencial", dijo William Brown, director de operaciones de Paragon Star LLC.
Los campos de juego contarán con los productos y la tecnología más avanzados, según Brown.
"Ningún otro complejo de seis o más campos en el país puede presumir de la combinación de césped artificial LigaTurf certificado por la FIFA, una almohadilla amortiguadora Brock USA debajo del césped y un producto de relleno orgánico reciclable que brindará una experiencia de juego de 20 a 30 grados más fresco que el relleno de caucho negro inorgánico y no reciclable que se usa tradicionalmente… (en) la mayoría de los sistemas de césped artificial", dijo.
Para Brown, esas características son parte del compromiso de Paragon Star de crear una experiencia atlética y recreativa como ninguna otra en el Midwest.
"Esto significa fomentar un entorno emocionante para que todos disfruten y utilizar los productos profesionales y la tecnología más avanzados disponibles", dijo.
En las próximas semanas, Paragon Star anunciará su calendario de torneos de fútbol para 2023. Para obtener más información sobre los próximos torneos o competencias de liga, comuníquese con Chris Duke, director de deportes, en cduke@paragonstarusa.com.
Para obtener más información sobre Paragon Star, visite paragonstarusa.com o la página de Facebook de la empresa.