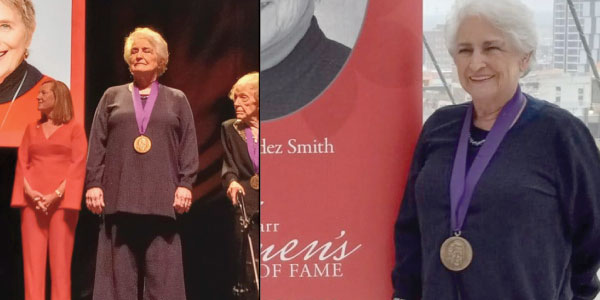 Hispanic leader Freda Mendez Smith was inducted Tuesday (March 21) into the University of Missouri-Kansas City's (UMKC's) Starr Women's Hall of Fame.
Hosted at the Kauffman Center for the Performing Arts, the induction ceremony featured actor and activist Geena Davis ("A League of Their Own") as the special guest speaker. Davis received a 2019 humanitarian Oscar for her efforts to achieve gender parity in film and television.
"(Davis) is a shining example of the achievements that we honor through the Starr Women's Hall of Fame – community enhancement, leadership and the development of opportunities and recognition for women's accomplishments, as well as developing resources that further women's opportunities," stated Alicia Starr, co-chair of this year's ceremony, as quoted in a news release issued by UMKC and posted on the University of Missouri System Community Connect website.
The Starr Women Hall of Fame recognizes women who have made vital, enduring contributions in their respective fields and have strong Kansas City area ties, the university stated in December 2022 in UMKC Today. Mendez Smith was among eight women inducted this year.
"We are honored and excited to recognize these remarkable women who dedicated their time and talents to improving Kansas City for all its citizens," Starr was quoted in UMKC Today as saying. "We celebrate their inclusion in the Hall of Fame so that their stories will inspire future generations of women in Kansas City and beyond."
A UMKC alumna, Mendez Smith has dedicated her life to advocating for the Latino community in Kansas City. According to UMKC Today, she serves on the Women's Foundation of Kansas City board. Her work also includes four decades of service to MANA de Kansas City, including two stints on the board; and a volunteer board member with such entities as the UMKC Hispanic Advisory Board, Greater Kansas City Hispanic Heritage and Mattie Rhodes Center.
A permanent display honoring the Hall of Fame members is open to the public on the third floor of the Miller Nichols Library at UMKC, located at 800 E. 51 St.
---
Méndez Smith entra al Salón de la Fama de Mujeres Starr de UMKC
La líder hispana Freda Méndez Smith fue instalada el martes (21 de marzo) en el Salón de la Fama de Mujeres Starr de la Universidad de Missouri-Kansas City (UMKC).
Celebrado en el Kauffman Center for the Performing Arts, la ceremonia de inducación contó con la actriz y activista Geena Davis ("A League of Their Own") como oradora invitada especial. Davis recibió un Oscar humanitario en 2019 por sus esfuerzos para lograr la paridad de género en el cine y la televisión.
"(Davis) es un brillante ejemplo de los logros que honramos a través del Salón de la Fama de Mujeres de Starr: mejora de la comunidad, liderazgo y desarrollo de oportunidades y reconocimiento de los logros de las mujeres, así como el desarrollo de recursos que fomentan las oportunidades de las mujeres", afirmó Alicia Starr, copresidente de la ceremonia de este año, citado en un comunicado de prensa emitido por UMKC y publicado en su sitio web.
El Salón de la Fama de Mujeres Starr reconoce a las mujeres que han hecho contribuciones vitales y duraderas en sus respectivos campos y tienen fuertes lazos con el área de Kansas City, indicó la universidad en diciembre de 2022 en UMKC Today. Méndez Smith estuvo entre las ocho mujeres admitidas este año.
"Nos sentimos honrados y emocionados de reconocer a estas mujeres notables que dedicaron su tiempo y talento a mejorar Kansas City para todos sus ciudadanos", dijo Starr en UMKC Today. "Celebramos su inclusión en el Salón de la Fama para que sus historias inspiren a futuras generaciones de mujeres en Kansas City y más allá".
Méndez Smith, ex alumna de UMKC, ha dedicado su vida a defender a la comunidad latina en Kansas City. Según UMKC Today, es miembro de la junta de la Fundación de Mujeres de Kansas City. Su trabajo también incluye cuatro décadas de servicio a MANA de Kansas City, incluidos dos períodos en la junta; y miembro voluntaria de la junta con entidades tales como la Junta Asesora Hispana de UMKC, Greater Kansas City Hispanic Heritage y Mattie Rhodes Center.
Una exhibición permanente en honor a los miembros del Salón de la Fama está abierta al público en el tercer piso de la Biblioteca Miller Nichols en UMKC, ubicada en 800 E. 51 St.