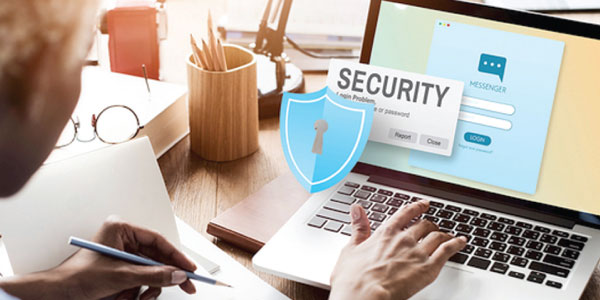 Commentary by Tere Siqueira
Our homes are full of devices connected to the internet. That's why it's essential to stay alert and protect yourself from the risks that can be found online.
Some ways to protect your information and online devices include the following:
*Be suspicious of emails or links from unknown sources: Don't click on anything unless you're sure it's safe. Otherwise, you could be the victim of a cyberattack, a malicious activity digital criminals use to gain access to your private information, often by disguising malicious links or attachments as something that appears harmless.
*Protect your personal information: Limiting the information you share online is the best way to minimize risks when you're online. In addition, pay attention to the privacy settings on your devices and disable those features that don't make you feel safe. For example, disable the GPS function on your devices when it's not needed. And when you stop using an application, make sure you delete your account and personal information.
*Keep your passwords secure: Secure passwords are essential to preventing your accounts from being hacked. Use a combination of letters, numbers and special characters and avoid using easy-to-guess passwords, such as your name. And update your passwords constantly to keep your online accounts more protected.
*Secure your home network: Regularly replace the administrator username and password for your home network, particularly if your home network is used frequently by visitors.
*Use a virtual private network (VPN): A VPN service has multiple benefits. It encrypts internet traffic and prevents unauthorized access to your network. And while connecting to a public Wi-Fi network with your device, a VPN protects you from cybercriminals known to look for other people connected to the network. Most VPN services have a minimal cost. That cost is outweighed by the benefits.
---
¿Cómo proteger su privacidad en línea?
Nuestros hogares están llenos de dispositivos conectados a internet. Por eso es fundamental mantenerse alerta y protegerse de los riesgos que se pueden encontrar en la red.
Algunas formas de proteger su información y dispositivos en línea incluyen las siguientes: *Sospeche de correos electrónicos o enlaces de fuentes desconocidas: No haga clic en nada a menos que esté seguro de que es seguro. De lo contrario, podría ser víctima de un ciberataque, una actividad maliciosa que utilizan los delincuentes digitales para obtener acceso a su información privada, a menudo disfrazando enlaces o archivos adjuntos maliciosos como algo que parece inofensivo.
*Proteja su información personal: Limitar la información que comparte en línea es la mejor manera de minimizar los riesgos cuando está en línea. Además, preste atención a la configuración de privacidad de sus dispositivos y deshabilite aquellas funciones que no lo hagan sentir seguro. Por ejemplo, deshabilite la función GPS en sus dispositivos cuando no la necesite. Y cuando deje de usar una aplicación, asegúrese de eliminar su cuenta y su información personal.
*Mantenga sus contraseñas seguras: Las contraseñas seguras son esenciales para evitar que sus cuentas sean pirateadas. Use una combinación de letras, números y caracteres especiales y evite usar contraseñas fáciles de adivinar, como su nombre. Y actualice sus contraseñas constantemente para mantener sus cuentas en línea más protegidas.
*Asegure su red doméstica: Reemplace periódicamente el nombre de usuario y la contraseña del administrador de su red doméstica, especialmente si los visitantes la utilizan con frecuencia.
*Utilice una red privada virtual (VPN): Un servicio VPN tiene múltiples beneficios. Cifra el tráfico de Internet y evita el acceso no autorizado a su red. Y mientras se conecta a una red Wi-Fi pública con su dispositivo, un VPN lo protege de los ciberdelincuentes que buscan a otras personas conectadas a la red. La mayoría de los servicios VPN tienen un costo mínimo. Ese costo es superado por sus beneficios.