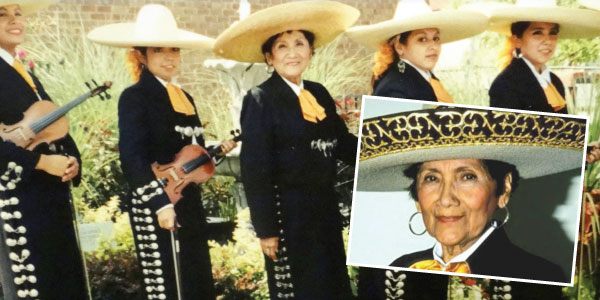 By Roberta Pardo
A statue honoring musician Teresa Cuevas will be unveiled Friday (May 5) in downtown Topeka, Kansas.
Cuevas will become the first woman to be depicted in statue form along Kansas Avenue in the Sunflower State's capital city when the statue is unveiled during a celebration that will coincide with Cinco de Mayo celebrations, The Topeka Capital-Journal reported Sunday (April 30). The statue will be located near the main Evergy Plaza entrance.
Cuevas was a founding member of Mariachi Estrella de Topeka, one of the first all-female mariachi bands in the United States. The ensemble "quickly gained regional popularity while shattering gender stereotypes in the male-dominated genre of mariachi music," The Capital-Journal reported.
In July 1981, Mariachi Estrella was set to perform in Kansas City, Missouri. But earlier that day, four band members died when two Hyatt Regency Hotel skywalks collapsed, killing 114 people total. Cuevas was among roughly 200 people who were injured from the collapse. She "suffered crushed vertebrae, a concussion and severe bruising," the newspaper stated.
"Mariachi Divina," a statue honoring the four deceased ensemble members, stands outside the Topeka Performing Arts Center.
Cuevas, who died in 2013 at age 93, resumed performing after recovering.
---
Estatua en Topeka homenajeará a cofundadora del Mariachi Estrella
El viernes (5 de mayo), se inaugurará una estatua en honor a la mariachi Teresa Cuevas en el centro de Topeka, Kansas.
Cuevas se convertirá en la primera mujer en ser representada en forma de estatua a lo largo de Kansas Avenue en la ciudad capital del Estado del Girasol cuando la estatua se inaugure durante una celebración que coincidirá con las celebraciones del Cinco de Mayo, reportó The Topeka Capital-Journal el domingo (30 de abril). La estatua estará ubicada cerca de la entrada principal de Evergy Plaza.
Cuevas fue miembro fundador del Mariachi Estrella de Topeka, una de las primeras bandas de mariachis de mujeres en Estados Unidos. El conjunto "ganó rápidamente popularidad regional mientras rompía los estereotipos de género en el género de música de mariachi dominado por hombres", reportó The Capital-Journal.
En julio de 1981, el Mariachi Estrella estaba programado para actuar en Kansas City, Missouri. Pero ese mismo día, cuatro miembros de la banda murieron cuando dos pasarelas elevadas del Hotel Hyatt Regency se derrumbaron, matando a 114 personas en total. Cuevas estaba entre las aproximadamente 200 personas que resultaron heridas por el derrumbe. Ella "sufrió vértebras aplastadas, una conmoción cerebral y hematomas severos", afirmó el periódico.
"Mariachi Divina", una estatua en honor a los cuatro miembros fallecidos del conjunto, se encuentra fuera del Centro de Artes Escénicas de Topeka. Cuevas, quien murió en 2013 a los 93 años, volvió a actuar después de recuperarse.