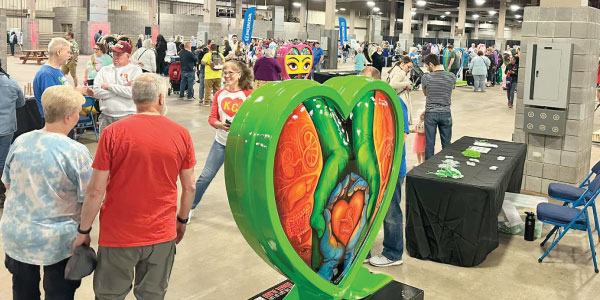 Story by Chara and photos by theparadeofhearts.com
"Parade of Hearts" is back. And Latino artists are a part of it again.
Described by its official website as "a public art experience," the art campaign that assists non-profit organizations made its debut in the spring of 2022. It featured designs on 5-foot heart sculptures in spaces around the Kansas City area to celebrate Kansas City's place in the American Heartland, along with diversity and unity, as the website states.
This year's version kicked off in April. This time, the heart designs will be displayed through the week of the Fourth of July.
There were 528 entrants for the 2023 version, with 40 artists selected to participate, including four Latino artists. They include Giselle Garza, who said her work is inspired by the sacred Mexican heart.
"(It) signifies the divine love for humanity," Garza said. "I like to believe that love always grows here in Kansas. There is so much love everywhere in Kansas anywhere you look."
Liliana Sandoval, an area resident, is happy to see the hearts back.
"Last year, I went with my family to see the hearts in different locations," Sandoval said. "This year, we will do the same. It is beautiful to see all the pieces displayed across the city, and I feel proud of having such a wonderful group of local artists."
To see the locations of the hearts, visit https://theparadeofhearts.com/map/ or download the app for Android or Apple devices.
---
Regresa el 'Desfile de Corazones'
El Desfile de Corazones ("Parade of Hearts") está de regreso. Y los artistas latinos vuelven a formar parte del mismo.
Descrita por su sitio web oficial como "una experiencia de arte público", la campaña de arte que ayuda a las organizaciones sin fines de lucro hizo su debut en la primavera de 2022. Presentó diseños en esculturas de corazones de 5 pies en espacios alrededor del área de Kansas City para celebrar el lugar de Kansas City en el corazón de Estados Unidos, junto con la diversidad y la unidad, como dice el sitio web.
La versión de este año comenzó en abril. Esta vez, los diseños de corazones se mostrarán durante la semana del 4 de julio.
Hubo 528 participantes para la versión 2023, con 40 artistas seleccionados para participar, incluidos cuatro artistas latinos. Una de ellos es Giselle Garza, quien dijo que su trabajo está inspirado en el sagrado corazón mexicano.
"Significa el amor divino por la humanidad", dijo Garza. "Me gusta creer que el amor siempre crece aquí en Kansas. Hay tanto amor en todas partes en Kansas dondequiera que mires".
Liliana Sandoval, residente del área, está feliz de ver los corazones de vuelta.
"El año pasado fui con mi familia a ver los corazones en diferentes lugares", dijo Sandoval. "Este año haremos lo mismo. Es hermoso ver todas las piezas exhibidas en la ciudad y me siento orgullosa de tener un grupo tan maravilloso de artistas locales".
Para ver las ubicaciones de los corazones, visite https://theparadeofhearts.com/map/ o descargue la aplicación para dispositivos Android o Apple.