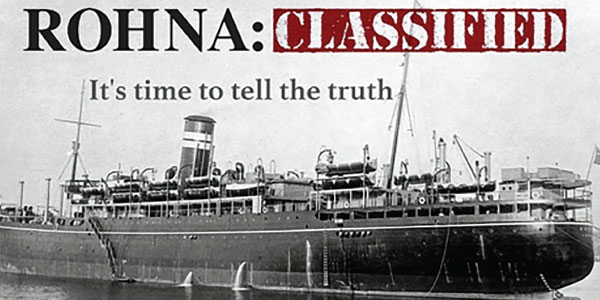 By Tere Siqueira
An episode of U.S. military history, the HMT Rohna tragedy, is the focus of an in-production documentary.
Titled "Rohna Classified," the film explores the sinking of the British ship the HMT Rohna during World War II – the largest loss of life at sea from enemy action in U.S. history. The 1943 attack, one of the earliest attacks by a radio-guided missile, resulted in the loss of 1,015 troops. The film also scrutinizes the U.S. government's alleged cover-up and neglect to supply working lifeboats and adequate life vests to the troops.
As the Delaware News Journal reported, director Jack Ballo has a personal connection to the tragedy. In an old house in New Jersey, Ballo found 23 letters from Sgt. Joseph Pisinski, who died in the attack. The letters, discovered in his wife's ancestral home, sparked Ballo's quest to uncover the truth about the largely unknown incident.
The team behind "Rohna Classified" is seeking the families of the casualties and survivors and gathering information about those who were on the Rohna the day of the attack. The team aims to shed light on the tragedy and offer closure to those affected.
"Rohna Classified" also aims to foster educational engagement by introducing the Rohna story to students through a national outreach program to help enrich their understanding of World War II. In addition, the production team is supporting community events commemorating the forgotten heroes and survivors of the Rohna tragedy.
As the "Rohna Classified" website states, the production team is seeking support to successfully explore this chapter of U.S. history. Over the latest Memorial Day weekend, which concluded Monday (May 29), for example, the team held a fundraiser to finance the film. The filmmakers encourage anyone who values unearthing hidden truths to support their mission generously.
To make donations, visit https://www.documentaries.org/films/rohna-classified/.
---
Un documental pretende desvelar una tragedia olvidada hace tiempo
Un episodio de la historia militar de Estados Unidos, la tragedia del HMT Rohna, es el centro de un documental en fase de producción.
Titulada "Rohna Classified", la película explora el hundimiento del buque británico HMT Rohna durante la Segunda Guerra Mundial, la mayor pérdida de vidas en el mar por acción enemiga en la historia de Estados Unidos. El ataque de 1943, uno de los primeros perpetrados con un misil radioguiado, se saldó con la pérdida de 1,015 soldados. La película también analiza el presunto encubrimiento y negligencia del gobierno estadounidense a la hora de suministrar botes salvavidas y chalecos salvavidas adecuados a las tropas.
Como informó el Delaware News Journal, el director Jack Ballo tiene una conexión personal con la tragedia. En una vieja casa de Nueva Jersey, Ballo encontró 23 cartas del sargento Joseph Pisinski, que murió en el ataque. Las cartas, descubiertas en la casa solariega de su esposa, desencadenaron la búsqueda de Ballo para descubrir la verdad sobre el incidente, en gran parte desconocido.
El equipo de "Rohna Classified" está buscando a las familias de las víctimas y los supervivientes y recabando información sobre quienes se encontraban en el Rohna el día del atentado. El equipo pretende arrojar luz sobre la tragedia y ofrecer una solución a los afectados.
"Rohna Classified" también pretende fomentar el compromiso educativo presentando la historia del Rohna a los estudiantes a través de un programa nacional de divulgación para ayudar a enriquecer su comprensión de la Segunda Guerra Mundial. Además, el equipo de producción está apoyando actos comunitarios en conmemoración de los héroes olvidados y los supervivientes de la tragedia de Rohna.
Como se indica en el sitio web "Rohna Classified", el equipo de producción busca apoyo para explorar con éxito este capítulo de la historia de Estados Unidos. Durante el último fin de semana del Memorial Day, que concluyó el lunes (29 de mayo) el equipo organizó una recaudación de fondos para financiar la película. Los cineastas animan a todos aquellos que valoren desenterrar verdades ocultas a apoyar generosamente su misión.
Para hacer donaciones, visite https://www.documentaries.org/films/rohna-classified/.