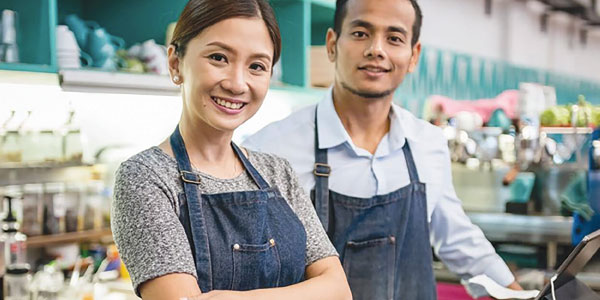 Commentary by Tere Siqueira
Small businesses form the backbone of our nation's economy – and our communities.
They provide unique goods and services. They create jobs. They foster innovation. But they also face unique challenges, especially in an increasingly digital, globalized world.
It's crucial that we consumers support small businesses to maintain the diversity and vibrancy of our local and national economies. Ways you can support small businesses include the following:
*Shop local: Shopping locally is more than a business transaction; it's an investment in your community. When you opt for a locally owned bookstore over a multinational online retailer or favor a neighborhood restaurant over a fast-food chain, you're participating in a vibrant local ecosystem that nourishes your community in many ways. Every dollar spent locally helps to boost your community's economy. So when you're deciding where to make your purchases, consider your local options.
*Share on social media: Most small businesses don't have the advertising budgets that large corporations do, so they rely heavily on word-of-mouth promotion. So if you love a local product or service, share your views on social media. A simple Instagram or Facebook post can go a long way in promoting a small business to a broader audience. Remember to tag the company, so others can easily find them.
In a related note …
*Write positive reviews: Like social media sharing, positive online reviews can be a powerful tool for small businesses. If you've had a positive experience with a small business, leave a glowing review on platforms like Google, Yelp or Facebook. This not only helps attract new customers, but can also boost the business' visibility in online searches.
*Use their services: If you're organizing an event, consider hiring local businesses. You could hire a local band for a music night, a neighborhood bakery for the cake and even a local spa service for a pampering session. This adds a unique touch to your event and supports small businesses.
*Gift their products or services: If you're looking for a unique gift, consider the offerings of small businesses. When choosing the perfect gift, the offerings of small businesses can provide unique options that stand out from mass-produced items often found at larger retailers. This could be a beautifully handcrafted item, a voucher for a local restaurant or a certificate for a spa day at a local wellness center. Not only will the recipient appreciate the thoughtful gift, but you'll also support a small business.
---
¿Cómo apoyar a los negocios pequeños?
Los negocios pequeños constituyen la columna vertebral de la economía de nuestro país y de nuestras comunidades.
Proporcionan bienes y servicios únicos, crean empleo y fomentan la innovación. Pero también se enfrentan a retos únicos, especialmente en un mundo cada vez más digital y globalizado.
Es crucial que los consumidores apoyemos a las pequeñas empresas para mantener la diversidad y la vitalidad de nuestras economías locales y nacionales. Entre las formas de apoyar a los negocios pequeños se incluyen las siguientes:
*Comprar localmente: Comprar en un comercio local es algo más que una transacción comercial: es una inversión en su comunidad. Cuando optas por una librería de propiedad local en lugar de un minorista multinacional en línea o favoreces a un restaurante local en lugar de una cadena de comida rápida, estás participando en un vibrante ecosistema que nutre a tu comunidad de muchas maneras. Cada dólar gastado localmente ayuda a impulsar la economía de tu comunidad. Así que cuando decidas dónde hacer tus compras, ten en cuenta las opciones locales.
*Comparte en las redes sociales: La mayoría de las pequeñas empresas no disponen de los presupuestos publicitarios de las grandes corporaciones, por lo que dependen en gran medida de la promoción boca a boca. Así que si te gusta un producto o servicio local, comparte tu opinión en las redes sociales. Una simple publicación en Instagram o Facebook puede ayudar mucho a promocionar una pequeña empresa entre un público más amplio. Recuerda etiquetar a la empresa para que otros puedan encontrarla fácilmente.
En una nota relacionada…
*Escriba reseñas positivas: Al igual que compartir en las redes sociales, las reseñas positivas en línea pueden ser una herramienta poderosa para los negocios pequeños. Si has tenido una experiencia positiva con un negocio pequeño, deja una reseña elogiosa en plataformas como Google, Yelp o Facebook. Esto no sólo ayuda a atraer a nuevos clientes, sino que también puede aumentar la visibilidad de la empresa en las búsquedas en línea.
*Utiliza sus servicios: Si estás organizando un evento, considera la posibilidad de contratar a empresas locales. Puedes contratar a un grupo local para una noche de música, a una pastelería de tu vecindario para el pastel e incluso a un servicio de spa local para una sesión de relajación. Así darás un toque único a tu evento y apoyarás a las pequeñas empresas.
*Regala sus productos o servicios: Si buscas un regalo único, ten en cuenta las ofertas de las pequeñas empresas. A la hora de elegir el regalo perfecto, las ofertas de las pequeñas empresas pueden ofrecer opciones únicas que destaquen de los artículos producidos en masa que suelen encontrarse en los grandes comercios. Puede tratarse de un bonito artículo artesanal, un vale para un restaurante local o un certificado para un día de spa en un centro de bienestar local. El destinatario no sólo apreciará el detalle, sino que apoyarás a una pequeña empresa también.