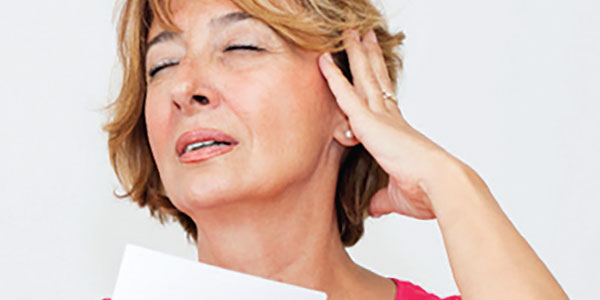 By Chara
The U.S. Food and Drug Administration (FDA) has approved Veozah (fezolinetant), a medication designed to alleviate menopause-related moderate and severe hot flashes, the agency announced May 12 on its website.
"Hot flashes as a result of menopause can be a serious physical burden on women and impact their quality of life," Janet Maynard, director of the Office of Rare Diseases, Pediatrics, Urologic and Reproductive Medicine, in the FDA's Center for Drug Evaluation and Research, was quoted in a press release as saying. "The introduction of a new molecule to treat moderate to severe menopausal hot flashes will provide an additional safe and effective treatment option for women."
Veozah acts "by binding to and inhibiting the activities of the NK3 receptor," the FDA's online press release stated. That receptor helps the brain regulate body temperature, according to the agency.
The FDA advises patients who are prescribed Veozah to take one 45-milligram pill by mouth daily and "at the same time each day."
"If a dose is missed, or not taken at the regular time, patients should take it as soon as possible and return to their regular schedule the following day," the FDA's press release stated.
Anyone who's interested in taking Vezoah is advised to speak with a doctor. Side effects might include diarrhea, insomnia, abdominal pains and hot flashes, according to the FDA. Patients are advised to speak with a doctor if they experience any adverse reactions.
---
FDA aprueba medicamento para los calores causados por la menopausia
La Administración de Medicamentos y Alimentos de EE.UU. (FDA, por sus siglas en inglés) aprobó Veozah (fezolinetant), un medicamento diseñado para aliviar los sofocos (o calores) moderados y severos relacionados con la menopausia, anunció la agencia el 12 de mayo en su sitio web.
"Los sofocos como resultado de la menopausia pueden ser una carga física grave para las mujeres y afectar su calidad de vida", dijo Janet Maynard, directora de la Oficina de Enfermedades Raras, Pediatría, Medicina Urológica y Reproductiva del Centro de Evaluación e Investigación de Medicamentos de la FDA, en un comunicado de prensa. "La introducción de una nueva molécula para tratar los sofocos menopáusicos de moderados a severos proporcionará una opción de tratamiento segura y eficaz adicional para las mujeres".
Veozah actúa "al unirse e inhibir las actividades del receptor NK3", indicó el comunicado de prensa en línea de la FDA. Ese receptor ayuda al cerebro a regular la temperatura corporal, según la agencia.
La FDA recomienda a los pacientes a los que se les receta Veozah que tomen una pastilla de 45 miligramos por vía oral todos los días y "a la misma hora todos los días".
"Si se olvida una dosis o no se toma a la hora habitual, los pacientes deben tomarla lo antes posible y volver a su horario habitual al día siguiente", indicó el comunicado de prensa de la FDA.
Se recomienda a cualquier persona interesada en tomar Vezoah que hable con un médico. Los efectos secundarios pueden incluir diarrea, insomnio, dolores abdominales y sofocos, según la FDA. Se recomienda a los pacientes que hablen con un médico si experimentan alguna reacción adversa.