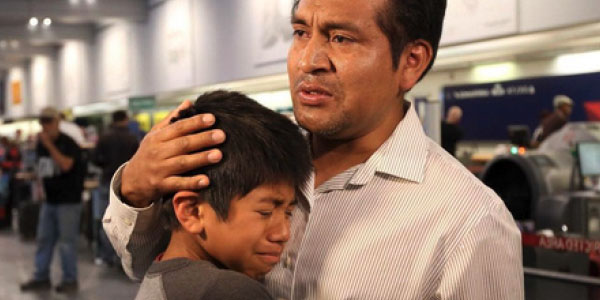 Commentary by Tere Siqueira
For immigrant fathers, celebrating Father's Day transcends borders.
The merging of new and old cultures gives Father's Day a profound resonance within immigrant households, creating celebrations that are as diverse as the families themselves. This is particularly true within the Hispanic community.
Hispanic families hail from various Latin American nations, each bearing distinct traditions, histories and values. Thus, for Hispanic immigrant fathers, the task of fatherhood includes fostering a sense of cultural identity in their children while helping them assimilate into American life.
As a result, the celebration of Father's Day for immigrant fathers can be an emotional tapestry. It provides a journey into the past, conjuring up memories of their roots and the traditions they might long for. At the same time, it presents an opportunity to forge new traditions, taking cues from their adopted culture.
This day also provides immigrant fathers time to pause and reflect. Many embarked on daunting voyages to get here, fueled by hopes for brighter futures for their children. The trials they've overcome and the victories they've won in leaving Latin America for the United States are parts of their paternal identity and lend a deeper, more personal significance to their Father's Day celebrations.
Thus, during Father's Day celebrations, Hispanic fathers should seize the opportunity to underscore the importance of their dual heritage to their children, for the holiday gives them a day to appreciate their unique identities – identities that mix their ancestral roots with their American present. This should especially be the case for Hispanic immigrant fathers.
As we all raise a toast to all fathers this Father's Day (June 18), let's remember to acknowledge the fortitude and resilience that Hispanic immigrant fathers bring to parenting. Their stories and experiences contribute significantly to the vibrant, multicultural mosaic of America. Their dedication to maintaining their heritage while embracing their new culture – i.e., to transcending borders – lends a unique, inspiring hue to the universal canvas of fatherhood.
---
El Día del Padre a través de los ojos de los padres inmigrantes
Para los padres inmigrantes, la celebración del Día del Padre trasciende las fronteras.
La fusión de nuevas y viejas culturas da al día del padre una profunda reflexión en los hogares de inmigrantes, creando celebraciones tan diversas como las propias familias. Esto es especialmente cierto en la comunidad hispana.
Las familias hispanas proceden de varias naciones latinoamericanas, cada una con tradiciones, historias y valores distintos. Así, para los padres inmigrantes hispanos, la tarea de la paternidad incluye fomentar un sentido de identidad cultural en sus hijos al tiempo que les ayudan a asimilarse a la vida estadounidense.
Como resultado, la celebración del día del padre para los padres inmigrantes puede ser un tapiz emocional. Supone un viaje al pasado, evocando recuerdos de sus raíces y las tradiciones que quizá añoran. Al mismo tiempo, brinda la oportunidad de forjar nuevas tradiciones, inspirándose en su cultura adoptada.
Este día también ofrece a los padres inmigrantes tiempo para detenerse y reflexionar. Muchos se embarcaron en viajes de enormes proporciones para llegar hasta aquí, impulsados por la esperanza de un futuro mejor para sus hijos. Las pruebas que han superado y las victorias que han obtenido al dejar Latinoamérica por Estados Unidos forman parte de su identidad paterna y confieren un significado más profundo y personal a sus celebraciones de este día.
Así, durante las celebraciones del día del padre, los es hispanos deberían aprovechar la oportunidad para subrayar la importancia de su doble herencia a sus hijos, ya que la festividad les brinda un día para apreciar sus identidades únicas – identidades que mezclan sus raíces ancestrales con su presente estadounidense. Este debería ser especialmente el caso de los padres inmigrantes hispanos.
Mientras brindamos por todos los papás este día del padre (18 de junio), recordemos reconocer la fortaleza y resistencia que los padres inmigrantes hispanos aportan a la crianza de los hijos. Sus historias y experiencias contribuyen significativamente al vibrante mosaico multicultural de Estados Unidos. Su dedicación a mantener su herencia al tiempo que abrazan su nueva cultura -es decir, a trascender fronteras- confiere un matiz único e inspirador al lienzo universal de la paternidad.