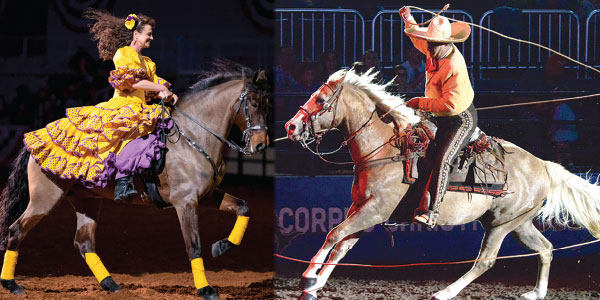 By Tere Siquiera
The Volland Foundation in Alma, Kansas, is gearing up for a night of equestrian arts and musical performances – all with a Hispanic flavor.
On July 8, the foundation will host the "Charro Jerry Diaz Family Horse Show," followed by a flamenco concert featuring Ensemble Iberica. Emceed by area equestrians and entertainers Geff and Dawn Dawson, the horse show will feature Jerry Diaz, his wife Staci and their son Nicolas presenting a display of equestrian traditions. Staci Diaz will showcase the traditional Spanish equestrian style, dressed in traditional attire. Nicolas Diaz, a five-time national champion, will display his riding skills in the Portuguese tradition.
"We are going to present the art of the charro … (with) top-school horses," Jerry Diaz said during a recent interview. "I want to invite all the people of Kansas that your friend Gerardo Diaz, the charro of heart, very humbly returns with his family – my wife Staci and my son Nicolas – with our horses. As always, very humble, but with a lot of pride and affection, and may the Mexican tradition continue worldwide."
Under the leadership of Jerry Diaz, a fourth-generation Mexican charro, the family has established itself as a prominent equestrian performance troupe. The family's involvement in the world of horses has its roots in part in Jose Diaz, Jerry's father. A Jalisco, Mexico, native, his father gained recognition as a skilled horseman in his hometown, Jerry Diaz said.
Jose Diaz eventually trained horses for the family of then-Mexican President Lazaro Cardenas, Jerry Diaz recalled. His father asked Cardenas for help in coming to the United States. During the 1940s, he arrived in San Antonio, Texas, as a charro, Jerry Diaz said.
Building upon his father's legacy, Jerry Diaz began his journey in equestrian performance at a young age. Quickly, his talent quickly gained recognition. Over the years, he has performed in various countries for seven presidents and exhibited his skills at such international events as the Olympics.
Throughout his career, Jerry Diaz has made it a priority to connect with his audience by offering shows in both English and Spanish. He takes pride in being one of the pioneers in that regard, he said.
According to Jerry Diaz, the family takes immense pride in its horses. He emphasizes that the horse isn't merely an animal, but rather a vital partner in the family's endeavors.
Ensemble Iberica, a Kansas City-based group, has achieved renown for mastering flamenco and Iberian musical traditions. The ensemble will be accompanied by flamenco dancer Melinda Hedgecorth.
The event also will offer preshow activities, including performances of mariachi music. There will be food trucks available for those who want to grab dinner or a snack. A cash bar will be open, with donations supporting the foundation's initiatives. In addition, there will be an art exhibit featuring work by Guggenheim Fellow Philip Heying, titled "Country|Citizens," an exploration of the Flint Hills.
Event tickets are $45 per adult, with a reduced rate of $25 for Wabaunsee County residents. Children under 12 may attend for free. The Volland Foundation, located at 24098 Volland Road in Alma, invites attendees to bring their lawn chairs.
For ticket purchases and more information, visit https://www.eventbrite.com/e/charro-jerry-diaz-family-horse-show-ensemble-iberica-flamenco-concert-tickets-617823265017.
---
Kansas recibe de nuevo a la familia Díaz y su herencia charra
La Fundación Volland de Alma, Kansas, se prepara para una noche de artes charras y actuaciones musicales, todas ellas con sabor hispano.
El 8 de julio, la fundación acogerá el "Charro Jerry Diaz Family Horse Show", seguido de un concierto de flamenco a cargo de Ensemble Iberica. Presentado por los jinetes y artistas de la zona Geff y Dawn Dawson, el espectáculo charro contará con la presencia de Jerry Díaz, su esposa Staci y su hijo Nicolás, que ofrecerán una exhibición tradicional. Staci Diaz mostrará el estilo charro tradicional español, vestida con atuendos tradicionales. Nicolás Díaz, cinco veces campeón nacional, mostrará sus habilidades según la tradición portuguesa.
"Vamos a presentar el arte del charro … con caballos de alta escuela", dijo Jerry Díaz durante una entrevista reciente. "Quiero invitar a toda la gente de Kansas que su amigo Gerardo Díaz, el charro de corazón, muy humildemente regresa con su familia – mi esposa Staci y mi hijo Nicolás – con nuestros caballos. Como siempre, muy humilde, pero con mucho orgullo y cariño, y que la tradición mexicana continúe en todo el mundo".
Bajo la dirección de Jerry Díaz, charro mexicano de cuarta generación, la familia se ha consolidado como una destacada compañía de espectáculos charros. La implicación de la familia en el mundo de los caballos tiene sus raíces en parte en José Díaz, el padre de Jerry. Nacido en Jalisco (México), su padre fue reconocido como un experto jinete en su época.
José Díaz llegó a entrenar caballos para la familia del entonces presidente mexicano Lázaro Cárdenas, recuerda Jerry Díaz. Su padre pidió ayuda a Cárdenas para venir a Estados Unidos. Durante la década de 1940, llegó a San Antonio, Texas, como charro, dijo Jerry Díaz.
Siguiendo el legado de su padre, Jerry Diaz comenzó su andadura en el arte charro a una edad temprana. Rápidamente, su talento obtuvo reconocimiento. A lo largo de los años, ha actuado frente a siete presidentes y ha exhibido sus habilidades en eventos internacionales como los Juegos Olímpicos.
A lo largo de su carrera, Jerry Díaz se ha marcado como prioridad conectar con su público ofreciendo espectáculos tanto en inglés como en español. Se enorgullece de ser uno de los pioneros en este sentido.
De acuerdo con Jerry Diaz, la familia se enorgullece enormemente de sus caballos. Subraya que el caballo no es un mero animal, sino un socio vital en los esfuerzos de la familia.
Ensemble Iberica, un grupo con sede en Kansas City, ha alcanzado renombre por dominar el flamenco y las tradiciones musicales ibéricas. El conjunto estará acompañado por la bailaora Melinda Hedgecorth.
El evento también ofrecerá actividades previas al espectáculo, como actuaciones de música mariachi. Habrá food trucks a disposición de quienes deseen cenar o tomar un tentempié. Habrá un bar en el que los donativos se destinarán a las iniciativas de la fundación. Además, habrá una exposición de arte con obras del becario Guggenheim Philip Heying, titulada "Country|Citizens", una exploración de Flint Hills.
El precio de las entradas es de $ 45 por adulto, con una tarifa reducida de $25 para los residentes del condado de Wabaunsee. Los menores de 12 años pueden asistir gratis. La Fundación Volland, situada en 24098 Volland Road en Alma, invita a los asistentes a traer sus sillas para exterior.
Para comprar entradas y obtener más información, visite https://www.eventbrite.com/e/charro-jerry-diaz-family-horse-show-ensemble-iberica-flamenco-concert-tickets-617823265017.