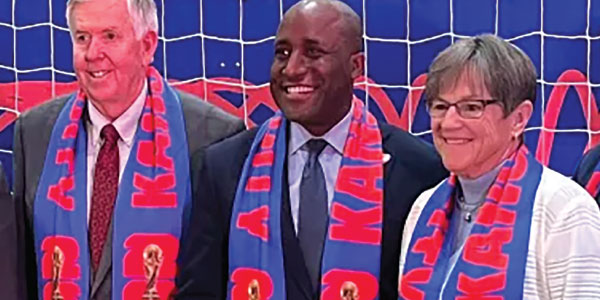 Quentin Lucas celebrated his June 20 win over Clay Chastain last Friday at an event hosted by the Guadalupe Centers, Greater KC's Hispanic Chamber and the Mattie Rhodes Center. Lucas begins his final term as Kansas City's mayor in August with a governing mandate; voters overwhelmingly reelected him.
He deserves reelection; he's experienced in calamity, having successfully led during a historic epoch. Just months after taking office, he confronted a global pandemic, which, in effect, shut down the world. Despite it, he oversaw momentous triumphs. Kansas City won its bid to host the 2026 men's World Cup; the new KCI Airport opened; the city hosted the 2023 NFL Draft; and the first stadium created for women's soccer will open here next year.
Lucas's second term promises to be as seminal. It'll demand much of him, starting with planning for the 2026 World Cup. It'll challenge Lucas's ability to see the big picture while recognizing the details and manage both. His leadership and problem-solving skills will be tested.
With the World Cup, Kansas City takes the world stage. It'll earn us international star status or label us a place to avoid. As the head of city government, it's up to Lucas. He won't do all the heavy lifting himself, but it is his city. Along with honorary co-chairs, he heads KC2026, a bi-state nonprofit formed in May. Comprised of business executives, sports team owners, civic leaders and elected officials from across the region, the organization will oversee strategy, planning and constructing; work closely with FIFA to ensure compliance with World Cup guidelines and standards; lead fundraising efforts; and coordinate with area communities and event sponsors and volunteers.
Lucas announced his intention to increase transportation from KCI Airport south to the city core. His plans include establishing a commission to ensure immigrant communities access to business and cultural opportunities.
Financial pledges in the millions of dollars have been received from governments and others in Missouri and Kansas to upgrade places where World Cup teams could train and execute aspects of fan engagement for the tournament.
Clearly, plans are advancing, but this fact remains: In less than three years, millions of fans and other World Cup visitors will converge on the area. Will they see what Kansas Citians endure – the violent crime, crumbling neighborhood infrastructure, homelessness and overflowing public trash cans?
This will be the longest ever World Cup, spanning 39 days. Officials aren't anticipating visitors here for a few days but for 40 or more.
And when it's all over, will Kansas City be left heavily in debt? Saddled with structures for which there's no longer a use? Still threatened by rampant violent crime? In desperate need of affordable housing? Distressed by crumbling infrastructure and overflowing public trash cans?
If so, will it overshadow post-World Cup jubilation? One or the other will be a focus of Quentin Lucas's mayoral legacy.
---
El alcalde Lucas y la Copa del Mundo
Quentin Lucas celebró su victoria del 20 de junio sobre Clay Chastain el viernes pasado en un evento organizado por los Centros de Guadalupe, la Cámara Hispana del Gran KC y el Centro Mattie Rhodes. Lucas comienza su último mandato como alcalde de Kansas City en agosto con un mandato de gobierno; los votantes lo reeligieron abrumadoramente.
Se merece la reelección; tiene experiencia en calamidad, ya que ha liderado con éxito durante una época histórica. Sólo unos meses después de asumir el cargo, se enfrentó a una pandemia global que, en efecto, cerró el mundo. A pesar de eso, supervisó los triunfos trascendentales. Kansas City ganó su intento de organizar la Copa Mundial de Hombres 2026, el nuevo aeropuerto de KCI abrió, la ciudad organizó el Draft de la NFL 2023, y el primer estadio creado para fútbol femenino se abrirá aquí el próximo año.
El segundo mandato de Lucas promete ser igual de seminal. Exigirá mucho de él, comenzando con la planificación de la Copa Mundial 2026. Desafiará su capacidad para ver el panorama general mientras reconoce los detalles y administra ambos. Su liderazgo y habilidades de resolución de problemas serán probadas.
Con la Copa del Mundo, Kansas City toma el escenario mundial. Nos ganará el estatus de estrella internacional o nos etiquetará como un lugar para evitar. Como jefe de gobierno de la ciudad, depende de Lucas. No hará todo el trabajo pesado, pero es su ciudad. Junto con los copresidentes honorarios, dirige KC2026, una organización sin fines de lucro biestatal formada en mayo. Compuesto por ejecutivos de negocios, propietarios de equipos deportivos, líderes cívicos y funcionarios electos de toda la región, la organización supervisará la estrategia, la planificación y la construcción; trabajará en estrecha colaboración con la FIFA para garantizar el cumplimiento de las pautas y estándares de la Copa Mundial; dirigirá los esfuerzos de recaudación de fondos; y coordinará con comunidades de área y patrocinadores de eventos y voluntarios.
Lucas anunció su intención de aumentar el transporte desde el aeropuerto de KCI hasta el centro de la ciudad. Sus planes incluyen establecer una comisión para garantizar que las comunidades de inmigrantes tengan acceso a oportunidades comerciales y culturales.
Se han recibido promesas financieras en millones de dólares de gobiernos y otros en Missouri y Kansas para mejorar los lugares donde los equipos de la Copa Mundial podrían entrenar y ejecutar aspectos de la participación de los fanáticos para el torneo.
Claramente, los planes avanzan, pero este hecho continúa: en menos de tres años, millones de fanáticos y otros visitantes de la Copa del Mundo convergerán en el área. ¿Verán lo que soportan los residentes de Kansas City: el crimen violento, la infraestructura que se desmorona, la falta de vivienda y los botes de basura pública desbordantes?
Esta será la Copa Mundial más larga, que abarca 39 días. Los funcionarios no anticipan a los visitantes aquí por unos días, sino por 40 o más.
Y cuando todo se haya terminado, ¿Kansas City habrá quedado en deuda? ¿Dejado con estructuras para las que ya no tiene uso? ¿Todavía amenazado por el crimen violento desenfrenado? ¿Necesitado de viviendas asequibles? ¿Angustiado por infraestructura desmoronada y desbordando botes de basura pública?
Si es así, ¿eclipsará el júbilo de la Copa del Mundo? Uno u otro será un foco del legado de la alcaldía de Quentin Lucas.