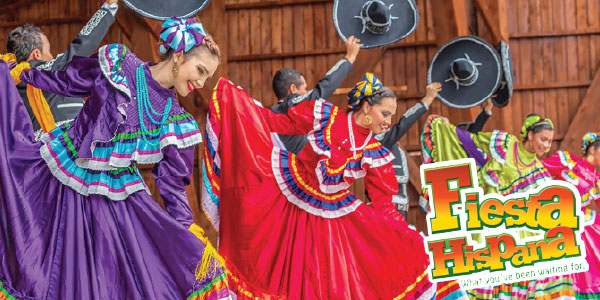 By Angie Baldelomar
Fiesta Hispana to kick off Hispanic Heritage Month with a bang
With Hispanic Heritage Month (Sept. 15-Oct. 15) around the corner, an annual Kansas City area event is around the corner, too: Fiesta Hispana.
Scheduled for Sept. 15-17 at Barney Allis Plaza in downtown Kansas City, Missouri, Fiesta Hispana — in its 42nd version — will offer a lineup of entertainment and vendors that will be inclusive of the diversity of the Hispanic community, according to Sonia Lopez Tinoco, a member of the Greater Kansas City National Hispanic Heritage Committee, which is in charge of organizing Fiesta Hispana.
"What we try to do every year is, we try to improve on the experience that an attendee has at our event," Lopez Tinoco said. "I think the past several years we've done a good job doing that, specifically, by the type of vendors that we have and the variety of entertainment that we are providing."
For Lopez Tinoco, the key to accomplishing this is requesting feedback from attendees and listening to their suggestions or complaints. This year is no different. Based on feedback, the fiesta features a lineup that includes cumbia bands Los Capi and Tropicalisimo Apache.
"This year, we tried to be inclusive of everyone's different genres of music, of dance, different kinds of vendors — more of a variety and not wanting to keep it the same every year," Lopez Tinoco said. "We're always looking at fine-tuning the layout, just to make it more comfortable for everyone."
The idea is to provide a new experience every year, she said.
Lopez Tinoco acknowledges that the event wouldn't even be possible if not for the volunteers and sponsors.
"Events like this aren't possible if … not for our volunteers and our sponsors, and those individuals that see the work that we're doing and want to contribute," she said. "The committee, the board members, work hard year-round to keep the event free so that individuals can attend with their families."
For more information about the entry-free Fiesta Hispana and this year's lineup, visit https://www.facebook.com/FiestaHispanaKC/.
---
Fiesta Hispana iniciará con fuerza el Mes de la Herencia Hispana
Con el Mes de la Herencia Hispana (del 15 de septiembre al 15 de octubre) a la vuelta de la esquina, también está a la vuelta de la esquina un evento anual en el área de Kansas City: la Fiesta Hispana.
Programada del 15 al 17 de septiembre en Barney Allis Plaza en el centro de Kansas City, Missouri, Fiesta Hispana, en su versión número 42, ofrecerá una programación de entretenimiento y vendedores que incluirá la diversidad de la comunidad hispana, según Sonia López Tinoco, miembro del Comité Nacional de Herencia Hispana del Gran Kansas City, que está a cargo de organizar la Fiesta Hispana.
"Lo que intentamos hacer cada año es tratar de mejorar la experiencia que tiene el asistente en nuestro evento", dijo López Tinoco. "Creo que en los últimos años hemos hecho un buen trabajo al hacerlo, específicamente por el tipo de proveedores que tenemos y la variedad de entretenimiento que ofrecemos".
Para López Tinoco, la clave para lograrlo es solicitar retroalimentación a los asistentes y escuchar sus sugerencias o quejas. Este año no es diferente. La fiesta tendrá un lineup que incluye a las bandas de cumbia Los Capi y Tropicalisimo Apache.
"Este año, tratamos de incluir los diferentes géneros musicales y de baile de todos, los diferentes tipos de vendedores, más variedad y no querer que sea igual todos los años", dijo López Tinoco. "Siempre estamos buscando ajustar el diseño, sólo para que sea más cómodo para todos".
La idea es brindar una nueva experiencia cada año, afirmó.
López Tinoco reconoce que el evento ni siquiera sería posible sin los voluntarios y patrocinadores.
"Eventos como este no son posibles si no fuera por nuestros voluntarios y patrocinadores, y aquellas personas que ven el trabajo que estamos haciendo y quieren contribuir", dijo. "El comité, los miembros de la junta, trabajan duro durante todo el año para mantener el evento gratuito para que las personas puedan asistir con sus familias".
Para obtener más información sobre la Fiesta Hispana de entrada gratuita y la programación de este año, visite https://www.facebook.com/FiestaHispanaKC/.