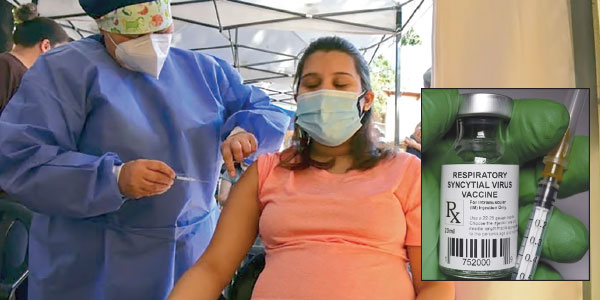 By Chara
Vaccine to be administered during pregnancy
The U.S. Food and Drug Administration (FDA) announced on Aug. 21 that it had approved Abrysvo, a vaccine to be administered to individuals who are pregnant to help protect their babies from contracting respiratory syncytial virus (RSV)-related illnesses.
"This approval provides an option for health care providers and pregnant individuals to protect infants from this potentially life-threatening disease," Dr. Peter Marks, director of the FDA's Center for Biologics Evaluation and Research, was quoted in an FDA press release as saying.
Although RSV can infect people of any age, a person is most likely to be infected with the contagious virus between birth and 2 years old, FDA information stated. One way it can be life-threatening is by leading to major illnesses such as bronchitis and pneumonia, according to the FDA.
To reduce the risk of infection, Abrysvo is to be administered during weeks 32-36 of pregnancy, the FDA stated.
Approval of the vaccine followed testing for its safety and effectiveness. According to the FDA, one study of roughly 3,500 expectant people showed the chance of a baby contracting a severe lower respiratory tract disease plunged by 81.8 percent between birth and 60 days old and 69.4 between birth and 180 days old.
Like other vaccines, there are potential side effects to taking Abrysvo. Those cited by the FDA included headaches and nausea.
Anyone interested in receiving the vaccine is advised to consult with a health care professional.
---
FDA aprueba vacuna contra el VSR
La vacuna se administrará durante el embarazo
La Administración de Alimentos y Medicamentos (FDA, por sus siglas en inglés) anunció el 21 de agosto que había aprobado Abrysvo, una vacuna que se administrará a personas embarazadas para ayudar a proteger a sus bebés de contraer enfermedades relacionadas con el virus respiratorio sincitial (VSR).
"Esta aprobación brinda una opción para que los proveedores de atención médica y las personas embarazadas protejan a los bebés de esta enfermedad potencialmente mortal", dijo el Dr. Peter Marks, director del Centro de Evaluación e Investigación de Productos Biológicos de la FDA, en un comunicado de prensa de la FDA.
Aunque el RSV puede infectar a personas de cualquier edad, es más probable que una persona se infecte con el virus contagioso entre el nacimiento y los 2 años, según la información de la FDA. Una forma en que puede poner en peligro la vida es provocando enfermedades graves como bronquitis y neumonía, según la FDA.
Para reducir el riesgo de infección, Abrysvo debe administrarse durante las semanas 32 a 36 del embarazo, afirmó la FDA.
La aprobación de la vacuna se produjo tras las pruebas de seguridad y eficacia. Según la FDA, un estudio de aproximadamente 3.500 personas embarazadas mostró que la probabilidad de que un bebé contraiga una enfermedad grave del tracto respiratorio inferior se redujo en un 81,8 por ciento entre el nacimiento y los 60 días y en un 69,4 entre el nacimiento y los 180 días.
Al igual que otras vacunas, existen posibles efectos secundarios al tomar Abrysvo. Los citados por la FDA incluyeron dolores de cabeza y náuseas.
Se recomienda a cualquier persona interesada en recibir la vacuna que consulte con un profesional de la salud.