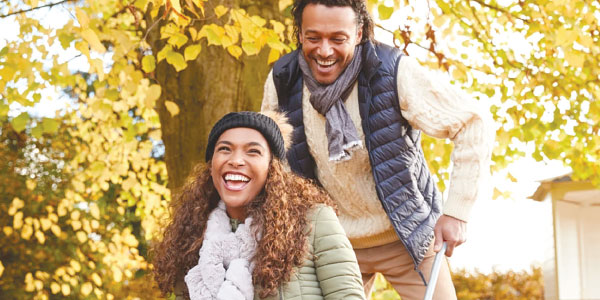 Commentary by Chara
Fall is coming!
Officially, the first day of autumn is Sept. 22. If you want to get maximum enjoyment out of that unique, wonderful season, it's best to start preparing over the next few weeks for the arrival of fall.
Here are some tips to prepare for the transition from summer to fall:
*Gradually change your wardrobe: As temperatures begin to drop, start bringing out your fall and winter clothes, like sweaters and scarves. The summer-to-autumn transition also is an excellent time to revamp your wardrobe by donating unused items and adding warm-toned pieces to echo the changing of the leaves.
*Explore the outdoors: With the changing of the leaves, fall offers some breathtaking scenery to enjoy. Don't miss it! Plan hikes, pick apples and visit pumpkin patches. And, of course, dress for the weather. But if it gets too cold to get outside, …
*Stay active indoors: Engage in indoor workouts to keep up your energy and maintain a positive mindset.
*Enjoy autumn flavors: Fall is a great time to enjoy hot meals. Cook soups and stews, and roast vegetables. Embrace the iconic pumpkin spice trend in drinks and desserts.
*Get ready for the fall and winter holidays: Plan Halloween costumes and Thanksgiving menus, and consider shopping early for Christmas. By getting a head start on holiday preparations, you'll have less stress when the holidays arrive, and thus, the holidays will be more enjoyable.
*Get your garden ready: Clean your garden and get it ready for next spring. When the weather permits, take advantage and trim plants and clear leaves. You also might consider planting some vegetables that grow during the fall.
*Embrace change: See fall as a season of personal transformation, just as it is for the planet. Try to see yourself as a tree. During autumn, old leaves drop from the trees. Let some "old leaves" fall from your life so you can make space for new opportunities and challenges.
---
Cómo prepararse para el otoño
¡Se acerca el otoño!
Oficialmente, el primer día del otoño es el 22 de septiembre. Si desea disfrutar al máximo de esa maravillosa y única estación, lo mejor es comenzar a prepararse durante las próximas semanas para la llegada del otoño.
A continuación se ofrecen algunos consejos para prepararse para la transición del verano al otoño:
*Cambie poco a poco su guardarropa: A medida que las temperaturas comiencen a bajar, comience a sacar su ropa de otoño e invierno, como suéteres y bufandas. La transición del verano al otoño también es un momento excelente para renovar su guardarropa donando artículos no utilizados y agregando piezas de tonos cálidos que hagan eco del cambio de las hojas.
*Explore el aire libre: con el cambio de las hojas, el otoño ofrece paisajes impresionantes para disfrutar. ¡No se lo pierda! Planifique caminatas, recoja manzanas y visite huertos de calabazas. Y, por supuesto, vístase según el clima. Pero si hace demasiado frío para salir…
*Manténgase activo en el interior: realice ejercicios en el interior para mantener su energía y mantener una mentalidad positiva.
*Disfrute de los sabores del otoño: El otoño es un buen momento para disfrutar de comidas calientes. Cocine sopas y guisos, y ase verduras. Adopte la icónica tendencia de las especias de calabaza en bebidas y postres.
*Prepárese para las vacaciones de otoño e invierno: planee disfraces de Halloween y menús de Acción de Gracias, y considere comprar con anticipación para Navidad. Al comenzar con ventaja los preparativos para las fiestas, tendrá menos estrés cuando lleguen las fiestas y, por lo tanto, las vacaciones serán más placenteras.
*Prepare su jardín: Limpie su jardín y prepárelo para la próxima primavera. Cuando el tiempo lo permita, aproveche y recorte las plantas y limpie las hojas. También podría considerar plantar algunas verduras que crezcan durante el otoño.
*Abrace el cambio: considere el otoño como una temporada de transformación personal, tal como lo es para el planeta. Intente verse a sí mismo como un árbol. Durante el otoño, las hojas viejas caen de los árboles. Deje caer algunas "hojas viejas" de su vida para que pueda dejar espacio para nuevas oportunidades y desafíos.