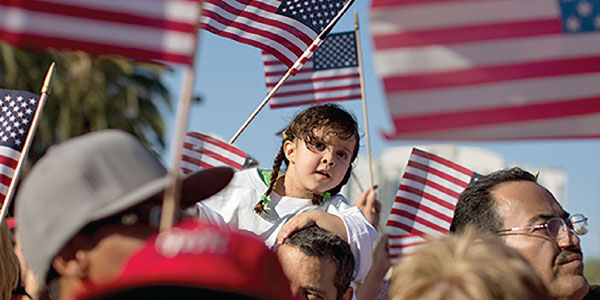 Most of our 11.5 million undocumented residents have been here for decades, reported the nonpartisan Migration Policy Institute Aug. 29. Over the years, American taxpayers have bankrolled immigrant kids' formal education up to and oftentimes including college. They're now serving Americans professionally through careers in education, medicine, science, the arts and more. The Deferred Action for Childhood Arrivals (DACA) program enabled them to earn degrees and support themselves.
That road's temporarily closed. Because of ongoing legal challenges, the Biden administration stopped processing first-time DACA applications in October 2022, leaving over one million DACA-eligible young people unprotected and stuck.
Their misfortune makes one of several compelling arguments against impetuously granting work authorizations to millions of migrants overrunning the U.S.-Mexico border – 1,973,092 so far this year, the U.S. Border Patrol reported Aug. 18. The Biden administration and governors in border states are busing them north to Democrat-led cities. Now, the cost of housing them is straining those cities, along with relations with Washington. Cities fault Biden for failing both to subsidize migrant care and to secure the southern border. It's already cost host cities hundreds of millions of dollars, CBS News reported Aug. 22.
Another pressing factor in the debate is America's labor shortage. There are about 9.8 million jobs open nationwide, say economists.
Viable solutions seem apparent. Enact legislation that creates a path to citizenship for the 11.5 million longtime undocumented immigrants, including DACA recipients. They've woven themselves successfully into the fabric of our communities, and shoulder-to-shoulder alongside neighbors, they worked through the pandemic keeping vital American services operating. They've earned their place here. Rewarding their loyal efforts would relieve U.S. labor shortages and rescue longtime immigrants from the clutches of unscrupulous, predatory employers fueling the virulent underground economy. It also gives preference to those who've waited and worked longest for legal status.
Establish alternate measures to hold recent asylum-seekers. If we reward them with temporary shelter and work permits, we incentivize greater illegal immigration. Moreover, public safety necessitates thorough vetting before releasing them into our communities. We must ensure that they're not terrorists, criminals or guilty of prior immigration violations or carrying communicable diseases.
And not beside the point, there are more than a half-million native-born homeless, the National Alliance to End Homelessness just reported. While the tragic plight of refugees begs our compassionate help, our fellow Americans in need are our first responsibility.
---
Es hora de legalizar a los inmigrantes de larga estadía
La mayoría de nuestros 11,5 millones de residentes indocumentados han estado aquí durante décadas, reportó el 29 de agosto el Instituto de Política Migratoria, una organización no partidista. A lo largo de los años, los contribuyentes estadounidenses han financiado la educación formal de los niños inmigrantes hasta y, a menudo, incluyendo la universidad. Ahora prestan servicios a los estadounidenses profesionalmente a través de carreras en educación, medicina, ciencia, artes y más. El programa de Acción Diferida para los Llegados en la Infancia (DACA) les permitió obtener títulos y mantenerse a sí mismos.
Ese camino está cerrado temporalmente. Debido a los desafíos legales en curso, la administración de Biden dejó de procesar las solicitudes de DACA por primera vez en octubre de 2022, dejando a más de un millón de jóvenes elegibles para DACA desprotegidos y estancados.
Su desgracia es uno de varios argumentos convincentes contra la concesión impetuosa de autorizaciones de trabajo a millones de inmigrantes que cruzan la frontera entre Estados Unidos y México: 1.973.092 en lo que va del año, reportó la Patrulla Fronteriza de Estados Unidos el 18 de agosto. La administración de Biden y los gobernadores de los estados fronterizos los están transportando en autobuses al norte, hacia las ciudades lideradas por los demócratas. Ahora, el costo de alojarlas está poniendo a prueba a esas ciudades, junto con las relaciones con Washington. Las ciudades culpan a Biden por no subsidiar la atención a los migrantes ni asegurar la frontera sur. Ya le ha costado a las ciudades anfitrionas cientos de millones de dólares, reportó CBS News el 22 de agosto.
Otro factor apremiante en el debate es la escasez de mano de obra en Estados Unidos. Hay alrededor de 9,8 millones de puestos de trabajo disponibles en todo el país, dicen los economistas.
Las soluciones viables parecen evidentes. Promulgar legislación que cree un camino hacia la ciudadanía para los 11,5 millones de inmigrantes indocumentados desde hace mucho tiempo, incluidos los beneficiarios de DACA. Se han integrado con éxito en el tejido de nuestras comunidades y, hombro con hombro junto con sus vecinos, trabajaron durante la pandemia para mantener en funcionamiento servicios estadounidenses vitales. Se han ganado su lugar aquí. Recompensar sus esfuerzos leales aliviaría la escasez de mano de obra en Estados Unidos y rescataría a los inmigrantes de larga estadía de las garras de empleadores depredadores y sin escrúpulos que alimentan la virulenta economía ilegal. También da preferencia a aquellos que han esperado y trabajado más tiempo para obtener un estatus legal.
Se debe establecer medidas alternativas para retener a los solicitantes de asilo recientes. Si los recompensamos con refugio temporal y permisos de trabajo, incentivamos una mayor inmigración ilegal. Además, la seguridad pública requiere una investigación exhaustiva antes de liberarlos en nuestras comunidades. Debemos asegurarnos de que no sean terroristas, criminales o culpables de violaciones migratorias anteriores o portadores de enfermedades transmisibles.
Y no sin importancia, hay más de medio millón de personas sin hogar nacidas en el país, según acaba de informar la Alianza Nacional para Acabar con las Personas sin Hogar. Si bien la trágica situación de los refugiados exige nuestra ayuda compasiva, nuestros compatriotas estadounidenses necesitados son nuestra primera responsabilidad.