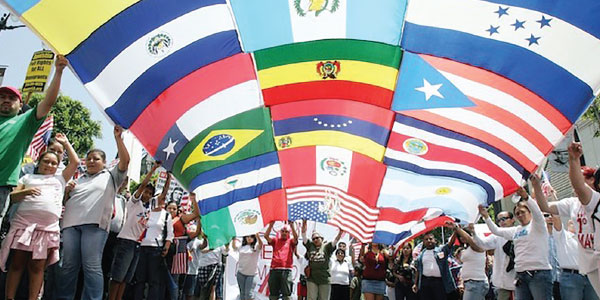 The U.S. is heterogenous by nature. Long before European colonization, the peoples occupying this land were socially diverse. According to the federal government, 574 different American Indian tribes and Alaska Native societies called what's now the 50 states home.
Throughout succeeding centuries, millions of immigrants arrived from all over the globe, bringing their customs and cultures. And while, over time, they became Americans, they also retained and shared their unique native cultures, creating a "gorgeous mosaic," as one former big city mayor characterized it.
Tomorrow's the start of National Hispanic Heritage Month. It's dedicated to celebrating the rich culture, customs, contributions and traditions of Spanish-speaking peoples.
The monthlong observance beginning Sept. 15 and ending Oct. 15 is significant. Sept 15 is commemorated as Independence Day in Costa Rica, El Salvador, Guatemala, Honduras and Nicaragua. Sept. 16 marks Mexico's Independence Day, which Chile celebrates on Sept. 18 and Belize on Sept. 21.
Just as everyone's famously Irish on March 17 and during Irish Fest, and everyone's German at Oktoberfest, Kansas Citians are Hispanic this month. The metro area boasts many entertaining festivities exploring and honoring Hispanic Americans.
The three-day Fiesta Hispana kicks off on Friday at Barney Allis Plaza in Downtown KCMO. Sporting Kansas City has a special themed match planned on Sept. 20 against Nashville SC, and throughout the month, the KC soccer club will be posting bilingual salutes to Spanish-speaking cultures on social media. Hy-Vee Arena is hosting this year's Latino Arts Festival on Sept. 23.
Local municipalities, such as Independence, Mo., and Olathe and Overland Park in Kansas have organized their own special public events. The Johnson County Arts and Heritage Center is putting on a party on Oct. 12. Area public libraries are presenting programs throughout the month. KU Medical Center has multiple events planned.
The month's festivities offer so much from which to learn and to enjoy. The Hispanic population, after all, isn't a monolith. We or our ancestors came from one of 33 Latin American countries or 13 Caribbean countries or Spain.
Let's experience to the fullest this year's Hispanic Heritage Month observances. Take advantage of the many opportunities that bring new awareness to the kaleidoscopic array of all Hispanic cultures and contributions.
---
El otoño marca el comienzo del Mes de la Herencia Hispana
Estados Unidos es heterogéneo por naturaleza. Mucho antes de la colonización europea, los pueblos que ocupaban esta tierra eran socialmente diversos. Según el gobierno federal, 574 tribus indias americanas diferentes y sociedades nativas de Alaska llamaron hogar a lo que ahora son 50 estados.
A lo largo de los siglos siguientes, llegaron millones de inmigrantes de todo el mundo, trayendo sus costumbres y culturas. Y si bien, con el tiempo, se convirtieron en estadounidenses, también conservaron y compartieron sus culturas nativas únicas, creando un "hermoso mosaico", como lo caracterizó un ex alcalde de una gran ciudad.
Mañana inicia el Mes Nacional de la Herencia Hispana. Está dedicado a celebrar la rica cultura, costumbres, contribuciones y tradiciones de los pueblos de habla hispana.
La celebración de un mes que comienza el 15 de septiembre y termina el 15 de octubre es significativa. El 15 de septiembre se conmemora el Día de la Independencia en Costa Rica, El Salvador, Guatemala, Honduras y Nicaragua. El 16 de septiembre se celebra el Día de la Independencia de México, en Chile se celebra el 18 de septiembre y Belice el 21 de septiembre.
Así como todo el mundo es famoso por ser irlandés el 17 de marzo y durante el Irish Fest, y todo el mundo es alemán en el Oktoberfest, los habitantes de Kansas son hispanos este mes. El área metropolitana cuenta con muchas festividades entretenidas que exploran y honran a los hispanoamericanos.
La Fiesta Hispana de tres días comienza el viernes en Barney Allis Plaza en el centro de KCMO. Sporting Kansas City tiene planeado un partido temático especial el 20 de septiembre contra Nashville SC y, durante todo el mes, el club de fútbol de KC publicará saludos bilingües a las culturas de habla hispana en las redes sociales. Hy-Vee Arena será la sede del Festival de Artes Latinas de este año el 23 de septiembre.
Los municipios locales, como Independence, en Missouri, y Olathe y Overland Park en Kansas, han organizado sus propios eventos públicos especiales. El Centro de Arte y Patrimonio del Condado de Johnson organizará una fiesta el 12 de octubre. Las bibliotecas públicas del área presentarán programas durante todo el mes. El KU Medical Center tiene múltiples eventos planeados.
Las festividades del mes ofrecen mucho de qué aprender y disfrutar. Después de todo, la población hispana no es un monolito. Nosotros o nuestros antepasados venimos de uno de los 33 países latinoamericanos o 13 países del Caribe o España.
Vivamos al máximo las celebraciones del Mes de la Herencia Hispana de este año. Aproveche las muchas oportunidades que brindan nueva conciencia sobre la variedad caleidoscópica de todas las culturas y contribuciones hispanas.