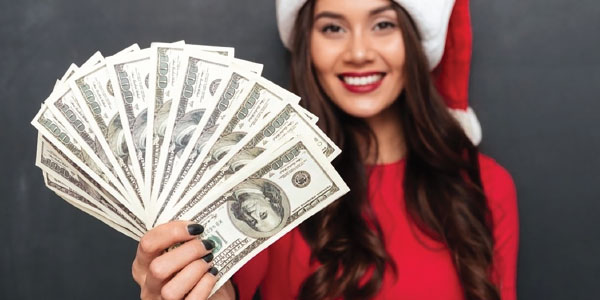 Commentary by Roberta Pardo
It's never too early to start planning for Christmas.
That's because, as multiple sources have stated, Christmastime can be stressful, particularly financially. On top of shopping for gifts, the holiday season sometimes means travel expenses, which adds to the stress.
Fortunately, there are an array of advice columns from experts found on the internet. Here are some excellent tips from AGFinancial.com to help get you started:
*Create a budget: As AGFinancial suggests, it should cover food, travel, other holiday events and, of course, gifts. On a related note, …
*List your gift recipients: And set a cap for how much you'll spend for each recipient. Doing so "can make you less likely to fall victim to impulse purchases," the financial services company states.
*Remember, there's no need to buy every family member a present: As AGFinancial recommends, draw names or do a gift exchange with loved ones. This is particularly important to consider with large family or friend gatherings.
*Create personalized gifts: Use your craft supplies to make something. Make some delicious food. As the website siennalikestoparty.com points out, homemade gifts can be more meaningful because the recipients appreciate your effort in creating them.
*Save in advance: Set aside a certain amount each month for Christmas spending. As AGFinancial states, designating even a small amount will build into something substantial over time. And remember, even if you don't save all the money you think you'll need, whatever you save will still be helpful at Christmastime.
---
Cómo planificar sus gastos de Navidad
Nunca es demasiado pronto para empezar a planificar la navidad.
Esto se debe a que, como han dicho varias fuentes, la época navideña puede ser estresante, especialmente desde el punto de vista financiero. Además de comprar regalos, la temporada navideña a veces implica gastos de viaje, lo que aumenta el estrés.
Afortunadamente, existe una variedad de columnas de consejos de expertos que se encuentran en Internet. A continuación se ofrecen algunos consejos excelentes de AGFinancial.com que le ayudarán a empezar:
*Crea un presupuesto: Debe incluir comidas, viajes, otros eventos festivos y, por supuesto, regalos. En una nota relacionada…
*Haga una lista de los destinatarios de sus regalos: y establezca un límite de cuánto gastará por cada destinatario. Hacerlo "puede hacer que sea menos probable que sea víctima de compras impulsivas", afirma la empresa de servicios financieros.
*Recuerda, no es necesario comprarle un regalo a cada miembro de la familia: sortea nombres o realiza un intercambio de regalos con tus seres queridos. Es especialmente importante tener esto en cuenta en reuniones familiares o de amigos numerosas.
*Cree regalos personalizados: use sus materiales de manualidades para hacer algo. Prepare una comida deliciosa. Los obsequios hechos en casa pueden ser más significativos porque los destinatarios aprecian su esfuerzo al crearlos.
*Ahorre con antelación: Reserve una determinada cantidad cada mes para gastos navideños. Como afirma AGFinancial, designar incluso una pequeña cantidad se convertirá en algo sustancial con el tiempo. Y recuerde, incluso si no ahorra todo el dinero que cree que necesitará, todo lo que ahorre será útil en navidad.