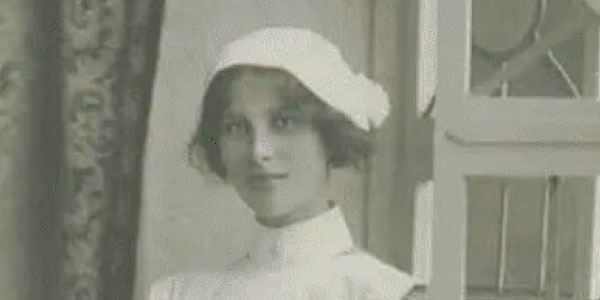 By Tere Siqueira
Note: With October's amber twilight, the rustling of autumn leaves and the approaching of Halloween and Dia de los Muertos, the atmosphere is ripe for sharing haunting legends and enigmatic tales. Continuing our series of traditional Hispanic legends, we at Dos Mundos invite you to enjoy a story that has intrigued and thrilled generations: "La Planchada" ("The Ironed Lady" in English).
In the heart of Mexico City, in a time not too far from our own, a renowned hospital stood tall and proud. Known for its dedication to healing and care, this hospital had within its walls a diligent nurse named Eulalia.
Clad in a pristine white uniform, starched and ironed to perfection, Eulalia was the epitome of professionalism. Her passion for her work and the care she showed her patients earned her respect and admiration from her colleagues and those to whom she tended.
Yet beneath the calm, composed exterior was a heart filled with passion. Eulalia fell deeply in love with a doctor at the hospital. Their romance blossomed within the walls where they worked. For a time, life seemed like a fairy tale.
As days turned into weeks and weeks into months, however, Eulalia noticed a change. The doctor's gaze began to wander, settling often on a younger nurse. Whispers of a clandestine affair started filling the hallways.
The heartbreak was too much for Eulalia to bear. One evening, after a particularly grueling shift, Eulalia returned to her home, only to never awaken the next morning. Some say she died of a broken heart. Others believe her untimely end was from a more mysterious cause.
But Eulalia's story didn't end there. Soon after her passing, hospital staff and patients began to report sightings of a nurse in an impeccably ironed uniform, wandering the halls late at night. This ethereal figure, believed to be Eulalia's spirit, came to be known as "La Planchada."
Legend has it that La Planchada visits sick patients, offering unparalleled care that leads to miraculous recoveries by morning. Her presence, though eerie, is not considered malevolent. Instead, many believe she continues her duties in death as she did in life, offering solace and healing to those in need.
But the staff quietly advises people to never challenge or confront her, for though she might be benevolent to patients, the fate of those who cross her remains unknown.
So if you ever find yourself wandering the corridors of a Mexican hospital late at night and come across a nurse with an immaculate, ironed uniform, remember the tale of La Planchada and let her continue her eternal rounds, offering comfort to those she encounters.
---
Leyendas Hispanas: La leyenda de "La Planchada"
Nota: Con los tonos dorados de octubre, el murmullo de las hojas otoñales y la proximidad de Halloween y el Día de los Muertos, el ambiente es propicio para compartir leyendas escalofriantes y relatos enigmáticos. Continuando nuestra serie sobre leyendas hispanas tradicionales, Dos Mundos les invita a disfrutar de una historia que ha intrigado y cautivado a generaciones.En el corazón de la Ciudad de México, en una época no muy lejana a la nuestra, se erguía un renombrado hospital. Conocido por su dedicación a la curación y el cuidado, este hospital albergaba entre sus muros a una diligente enfermera llamada Eulalia.Vestida con un impecable uniforme blanco, almidonado y planchado a la perfección, Eulalia era el sinónimo de la profesionalidad. Su pasión por su trabajo y el cuidado que mostraba a sus pacientes le valió el respeto y la admiración de sus colegas y de aquellos a quienes atendía.Sin embargo, bajo esa apariencia tranquila y compuesta había un corazón lleno de pasión. Eulalia se enamoró perdidamente de un médico del hospital. Su romance floreció dentro de los muros donde trabajaban. Por un tiempo, la vida parecía un cuento de hadas.Conforme los días se convertían en semanas y las semanas en meses, Eulalia notó un cambio. La mirada del doctor comenzó a divagar, posándose a menudo en una enfermera más joven. Rumores de un romance clandestino comenzaron a llenar los pasillos.El desamor fue demasiado para Eulalia. Una noche, tras un turno especialmente duro, Eulalia regresó a su hogar, solo para no despertar a la mañana siguiente. Algunos dicen que murió de un corazón roto. Otros creen que su final prematuro fue debido a una causa más misteriosa.Pero la historia de Eulalia no terminó ahí. Poco después de su muerte, el personal y los pacientes del hospital comenzaron a informar sobre avistamientos de una enfermera con un uniforme impecablemente planchado, deambulando por los pasillos tarde en la noche. Esta figura etérea, que se cree es el espíritu de Eulalia, pasó a ser conocida como "La Planchada".La leyenda dice que La Planchada visita a pacientes enfermos, ofreciendo cuidados sin igual que resultan en recuperaciones milagrosas por la mañana. Su presencia, aunque inquietante, no se considera malévola. En cambio, muchos creen que continúa sus deberes en la muerte como lo hizo en vida, ofreciendo consuelo y curación a aquellos que lo necesitan.Sin embargo, el personal aconseja en voz baja no desafiarla o confrontarla, porque aunque podría ser benevolente con los pacientes, el destino de aquellos que la desafían sigue siendo desconocido.Así que si alguna vez te encuentras deambulando por los pasillos de un hospital mexicano tarde en la noche y te cruzas con una enfermera con un uniforme inmaculado y planchado, recuerda la historia de La Planchada y déjala continuar su eterno recorrido, ofreciendo consuelo a aquellos con quienes se encuentra.