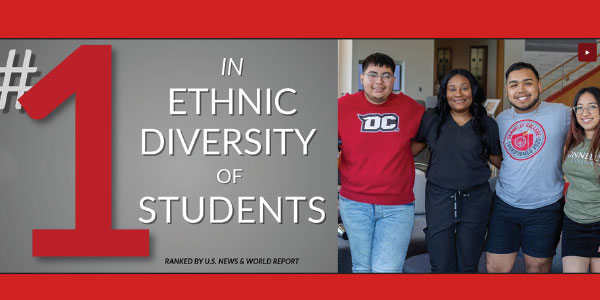 By Angie Baldelomar
Donnelly College is celebrating big.
For the seventh consecutive year, U.S. World and News Report ranked the Kansas City, Kansas, school as the No. 1 most ethnically diverse college in the Midwest, as reported in a Sept. 18 press release.
"Since 1949, Donnelly College has been providing outstanding education and formation to a very diverse student body," said Monsignor Stuart Swetland, Donnelly College president, via email. "We have helped thousands of alumni achieve remarkable economic and personal success. However, that success often went unnoticed, except for those who were alumni. This external validation from U.S. News & World Report shines a light on how Donnelly has excelled in serving students for 75 years."
Of the 74 Midwestern regional colleges, Donnelly also received other top-10 distinctions in the 2024 best colleges rankings: No. 3 in least debt upon graduation and No. 8 in economic diversity.
"Donnelly's 2024 rankings underscore the impact of our nearly 75-year commitment to providing affordable, accessible, faith-based education in the urban core of Kansas City, Kansas," the press release stated. "Locally, regionally and nationally, Donnelly is setting the bar in educating students from various ethnic and life backgrounds while helping them graduate with little to no debt, paving the way to economic and social mobility."
This couldn't be possible without the hard work of the faculty, staff, board of directors and "a committed group of alumni and benefactors," Swetland said.
"Donnelly's commitment to affordability and serving those who might not be served could not be possible without donors and a deep dedication to the mission," he said.
Additionally, Donnelly has a significant student population of older adult learners, with 52 percent of students being 25 and older. This has ranked Donnelly 19th in the most-students-25-and-older category at the national level in the report.
"We will continue to build upon the successes of the past while expanding our offerings for the future," Swetland stated. "Our hope is to broaden our impact and sustain our mission, ensuring that Donnelly will continue to serve more students for decades to come."
For more information on Donnelly, visit https://www.donnelly.edu/.
---
Donnelly nombrada la Universidad más étnica del Midwest en nuevo informe
Donnelly College está celebrando a lo grande.
Por séptimo año consecutivo, U.S. World and News Report clasificó a la universidad de Kansas City, Kansas, como la universidad número uno con mayor diversidad étnica en el Midwest, como se reportó en un comunicado de prensa del 18 de septiembre.
"Desde 1949, Donnelly College ha brindado educación y formación excepcionales a un cuerpo estudiantil muy diverso", dijo el monseñor Stuart Swetland, presidente de Donnelly College, por correo electrónico. "Hemos ayudado a miles de alumnos a lograr un éxito económico y personal notable. Sin embargo, ese éxito muchas veces pasó desapercibido, excepto para aquellos que eran exalumnos. Esta validación externa de U.S. News & World Report arroja luz sobre cómo Donnelly se ha destacado en su servicio a los estudiantes durante 75 años".
De las 74 universidades regionales del Midwest, Donnelly también recibió otras distinciones entre las 10 principales en la clasificación de mejores universidades de 2024: la número 3 en menor deuda al graduarse y la número 8 en diversidad económica.
"Los rankings de Donnelly de 2024 subrayan el impacto de nuestro compromiso de casi 75 años de brindar educación asequible, accesible y basada en la fe en el núcleo urbano de Kansas City, Kansas", afirma el comunicado de prensa. "A nivel local, regional y nacional, Donnelly está poniendo el listón en la educación de estudiantes de diversos orígenes étnicos y de vida, mientras los ayuda a graduarse con poca o ninguna deuda, allanando el camino hacia la movilidad económica y social".
Esto no podría ser posible sin el arduo trabajo de los profesores, el personal, la junta directiva y "un grupo comprometido de exalumnos y benefactores", dijo Swetland.
"El compromiso de Donnelly con la asequibilidad y la prestación de servicios a aquellos que tal vez no puedan ser atendidos no podría ser posible sin donantes y una profunda dedicación a la misión", dijo.
Además, Donnelly tiene una importante población estudiantil de adultos mayores, con un 52 por ciento de estudiantes de 25 años o más. Esto ha clasificado a Donnelly en el puesto 19 en la categoría de mayor número de estudiantes de 25 años o más a nivel nacional en el informe.
"Continuaremos aprovechando los éxitos del pasado mientras ampliamos nuestra oferta para el futuro", afirmó Swetland. "Nuestra esperanza es ampliar nuestro impacto y sostener nuestra misión, asegurando que Donnelly continúe sirviendo a más estudiantes en las próximas décadas".
Para obtener más información sobre Donnelly, visite https://www.donnelly.edu/.