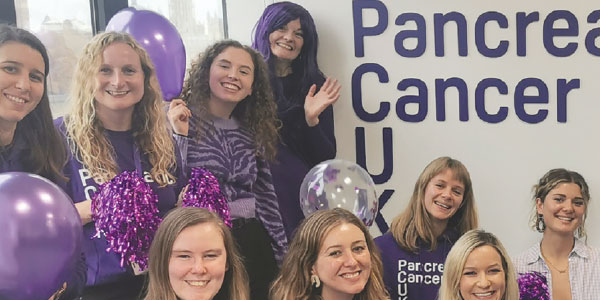 Commentary by Chara
Because it's Pancreatic Cancer Awareness Month, that's why
We at Dos Mundos are issuing a challenge to our readers.
We want you to wear purple sometime this month, particularly on Nov. 16.
November is Pancreatic Cancer Awareness Month. As a way to support those fighting pancreatic cancer, next week's issue will be purple to commemorate World Pancreatic Cancer Day (Nov. 16). As multiple organizations that are dedicated to fighting various types of cancer state on their respective websites, purple is the color that's worn during November to express support for those fighting and those who've lost their fight to pancreatic cancer.
As part of our duty to educate our readers, we present the following information about pancreatic cancer:
*The Hirshberg Foundation for Pancreatic Cancer Research estimates that 64,050 Americans will be diagnosed with pancreatic cancer during 2023.
*According to the Hirshberg Foundation, the disease "has the highest mortality rate of all major cancers" and ranks third among the causes of cancer-related deaths in America.
*The Hirshberg Foundation puts the percentage of pancreatic cancer cases diagnosed as pancreatic adenocarcinoma above 90. In addition, less common types of pancreatic cancer (pancreatic neuroendocrine tumors) form in hormone-producing endocrine cells.
*On average, neuroendocrine tumors affect people at a younger age overall and the outcome is generally better for patients with neuroendocrine tumors.
*Symptoms include "belly pain that spreads to the sides or back," according to the Mayo Clinic. Other symptoms listed by the clinic include arm/leg swelling, fatigue, jaundiced skin and eyes, appetite loss and weight loss.
*Fighting pancreatic cancer is often challenging because symptoms aren't apparent until the cancer is advanced.
*The New York-Presbyterian Hospital website states that "exact pancreatic cancer causes are unknown" most of the time; however, some factors might increase a person's risk of developing pancreatic cancer, such as smoking and genetics.
This November, let's unite in the fight against pancreatic cancer and bring hope and inspiration to patients and their families. Together, we can make a difference and strive toward a future where pancreatic cancer is no longer a leading cause of cancer-related deaths.
Are you up to the challenge?
---
¿Por qué nuestra portada es morada?
Por el Mes de Concienciación del Cáncer de Páncreas
En Dos Mundos estamos lanzando un desafío para nuestros lectores.
Queremos que vista de color morado en algún momento de este mes, especialmente el 16 de noviembre.
Noviembre es el Mes de Concienciación del Cáncer de Páncreas. Como forma de apoyar a quienes luchan contra el cáncer de páncreas, la edición de la próxima semana será de color violeta para conmemorar el Día Mundial del Cáncer de Páncreas (16 de noviembre). Como afirman múltiples organizaciones que se dedican a luchar contra varios tipos de cáncer en sus respectivos sitios web, el morado es el color que se usa durante noviembre para expresar apoyo a quienes luchan y quienes han perdido su lucha contra el cáncer de páncreas.
Como parte de nuestro deber de educar a nuestros lectores, presentamos la siguiente información sobre el cáncer de páncreas:
*La Fundación Hirshberg para la Investigación del Cáncer de Páncreas estima que 64.050 estadounidenses serán diagnosticados con cáncer de páncreas durante 2023.
*Según la Fundación Hirshberg, la enfermedad "tiene la tasa de mortalidad más alta de todos los cánceres principales" y ocupa el tercer lugar entre las causas de muertes relacionadas con el cáncer en Estados Unidos.
*La Fundación Hirshberg sitúa el porcentaje de casos de cáncer de páncreas diagnosticados como adenocarcinoma de páncreas por encima de 90. Además, tipos menos comunes de cáncer de páncreas (tumores neuroendocrinos de páncreas) se forman en células endocrinas productoras de hormonas.
*En promedio, los tumores neuroendocrinos afectan a personas a una edad más joven en general y el resultado generalmente es mejor para los pacientes con tumores neuroendocrinos.
*Los síntomas incluyen "dolor de vientre que se extiende hacia los lados o la espalda", según la Clínica Mayo. Otros síntomas enumerados por la clínica incluyen hinchazón de brazos y piernas, fatiga, ictericia en piel y ojos, pérdida de apetito y pérdida de peso.
*Combatir el cáncer de páncreas suele ser un desafío porque los síntomas no son evidentes hasta que el cáncer está avanzado.
*El sitio web del New York-Presbyterian Hospital afirma que "las causas exactas del cáncer de páncreas se desconocen" la mayor parte del tiempo; sin embargo, algunos factores pueden aumentar el riesgo de que una persona desarrolle cáncer de páncreas, como el tabaquismo y la genética.
Este noviembre, unámonos en la lucha contra el cáncer de páncreas y llevemos esperanza e inspiración a los pacientes y sus familias. Juntos, podemos marcar la diferencia y luchar por un futuro en el que el cáncer de páncreas ya no sea una de las principales causas de muertes relacionadas con el cáncer.
¿Está preparado para el desafío?