KCP&L Shares safety tips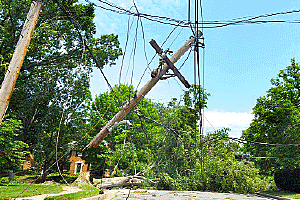 [tabs type="horizontal"][tabs_head][tab_title]English[/tab_title][tab_title]Español[/tab_title][/tabs_head]
[tab]Storm season is upon us, meaning it's time to brush up on our electrical safety tips. The following are a few tips from Kansas City Power & Light (KCP&L) to make sure everyone stays safe – both indoors and outdoors:
*Unplug appliances and tools when not in use. Pull by the plug, not the cord.
*Don't overload outlets and be smart about how you use extension cords. Avoid stringing multiple cords together or running them through areas where they might become worn or severed.
*Make sure your light bulbs are the right wattage for your fixtures.
*When carrying a ladder, always look up to ensure you don't make contact with a power line. Be aware of power lines coming into your home before you climb a ladder. If possible, use a fiberglass or wooden ladder when working around the house.
*Never touch downed power lines or use anything to try to move them. You risk suffering electrical shock or electrocution.
*Before you dig or excavate for any planting or improvement project, protect yourself and avoid costly utility interruptions. Call 811 before you dig to get the location of all underground utilities.
"Safety is our top priority at KCP&L," said Marvin Rollison, KCP&L vice president of safety and corporate services. "These recommended tips (will) help to ensure our customers stay vigilant and safe around electricity."[/tab]
[tab]La temporada de tormentas está encima de nosotros, lo que significa que es hora de ponernos al día en consejos de seguridad eléctrica. Los siguientes son algunos consejos de Kansas City Power & Light (KCP&L) para asegurarse que todos estén a salvo —tanto adentro como al aire libre:
*Desconecte los aparatos eléctricos y herramientas cuando no estén en uso. Tire del enchufe, no del cable.
*No sobrecargue los enchufes y sea inteligente sobre cómo utilizar una extensión. Evite conectar varios cables juntos o colocarlos a través de áreas donde podrían desgastarse o cortarse.
*Asegúrese que sus focos sean de la potencia adecuada para sus accesorios.
*Cuando mueva una escalera, vea hacia arriba para asegurarse que no hace contacto con un cable eléctrico. Esté al tanto de las líneas eléctricas que llegan a su casa antes de subir a una escalera. Si es posible, utilice una escalera de fibra de vidrio o madera cuando esté trabajando alrededor de la casa.
*Nunca toque un cable eléctrico caído ni use cualquier cosa para tratar de moverlo. Se arriesga a recibir un choque eléctrico o electrocutarse.
*Antes de cavar o excavar para cualquier proyecto de plantación o mejora, protéjase a sí mismo y evite interrupciones se servicios públicos costosas. Llame al 811 antes de cavar para obtener la ubicación de todos los servicios subterráneos.
"La seguridad es nuestra máxima prioridad en KCP&L", dijo Marvin Rollison, Vicepresidente de Seguridad y Servicios Corporativos de KCP&L. "Estas recomendaciones ayudarán a asegurar que nuestros clientes se mantengan atentos y seguros alrededor de la electricidad".[/tab]
[/tabs]